Yet another useful guide for all Steemians is here. It is going to be a quick tutorial but one with huge benefits. Knowing who is mentioning and following you can be a handy information. Know who is supporting you through resteems. Also, getting notified means you can keep an eye on your progress on Steemit. So, it may be usfeful for you to learn how to use GINAbot even if you are a witness.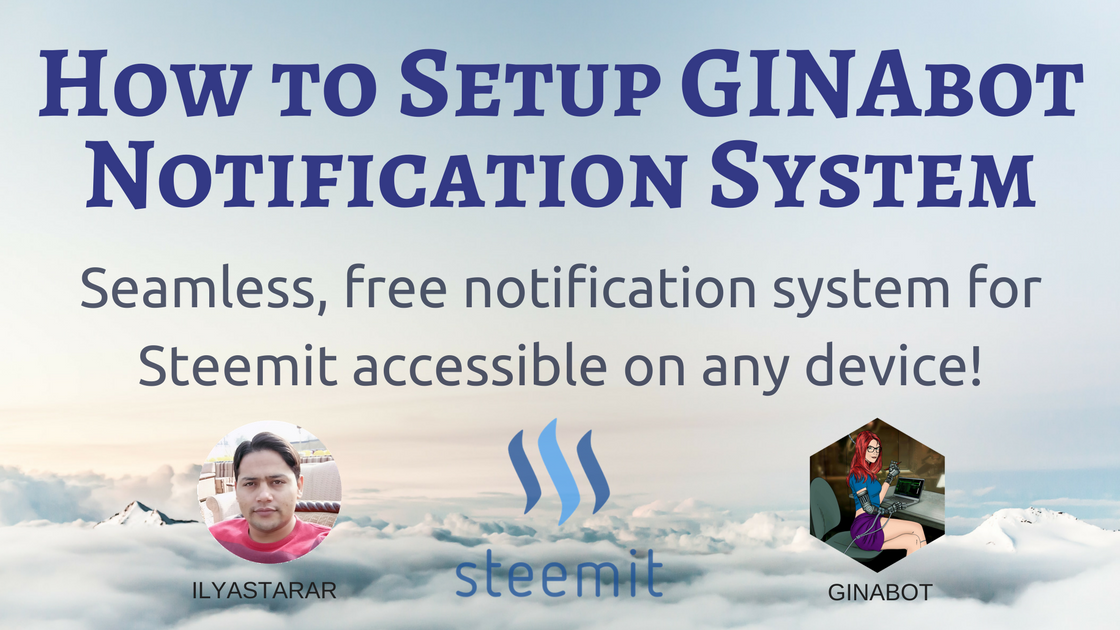 Thumbnail designed via free online tool Canva. Tutorial here. GINA image used with permission, declared free to use by owner.
How to Use GINAbot?
GINA stands for General Instant Notification Automaton and the GINAbot is a bot on discord developed to provide an amazingly efficient AI solution for the Steemit notification. I have to admit that I am blown away by the genius behind this bot and the how seemlessly it works.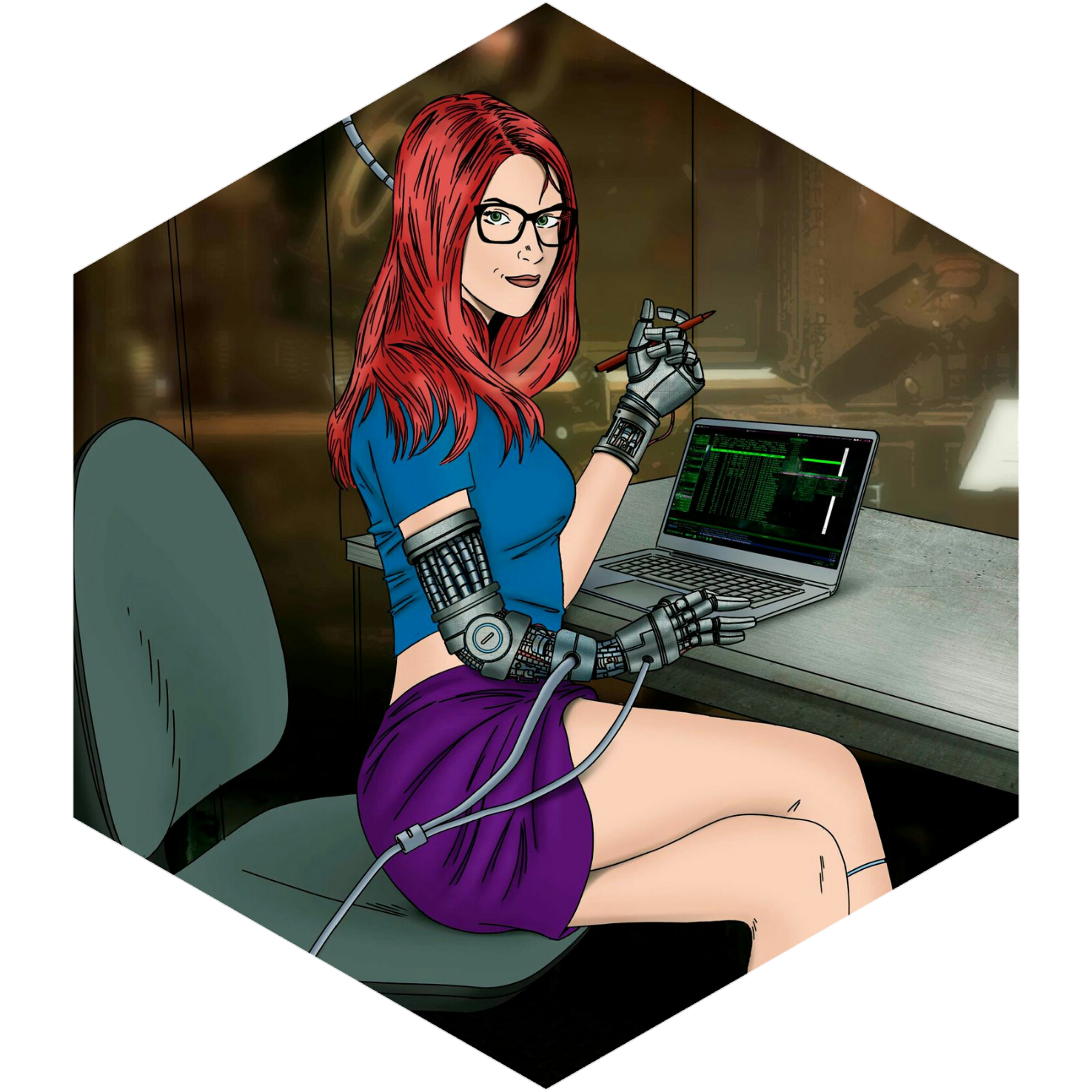 Pretty, smart, and efficient. I like GINA! Dev is @neander-squirrel (thank you!)
For the best part of my Steemit experience, eSteem app has been my go-to source of Steemit notifications. The app has been facing problems and lags lately but the dev behind it (@good-karma)is awesome and he is going to release yet another improved version soon. I have to say that GINAbot beats eSteem in many ways.
Here's a step by step guide to register and use GINAbot.
1. Join Minnow-Power Discord Server
The first step is to join a Discord server where GINAbot is available. To do that, click the link below to join Minnow-Power discord server.
I actually registered through another server called Voice of 7he Underground (click to join) and knew about Minnow-Power later when researching GINAbot. Better join both.
2. Register with GINAbot
Go to registration channel on Minnow-Power discord server (or register-me-gina channel on VOTU discord) and type following.
..reg username
Use your Steemit username to register without @ sign.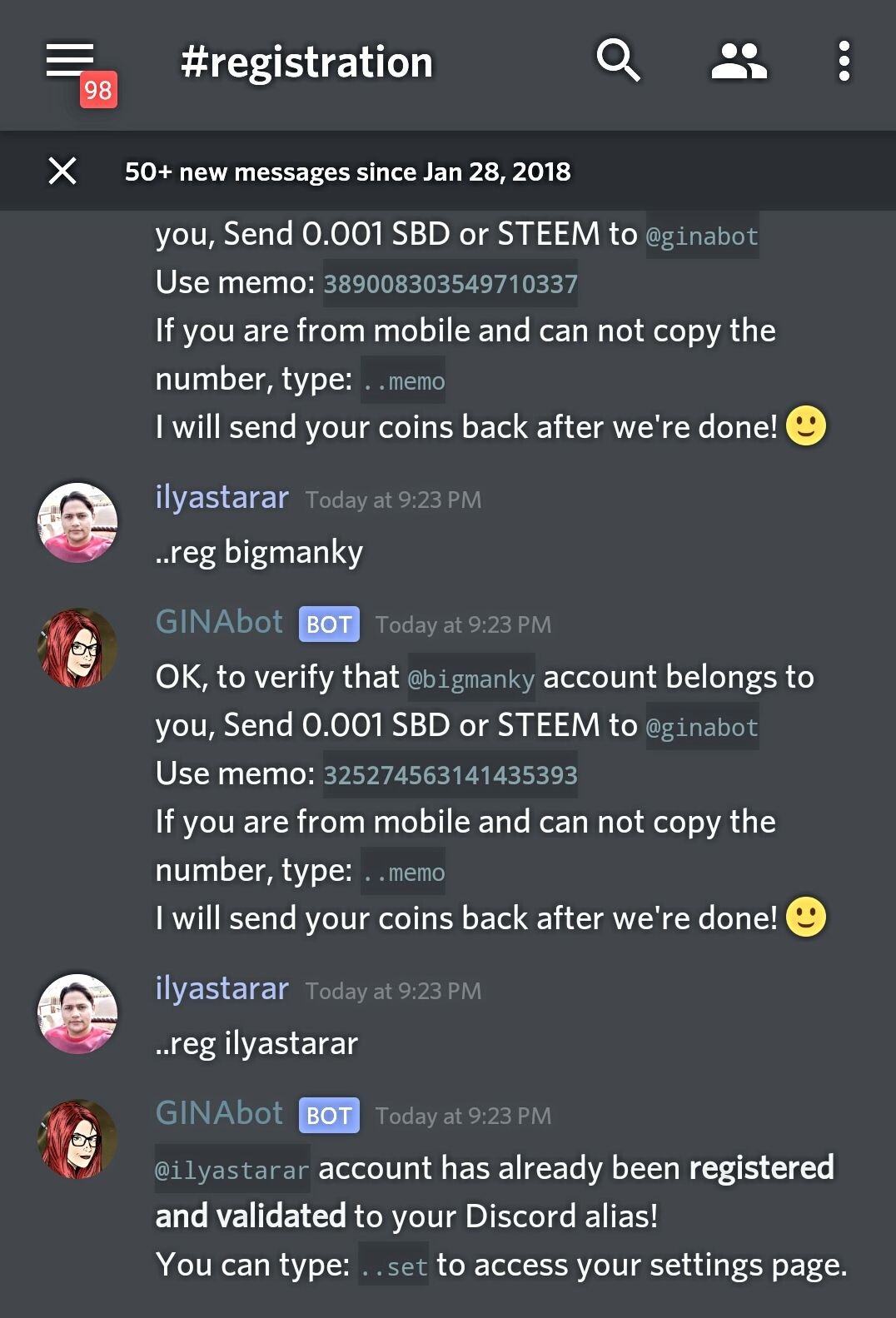 I accidently used another username but it turned out to be great because I am already registered.
You can see instructions in the image. Copy the memo and send 0.001 SBD or Steem to @ginabot to register with it. If you are on mobile, type following and you will get memo.
..memo
After verfication, your amount will be sent back. Go to registration channel again and type the following.
..set
You will recieve a direct message.
3. Access Your Settings Link
Check direct message from GINAbot. It contains a personal link to set up your notifications.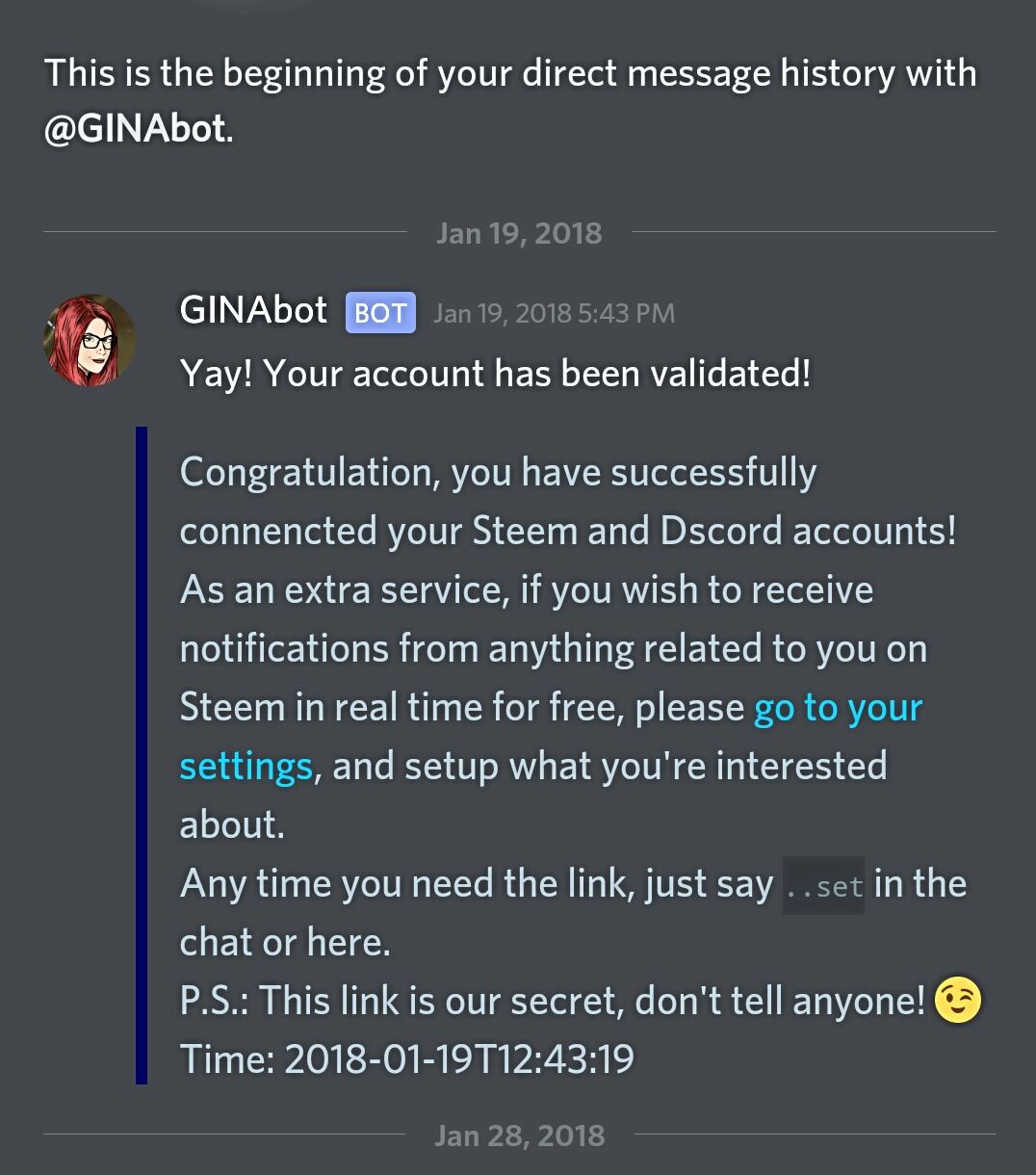 Sorry, Gina. I couldn't help leak our secret. But I won't leak the link. I promise!
After clicking your link, you will be taken to your notifications settings page.
4. Setup Your Steemit Notifications
After clicking the link, you will land on the notification settings web page. Here's how to setup notifications. Most instructions are available on screen so I will not re-write them.
General Settings
Activate notifications, select your preferred platform and choose your timezone.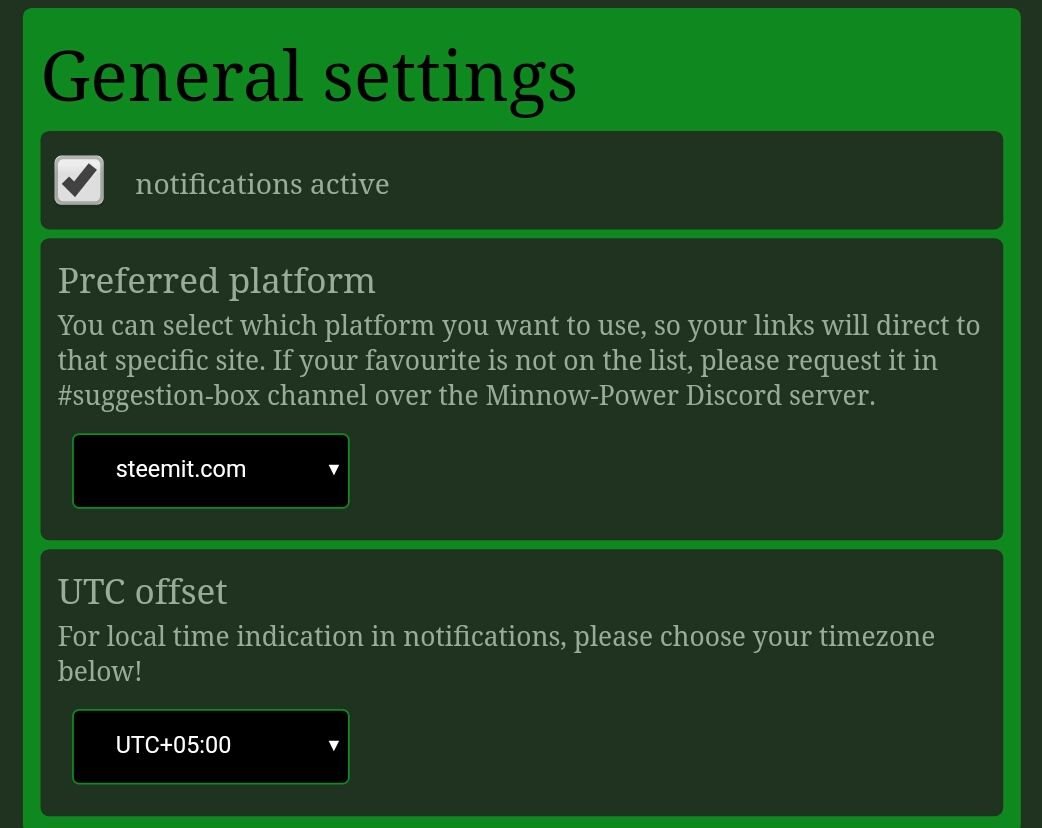 Basic Settings
Select settings for comments, transfers and delegation.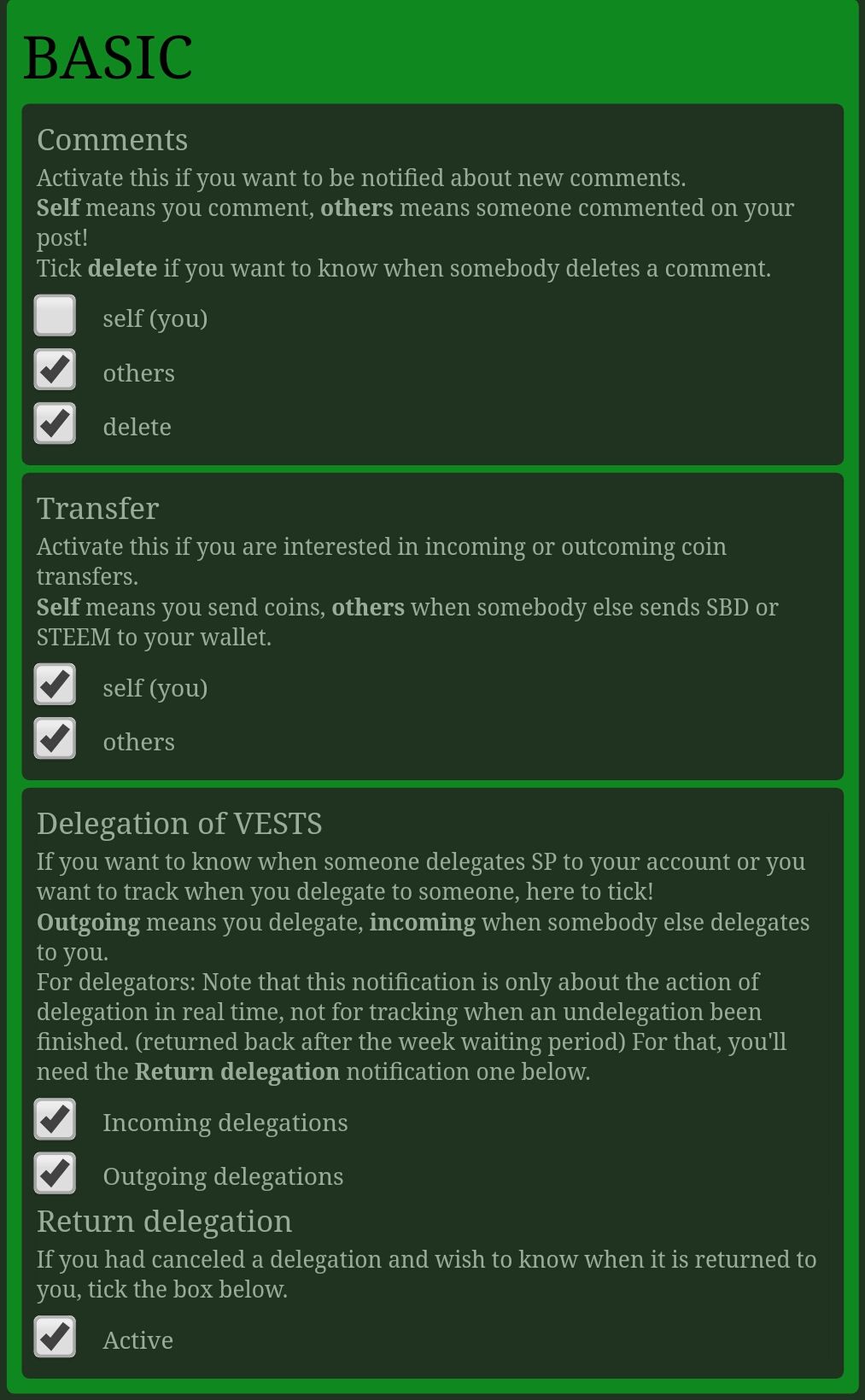 I removed self transfer notifications because they are quite unneccessary.
Extra Settings
These may be the most useful settings for you because they involve important functions like mentions, resteems, votes and follows.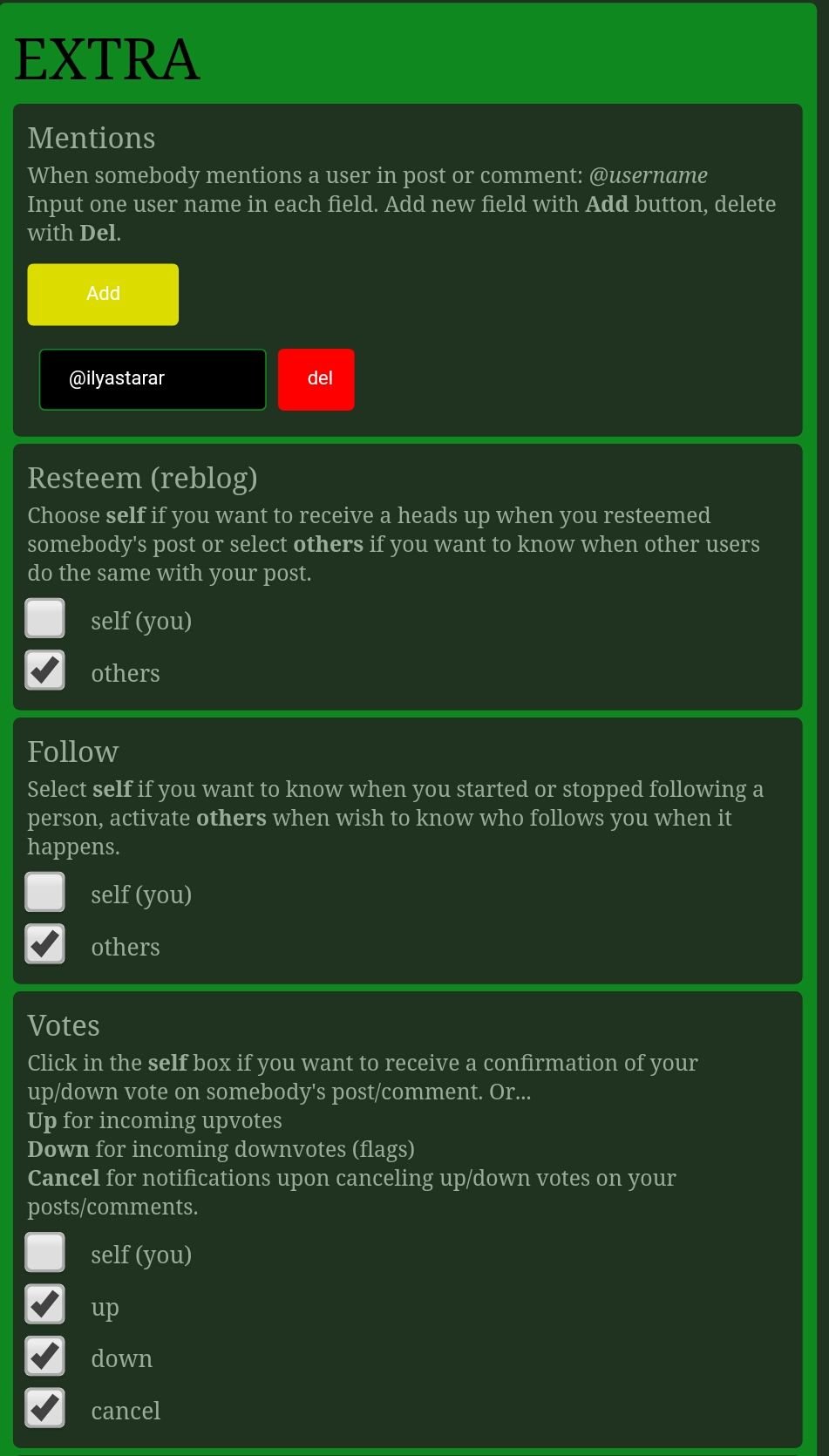 Part 1 of extra settings
I was a bit overwhelmed and enabled notifications for upvotes. After being voted literally thousands of times in three days (thank you guys!), I disabled upvote notifications and kept only downvote or cancellation notifications.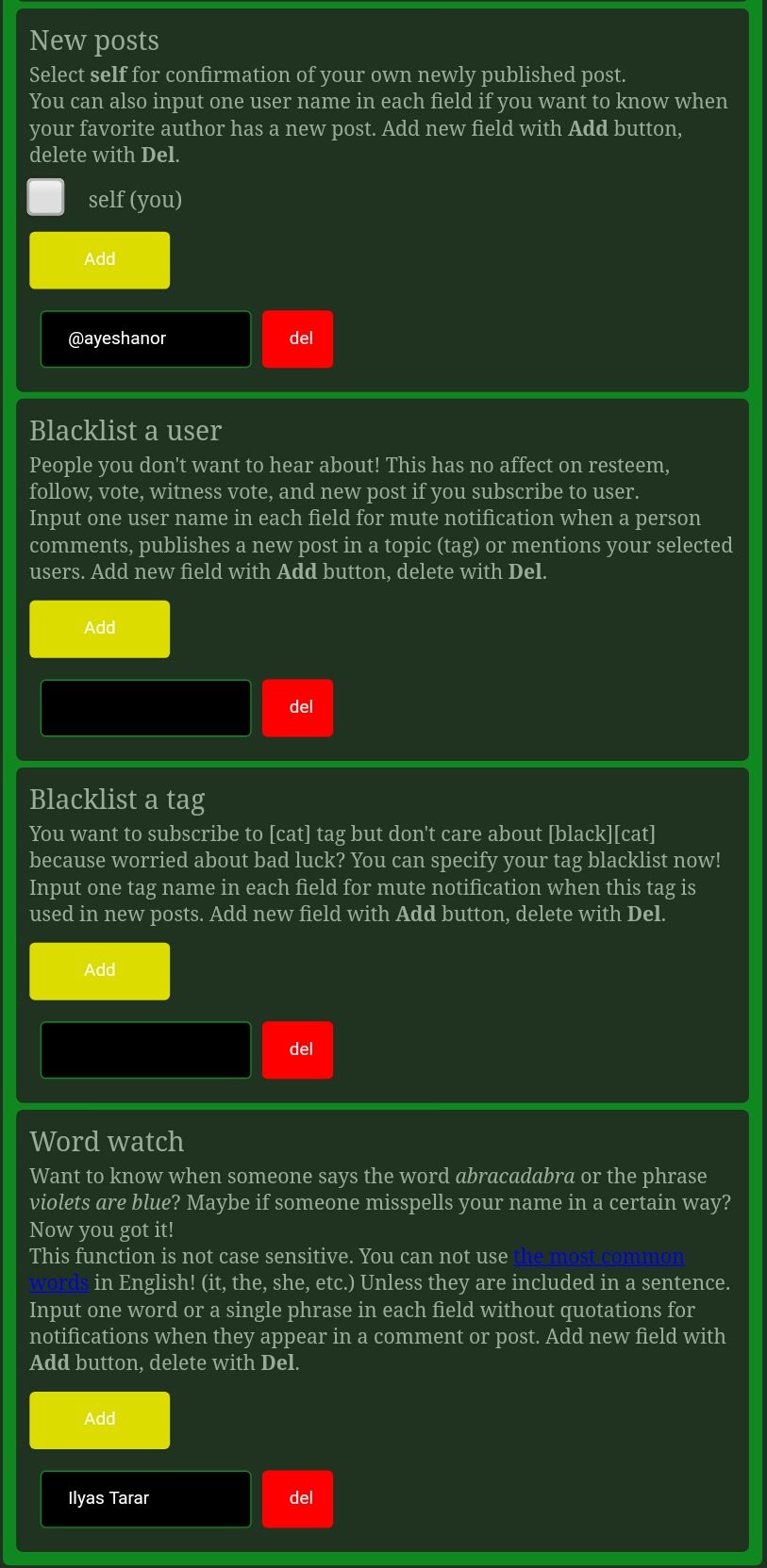 Part 2 of extra settings
I found two settings to be very handy. One is being notified when another blogger posts. I wish to know whenever my soul sister @ayeshanor posts anything. The other one is word or phrase mentions. If someone mentions Ilyas Tarar, I would like to know.
Set other settings as per your requirement.
Maxi Settings
This is next level thing. Witness level! If you wish to follow a tag closely (useful for contest organizers or tag leaders like @stephenkendal for promo-steem tag perhaps or @surpassinggoogle for untalented tag). If you are a witness and reading this, thank you!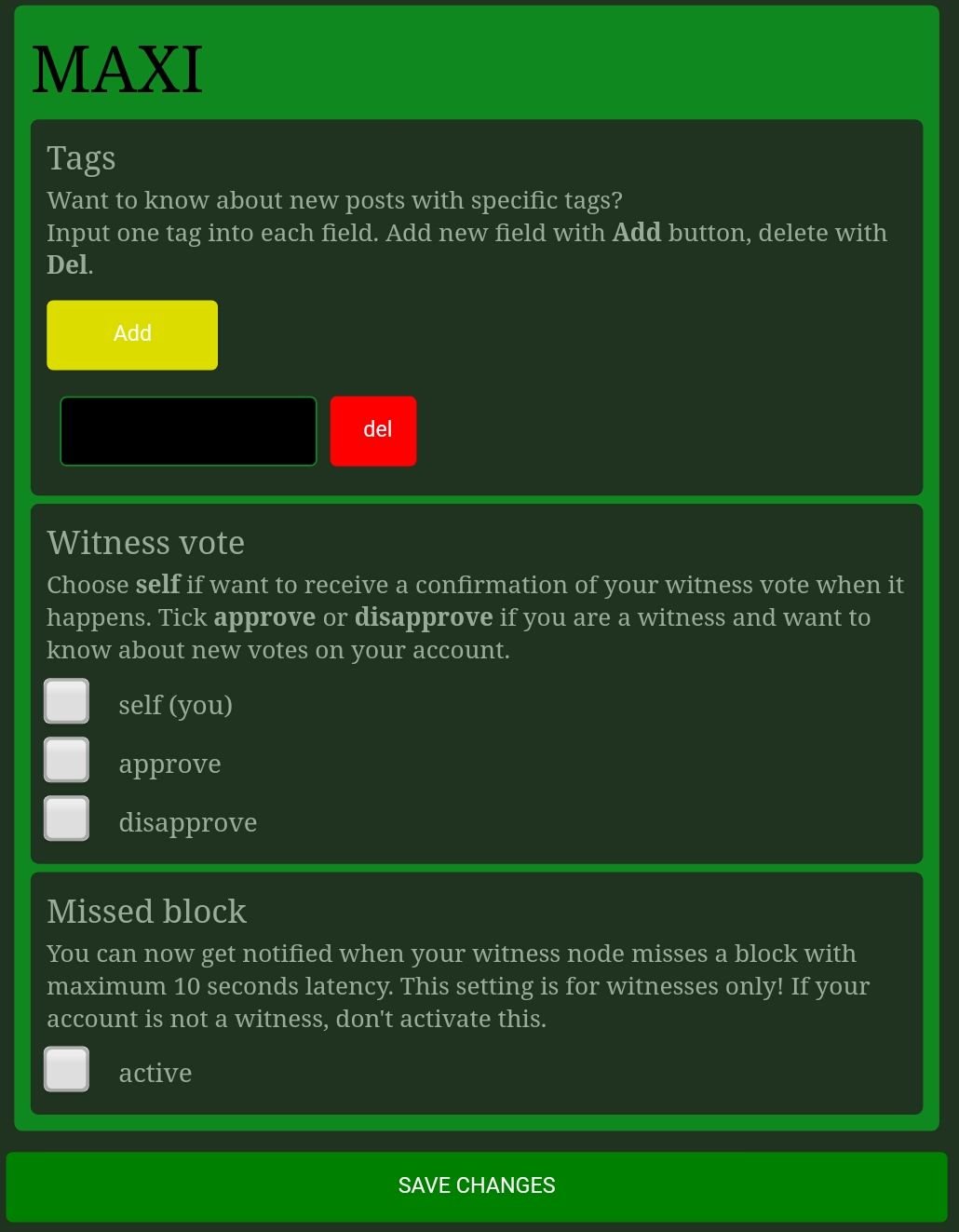 That's it for all the settings. But do not forget to...
5. Save Changes /Edite
When done, make sure you save changes. If your need to edit your settings, you need to get your personal link again. Type following in DM with GINA or registration channel.
..set username (for multiple accounts)
..set(for single account)
That's it. I would, however, convey my gratitude to @ravenruis and @ashleykalila who turned my attention to GINAbot. I had registered on 19 Janaury but did not click my link until Raven highlighted it in a comment on my MinnowBooster guide. Ashley mentioned GINA in a chat. Thank you, both!
Resteem to Educate Others
I hope you found this tutorial useful as well. I am on a mission to educate Steemians, especially the newbies and minnows, to make Steemit ecosystem better. This post is yet another effort to make the whole ecosystem of Steemit known to people.
Please support my efforts with your resteems. Mentions this guide in your next post. Upvote it if you think it deserves it. I am nothing without your support and I am able to inject thousands of Steemians with right education only due to your consistent encouragement.
Steem on!