What's Up Everyone!
It's time to announce the winners of the "SP DELEGATION & UPVOTES GIVEAWAY + SBI Share & Plankton Token Round 25"
Here's a recap of the 25th round
---
Prizes
SP Delegation for 90 Days worth 2 STEEMs + 1 PLKN (1 Winner)

SBI share (1 winner)

Upvote on all valid entries(comments).
Upvoted comments will give you drops of SBD/STEEM, ZZAN, PAL & MARLIANS(you can check it in your Steem-engine account)
---
There were 10 valid entries on this round. Thanks for supporting the 25th round @motherlylove, @powermom, @strongwoman, @chrismadcboy2016, @olivia08, @florino, @cdaveboyles23, @deantonio, @alokkumar121 & @kendra19.
0.05 STEEM was sent as a small gift to everyone with valid entries.Pls check your wallet.
Decision Roulette app was used to select the winners.
---
SBI Share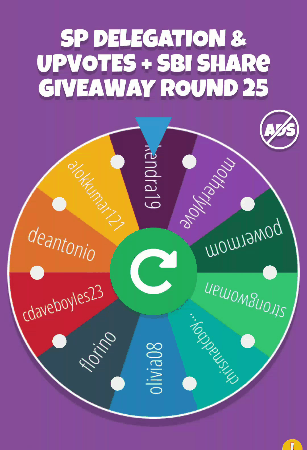 ---
SP Delegation + 1 PLANKTON Token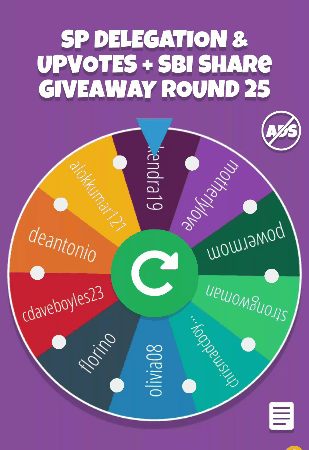 ---
@chrismadcboy2016 will receive 1 SBI Share sponsored by @atongis.
While @kendra19 will receive SP Delegation for 90 days from @blocktrades worth 2 STEEM sponsored by @atongis and 1 PLANKTON Token from @mermaidvampire.
Thanks for joining, hope to see you on the next round!
And of course a big THANKS to @mermaidvampire for giving 1 PLANKTON Token for the winner.
@atongis ASAR
Note: Prizes will be sent within 24 hours

Other Contests/Give-Aways
@mermaidvampire's Universal Basic Steem Income + Engagement + Proof Of Steem + Anti-Spam + Anti-Plagiarism Rolled into One Simple Daily Game
@mermaidvampire's WEEKLY DELEGATION RAFFLE For Planktons by Mermaidvampire
@mermaidvampire's Guess the Color Game
@worldsdailyfood's WORLD'S DAILY FOOD PHOTO CONTEST
@zephalexia's UP-GAGE CHALLENGE
@melinda010100's Shadow Photo Contest

Want to create new Steem Account & Lease SP Delegation using your Credit/Debit Card?
Steem Ninja has that service. You can also make some widgets and add them into your website. Visit https://account.steem.ninja.

A big thanks to @surpassinggoogle, @good-karma/ @esteemapp & @bobbylee for all the support