Swagbucks Review - How to earn money with surveys app


 Swagbucks is one of the most popular and trusted rewards apps, allowing users to earn points (Swagbucks, aka SB) for taking surveys, downloading apps, and other tasks which they can then purchase gift cards with.

They have been around for years, and established themselves as one of the most trustworthy names in the rewards app category. They currently operate in every country around the world, and have one of the best incentives for referring others.

If you want to get started, register with this link to earn a 300 SB bonus (~$3)

The concept is simple, earn SB, then spend it on gift cards or other items in their store. The value of SB is roughly: 100 SB = $1
Pros and Cons:
Pros:
Easy to use mobile app
A majority of tasks and surveys can be completed on your mobile device.
Very low cash-out minimum
Very shortly after joining, especially with the bonus from an invite link, you can earn about 600 SB or enough for a $5 gift card!
Great reputation
They've been around for years and are highly rated compared to other survey apps.
Many options to earn, lots of bonuses
Too many options to list. Some of the most popular are:
-Surveys
-Ad watching
-App downloads + playing games
-Scanning receipts
-Using their search engine
-Participating in promotional offers (use caution)
Great referral program
Get 300 SB for each friend who earns 300 SB in their first 30-days, plus 10% of their earnings for life!
Cons:
The purchase/trial-offers
The highest-rewards are often to purchase products, or sign up for 'free-trials' that take credit card information and charge you when you forget to cancel them. Be very careful with these offers. They are tempting because the rewards are so high.
Fairly low hourly earning potential
Just a few dollars an hour for most of their survey, app-trial, ad-watching, and other offers. This may not always be the highest earning option, but it is certainly better than many others in this category of rewards apps. For very high-paying surveys, try Respondent.
  With all things considered, Swagbucks isn't a bad option for many. It's not the highest paying thing you can do, but it does add up!


Here are some of the lowest cash-out options: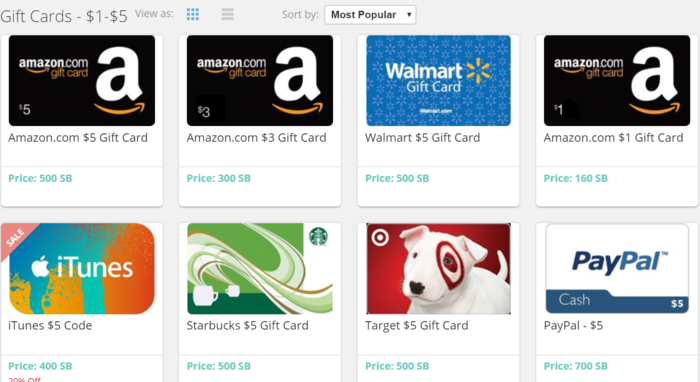 And some of the surveys currently available, to give you an idea of the rewards: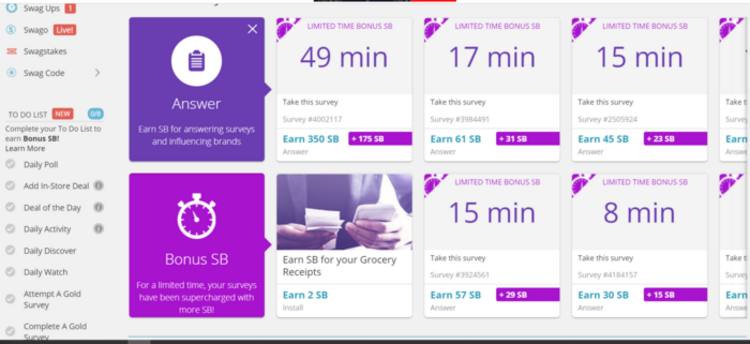 As you can see, especially with the bonuses some of these surveys pay up to 500+ SB (~$5) for a little less than an hour of work. There are tons of offers for this and the other categories as well, but the surveys are the easiest, free way to earn points.

The second easiest, free way is to do the app offers that want you download, install, and reach a certain level of progress (i.e. Level 5 in "Game X").

Watching ads, using their search bar, downloading their app button for your PC, playing games, etc. there are a number of ways to earn SB without spending a penny. And plenty of offers for large amounts of SB if you make purchases, but we do not recommend paying to earn 'points' as the math isn't usually ever a good deal.

The 'free-trial' offers like this are the ones we advise you be especially careful with.

Here is an example of one of these offers: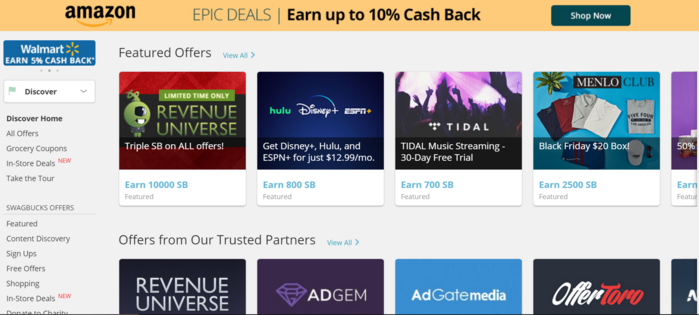 The "TIDAL" Music Streaming - 30-Day Free Trial will likely require a credit card to start. You get 700 SB (~$7) in rewards for doing it, but if you fail to cancel in time you will get charged more than you earned in SB. Please use caution and consider avoiding these completely. You could set calendar reminders in your phone, but it's still a risk if you miss them or are too busy when they go off. If you are diligent, however, you can earn those points without getting charged.


Conclusion: (3.0 out of 5.0)
 SwagBucks is an easy way to earn money from your phone for free, but the hourly rate of doing so is somewhat low in a many cases. Depending on where you live, you can earn much more with the other offers listed on our previous post or on our Verified Money Facebook page.