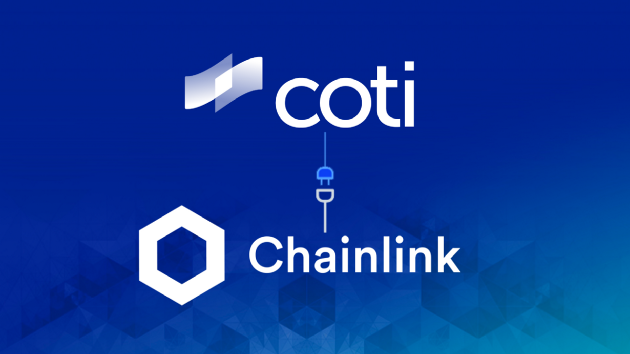 Trust is foremost
A trustworthy environment is essential for the widespread adoption of cryptocurrencies. To further this cause, COTI has developed a unique Trust Score node as part of its Global Trust System (GTS) to monitor user behavior and calculate trust scores as part of its consensus mechanism. This Trust Score node is now offered as a service on other chains as part of COTI's mission to introduce more trust and adoption to any blockchain system. 
 COTI's GTS is made up of a blacklisting layer to flag fraudulent actors, transaction classification to differentiate high-risk and non-risk activity, and a trust scoring mechanism based on accumulated information and historical performance. The COTI GTS connects to all networks and analyzes transaction and behavioral data, updating each entity's trust score in real-time. By using the COTI GTS, malicious parties can be actively identified, while reputable behavior is tracked and incentivized. 
 COTI and Chainlink
COTI has initiated the process of integrating its GTS mechanism into Chainlink's oracle and smart contract framework. This will add support for trust-based events in smart contracts, enabling user incentivization in line with a predetermined trust score threshold. For example, a user will be eligible to receive tokens if his/her Trust Score is above a given threshold for one year or, alternatively, users could receive a bonus for transacting in a trustworthy manner. 

 By fully migrating our TrustScore and ranking mechanism and applying it to any infrastructure, more and more blockchain networks will be able to address the issue of trust between unknown parties. 
"Behavioral tracking and trust-based incentivization are chiefly missing in the crypto world. By deploying a reputational scoring system like the GTS, more enterprises can maintain trust between transacting parties. We're excited to break ground on this endeavour with Chainlink, a leader in oracle network solutions, and advance how blockchains connect with third party data sources", said COTI CEO Shahaf Bar-Geffen.
 About Chainlink
Chainlink is a decentralized oracle network that enables smart contracts to securely access off-chain data feeds, web APIs, and traditional bank payments. Chainlink is consistently selected as one of the top blockchain technologies by leading independent research firms such as Gartner. It is well known for providing highly secure and reliable oracles to large enterprises (Google, Oracle, and SWIFT) and leading smart contract development teams. Learn more by visiting the Chainlink website, Twitter or Telegram. If you're a developer, visit the developer documentation or join the technical discussion on Discord. 
COTI Resources
Website: https://coti.io
Telegram group: https://t.me/COTInetwork
Github: https://github.com/coti-io
Technical whitepaper: https://coti.io/files/COTI-technical-whitepaper.pdf