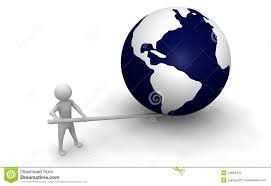 Archimedes, the Greek mathematician said, "Give me a big enough lever, a place to stand and I could move the world."
The question is, how can we use this mathematical equation of leverage to our advantage in business or life?
Have you ever wondered how some people seemingly have such great success and often, so quickly? Or at least it seems quickly.
The truth is, that most people are rarely "instant successes." It took them years to reach the point of notoriety and predominance.
But how do they do it?
Usually, there are two dominant aspects of creating wealth and freedom.
Process and leverage.
If you can create a process that leverages time and/or money well, you likely have a winner of a formula to take you to the heights you desire. And maybe even beyond!
The great think about leverage, is that you can start small, with small sums of money or time.
I talk extensively about how to leverage real estate and the stock market in my free report called Perpetual Wealth.
However, think about this.
How did Bill Gates become one of the richest men in the world?
Yes, of course he developed a software that has been adopted by most of the world, but there's more to it when you dig a little deeper.
He leveraged time.
He started small and built Microsoft from his garage, as is well documented.
But as he hired people, he was able to grow faster and more efficiently.
The same is true in any business. The business must earn a small profit from the efforts of each employee. Of course, some of those profits are more direct than others.
A company earns direct profits from the sales team, but indirect profits through the research and development team.
Each is equally as important, because without the research, the company wouldn't have new products for the sales team.
The same is true of the receptionist, or garage mechanic. Everyone has a role and must be part of the process to create a profit.
In online marketing, you can start off small, part-time and do all the work yourself.
At some point, you may decide that you'd like to have someone run some of the day-to-day aspects of your business.
Either so you can put more time into to other aspects of your business or, so you have more freedom to enjoy the fruits of your labor.
So when starting any business, think about creating a process that allows you to leverage the time of others.
Even if not right away.
Even if it's down the road you want to begin to leverage the time of others. Doing so, takes you having 86,400 seconds a day personally, to many times that as you grow your team.
To learn more about leveraging money and time, grab a copy of my FREE report: Perpetual Wealth right here>
www.tnperpetualwealth.com
If you've ever thought of starting an online business, but don't know where to start, grab a copy of my report now. I give you all the details you need to start an online business, without the usual risk www.tnperpetualwealth.com