Greetings. We live in Covid-19 days and lot was written and published everywhere. So why not to take step aside from the well-established mental frame and let's try to look on things from somewhat God's perspective.
Root cause
We know where sin is, diseases are following. As we know sin it's transgression of God's law and there there is over 600 laws of God, some major (10) and two greatest. It's obvious this world is full of sin aka transgression of God's law. But are there regions where it's more serious than the others? And how we determine where the hardest judgement might hit?
As we check the Bible, we can determine there are minor sins, major sins and abominations. There are also some sins which God is mostly grievous and angry about. Among them the world society starts to accept some and even to promote them. That's really horrible. I'm talking especially about these two kind of sins:
shedding innocent blood - killing / sacrificing babies and innocent God's servants - in terms of our world it's primary abortions, infants/children occult sacrifices and infants/child (primary sexual) abuse
homosexual practices and incest - in terms of our world, it is LGBT+ movement and its practices and promotion in general
Broader view
It's not 100% percent precise because you also need to consider good part of the country and also other serious sins that might happen there. For example lot of charity and true Christian core in US makes things much better. Some countries stands behind Israel which makes them also more protected. On the other hand countries hostile to Israel are more vulnerable. It doesn't make sin obsolete but it would more likely expand mercy and time given for repentance. Also, if country has government trying to act according the law of God. Does country have enough righteous intercessors? These are also serious factor and can significantly postpone God's judgement. So it's complex case however still we should see some correlation.
This society is not only doing these things (like killing babies and immoral sexual acts) but some governments and certain groups are even further promoting these things as it makes these things spreading in society. Beyond that, some countries sometimes persecute people who stand against these things.
Now considering this, let's check the real world situation:
Abortion law map
Let's take a look at abortion law map first: Blue - legal on request, other colors partially or completely restricted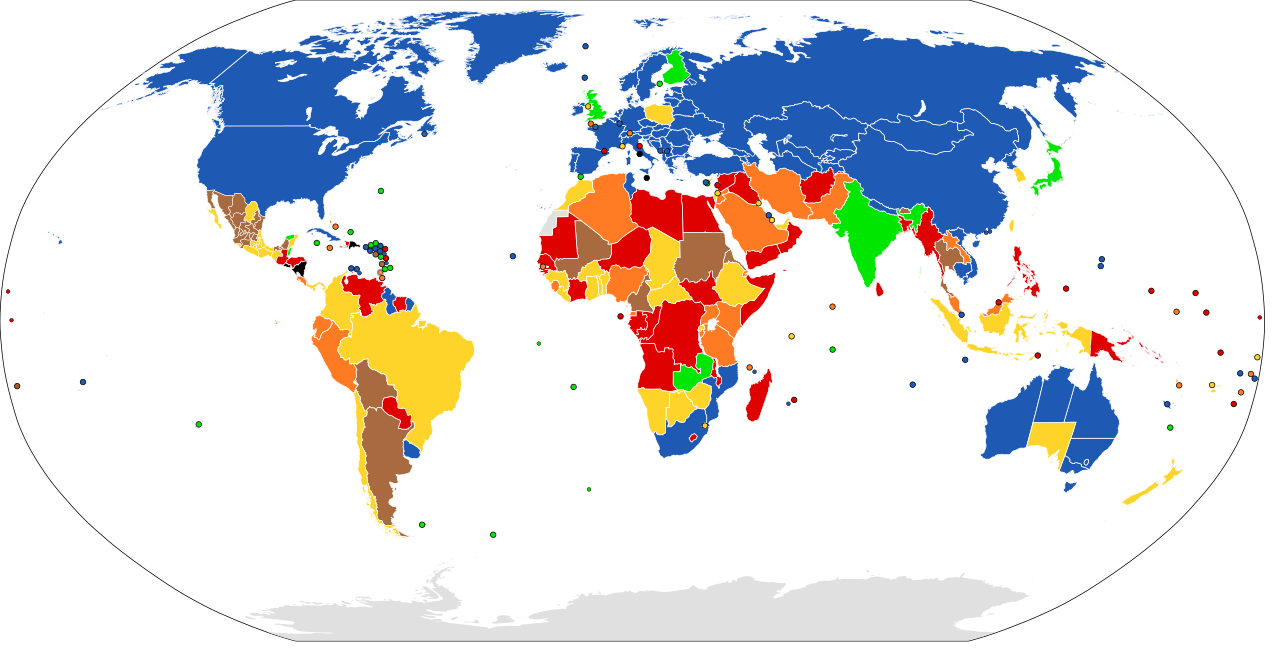 As you can see Europe with few exceptions like Poland, North America and "North Asia" are worst from this prospect of allowing to kill babies.
LBGT marriages law map
Now take a look at at LGBT marriages law - dark blue = legalized by law, blue = legalized in other form, gray = not legalized, other colors = other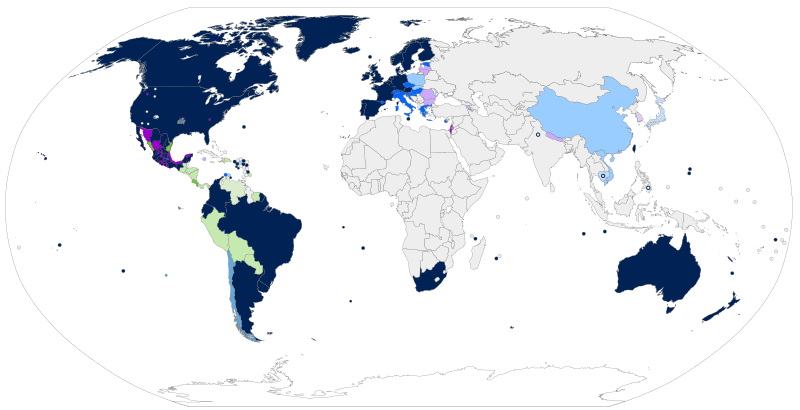 Now again Europe (again with few exceptions), North America, China and some countries from South America are the worst here in terms of LGBT marriages and similar.
Religion persecution map
Lastly check how different countries are persecuting religious people (mainly Christians and Jews)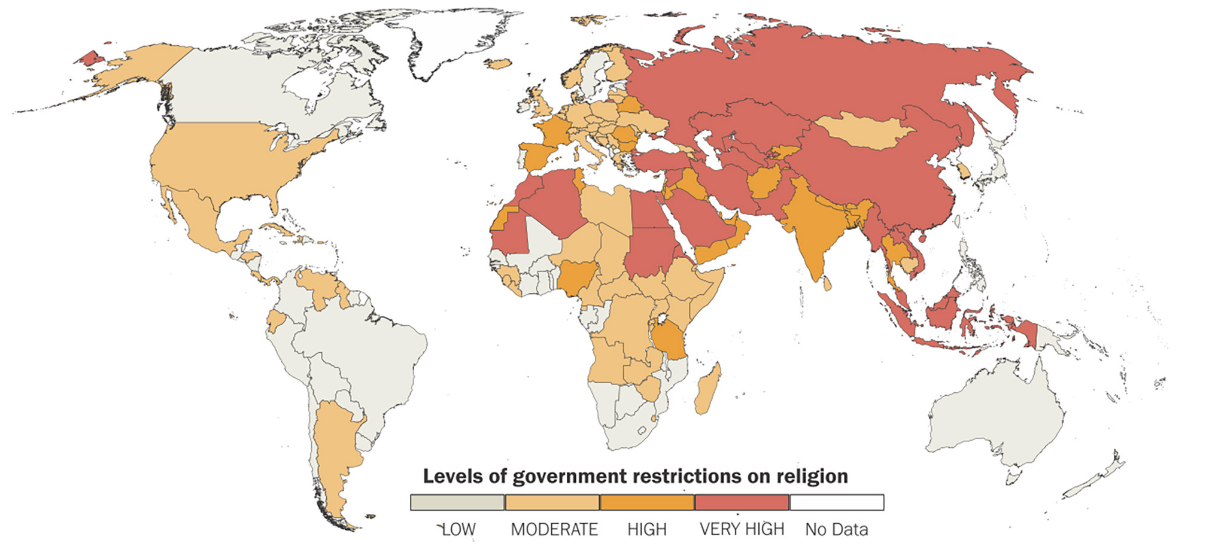 As we can see China is serious case (persecuting Christians and other groups a lot), also some Middle East countries and there is medium to severe non-physical Christian persecution in Europe, North America and many other countries.
Covid-19 map (early March 2020)
Now take all these factors into consideration and you can see how it correlates with Covid-19 occurrences (2020-03-04)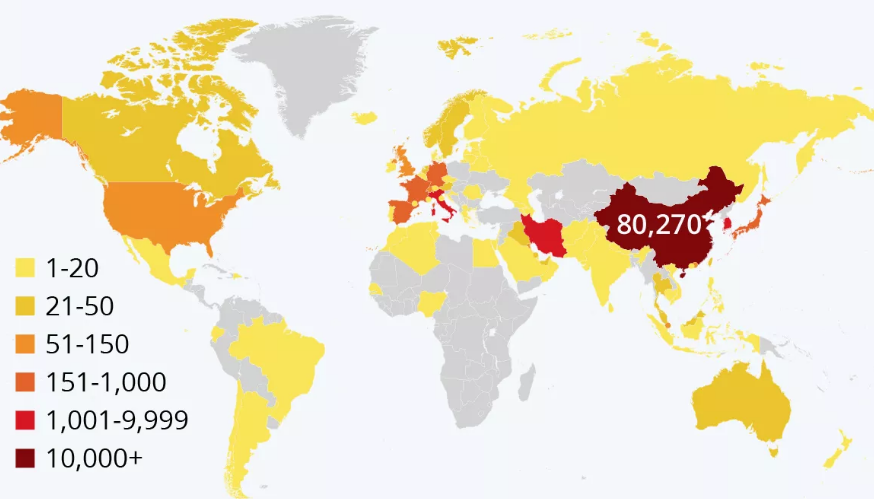 I leave up to you to make your own picture and compare it to yourself, but I will take just few countries to do some comparison and see if the severity of epidemic somewhat correlates with our criteria. As you can see countries where these factors are strong are also countries where Covid-19 hits strongly. Note that some countries were recently already hit by other judgements (like fires in Australia, US/California, etc.). All right, let's take a look at few countries more in detail, shall we?
China (80k> Covid-19 cases, 3k> deaths so far) = severly hit by the virus, even source of the epidemy (56 cases per 1m citizens)
is brutal in terms of abortion - many people killed their daughters because of 1 child policy
didn't' like LGBT for a while but since 2017 it recognized same-sex couples and gives right to change gender
is persecuting religious people (mainly Christians but also some other groups)
Poland (6 cases, 0 deaths so far) = hit by virus in very minor way so far (0.2 cases per 1m citizens)
although Poland population is split, as a country it doesn't recognize same-sex unions
abortion in Poland is illegal except cases of rape or woman 's health in jeopardy or irreparably damaged child
Poland is catholic/christian country is not persecuting Christians or other religions
Italy (5k> cases, 200> deaths so far) = very strongly hit by the virus (122 cases per 1m citizens, double of China numbers)
although Italy is catholic which should be christian-like, killing babies by abortion is legal for 40 years
again, Italy has law support for gay couples comparable to standard man-woman marriages
Italy is not persecuting religious people physically but by establishing anti-christian values it harms christian values in the country.
I picked these countries intentionally because they somewhat nicely illustrates the correlation. Most sad example is Italy. Its fake outer Christianity yet promoting severe abominations. Current pope is false prophet because he is one of the main actors of this sad transition. But it's not just him.
Anyway this article should just illustrate there is correlation between unrepented sin, anti-God laws and severity of judgement. In general it works like this but in reality it's more complex. In some even very bad country there can be (and there really) are many God-fearing people and in some relatively good countries there might be very sinful people so there will be always some overreach and exception. But my point is to illustrate that global calamities goes mainly to countries who stepped aside way to far from God's grace and mercy.
On the other hand Poland is still fighting not to allow this Satanic's breach. You can check for other countries if this fits this criteria. So my bet would be that countries promoting anti-God's laws or even promoting false Christianity (like Italy) will be punished severely by corona-virus and other havoc.
Do you want to die in sins or to escape from what is coming? Repent, ie. regret and change your lifestyle from sinful behavior to moral and holy behavior and accept Lord Jesus Christ as your personal Savior and follow His commandments. Also don't vote for people who promotes sin-promoting laws and regulations but vote for those who wants to reverse it to a righteous state
Peter said to them, "Repent, and be baptized, every one of you, in the name of Jesus Christ for the forgiveness of your sins, and you will receive the gift of the Holy Spirit".
Act 2:38
.... From now on, sin no more
John 8:11
Take care!
Credits