Eight guys took part on the second GU puzzle and have sent me their solution via discord. @Acidyo, @Dookis, @cantdenyit, @heroic15397, @cryptoznewb, @Vertolka, @GreenGuy and @kippl3 all got the right solution. Congrats!
The intended solution looks like this:
Play Rat
Play Clone to get another Fury Disciple
Play both Fury Disciples and attack Rampart with them
Use Swashbuckler to attack Rampart
Use Tracking Bolt to deal 1 damage to each enemy creature. Rampart dies
Use Blastwave to kill both Felid Protectors
Attack your opponent god with both Oni Spellsword and Swashbuckler
I chose the winner of the 2.5 STEEM randomly via python script: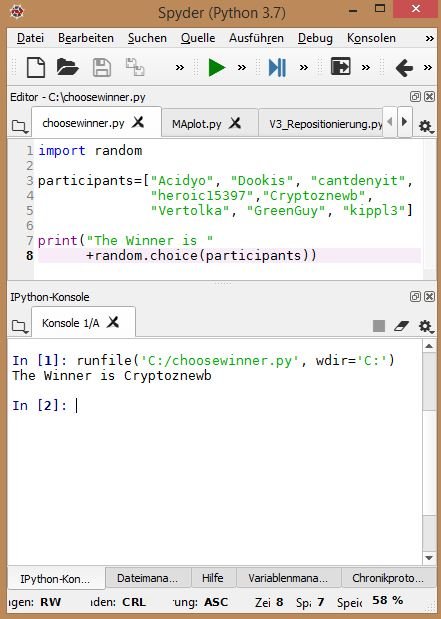 And the winner is @cryptoznewb! You will receive the 2.5 STEEM right away. I would be really pleased if you guys also take part in the next puzzle, which will be published in two days!