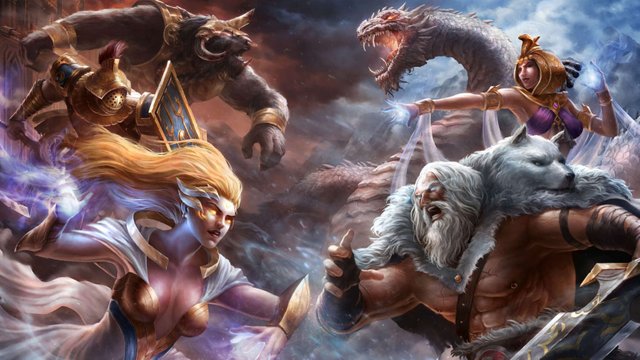 Hey everyone, we ran a weekend Gods Unchained tournament raffle for players here on Steem, you can find the post here and here are the results. We are growing a nice gaming community of Gods Unchained players and many are very excited about the game even though it's still in the balancing beta. If you also are a player or would like to check it out then feel free to join our Discord and connect with us in the Gods Unchained section. We are currently also curating #godsunchained content and you can promote them in our Discord. We are looking forward to host some tournaments of our own as soon as it is possible to battle against one another for Steem and GU Card prizes!
---
Winners of the 4x 500 SP delegations for 3 months are as follows, use them wisely :)
pppnim
buggedout
kaeserotor
atnazo
Winner of the 10k GU Raffle tokens, congratulations and good luck with pulling the Mythic :)
(please DM me your ethereum address or link it here if you don't mind sharing it, raffle ends soon so time is of the essence ;))
Video recording of the raffle draw:
This is the Steem Raffle for players with wins during the weekend tournament, congratulations!
648 wins in total this weekend with a Steem prize of 1000 Steem which means 1.543 Steem ($0.22) per win! Compared to the GU Raffle system which currently is valued at 0.013 ETH per 1000 tickets and an average win would get you about 160 tickets which would add up to 0.00208 ETH ($0.35) we were pretty close to match it. ;)
Now we would like to hear from you, would you be interested in another Steem Raffle + delegations for next weekend tournament?
Have any other ideas in mind beside tournaments since they are not possible right now, let us know in the post or on our Discord!
If you know any GU players who would like a Steem account to post about GU, come through our discord to receive a Steem account creation link that you can give them and we will create the account as soon as possible or tell them to sign up through Steemit.com!
Thanks for reading and participating, see you next time!
PS! The account @teamocd was created so part of these post rewards are sent to it to fund future prizes, feel free to set beneficiaries to that account if you would like to help fund it, thanks!