Nothing shall be able to separate us from the love of God.
---
Finally we are here with Golden Censer Challenge #16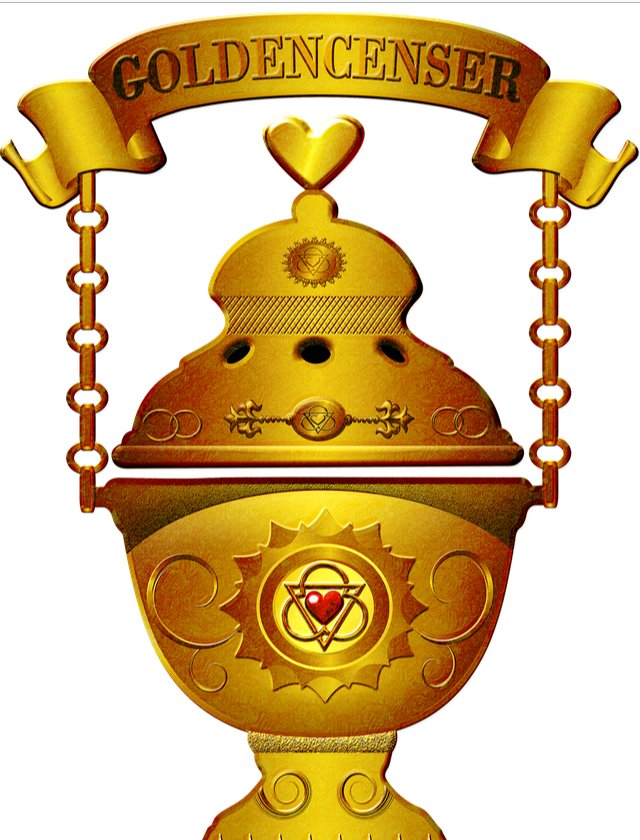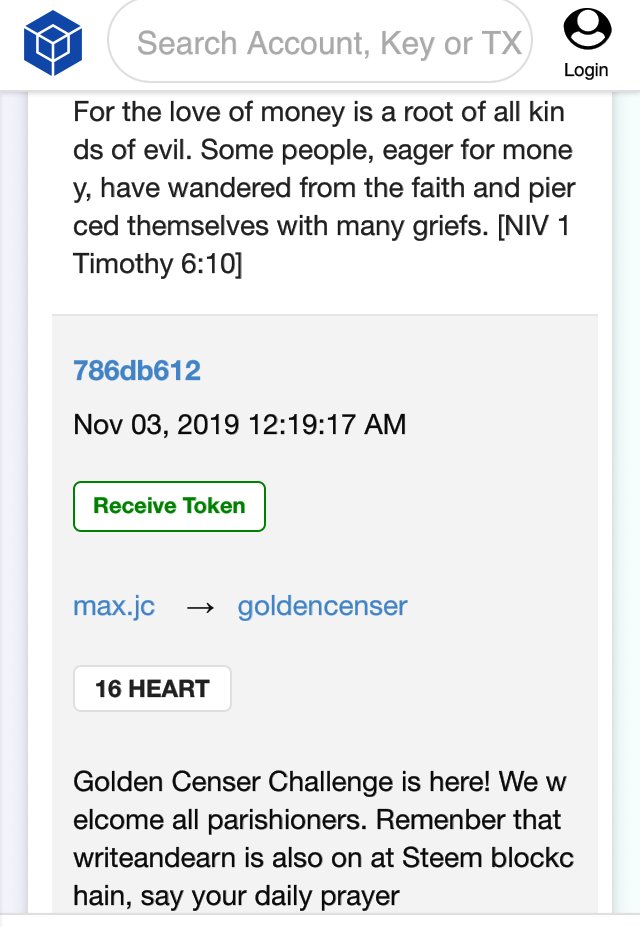 It's with great joy that we welcome our Golden Censer challenge back after a week of war against principalities and powers of the wicked one. But we're grateful to God that came out victorious and we're stronger and better.
Thanks for the bravest Knight of SteemChurch for standing at the warfront for us until our the time of our glorious victory.
Message from Golden Censer
For the love of money is a root of all kinds of evil. Some people, eager for money, have wandered from the faith and pierced themselves with many griefs. [NIV 1 Timothy 6:10]
In interacting with Golden Censer as I was preparing to put up this challenge post, Golden Censer brought me this lovely scriptures. I meditate on it and found out that the love of money is why most of the problems in our world, it brings about other sins like stealing; just like what happened to our JC accounts recently.
We'll continue praying that the righteousness of God shall be established here on earth as it is in heaven.
---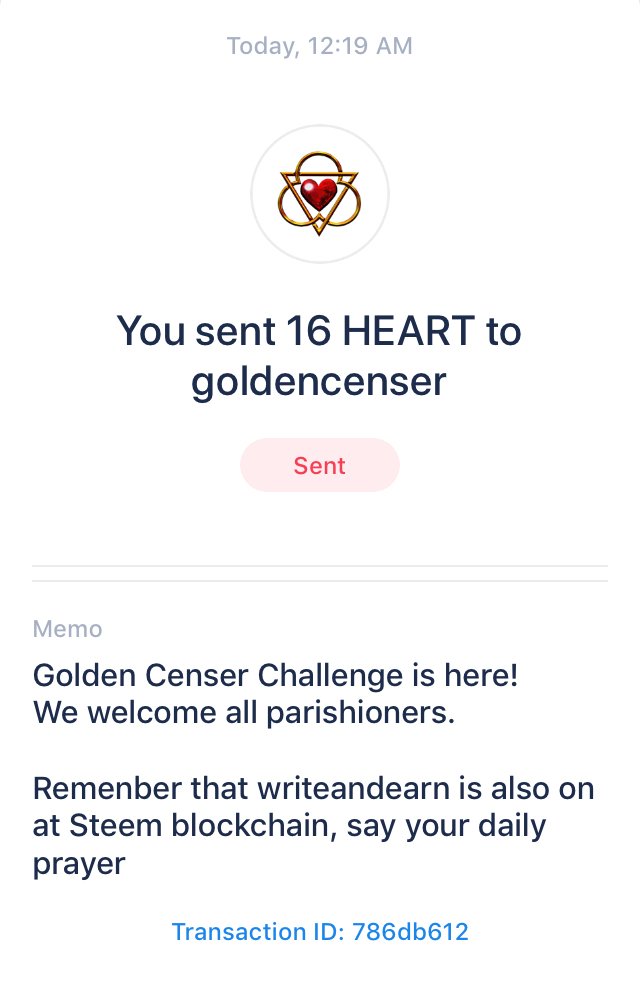 ---
---
How to participate in Steemchurch goldencenser's challenge.
---
• Resteem this post to get to the ends of the earth!
• send to the golden censer some Beatitude HEARTs.
• Comment on this post with;
i. Evidence of the transfer (screenshot like mine above, with the word you received from Golden Censer)
ii. Provide both your Steem username and your Telos Steemchurch username with our .jc suffix.
---
Participants will have till 11:59 PM UTC Wednesday 6th of November 2019. Entries and comments after Wednesday are also welcome but are considered non challenge entries but daily prayer.
---
Rewards to distribute to participants:
Hundreds of Tlos from SteemChurch; courtesy of SK, hundreds of Beatitude HEART Blessings from SteemChurch, courtesy of SK, hundreds of Tribe Tokens worth of upvote from @uyobong through @writeandearn, huge marlian upvote from @gloriouskids, and huge curation from our friends @sniffnscurry.
You are also free to make a post with your challenge activities.
Golden Rules in case you want to make a full post on the challenge.
i. Our Golden Censer Image should be your first Image in your entry post.
ii. Provide evidence of your transfer to Golden Censer, your prayer on the memo, and share with us what the word of the Bible received from Golden Censer meant to you
iii. Mention me (@maxdevalue) in your post for up vote and a resteem.
iiv. Use goldencenserchallenge as your first tag and be ready to get good upvote from our friends @sniffnscurry.
This challenge is organized and being sponsored by Steemchurch, our leaders and pioneers @sirknight, our apostle @darlenys01, priest @uyobong, my humble self @maxdevalue, and the leadership of Steemchurch International Ministry at large!
We're looking forward for more sponsors, if you're willing to, please contact me.
Announcement:
• Happy day to all, those who need their keys to the daily challenge of the goldencenser request it by mail darlenys@steemchurch.org or write to Apostle Darlenys privately.
• We have extended Golden Censer Challenge to brothers outside Steem blockchain using Steemchurch Telegram channel as the enabling ground!
Friends and families outside Steem blockchain can now submit their entries there at Steemchurch Telegram channel here.
• We're grateful to parishioners that are praying and meditating on word of God from Golden Censer every day, another good thing is here! SteemChurch now reward people who're active in church activities which includes praying and studying of the word with Golden Censer daily.
• Join @writeandearn on our Golden Censer daily; it's a daily prayer challenge that demands participants to comment under @writeandearn's post for a big curation on marlians from our sponsors.
Pray daily and submit your proof of prayer under @writeandearn post.
---
See you there!
---
---
Please upvote and resteem this post if you found it good for others.
---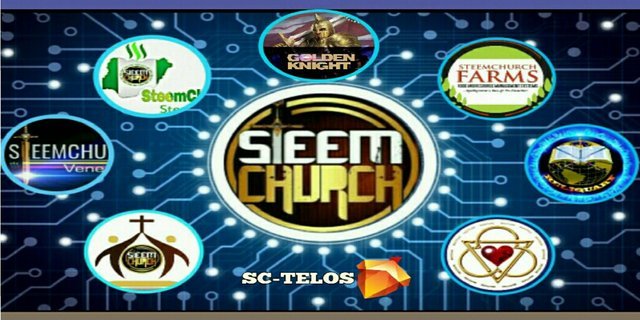 My shoutout goes to our sponsors:
@sirknight,@sniffnscurry,@pennsif,@adollaraday,@fundition,@charitycurator, @theycallmedan,@curatorhulk, @impactn-projects,@partiko.
My special thanks also goes to @adollaraday @reliquary @sniffnscurry @steemchurch @sc-g @sc-v @sc-n @sc-telos and all the parishioners.
Let your light so shine that they'll see your good works and glorify your father in heaven.
Join christian-trail curation trail @ https://steemauto.com , register and help in encouraging one another in steemit.

---
Thanks for your support.
---

You can also listen to our audio/video full gospel messages on our YouTube channel
For prayers and further interactions send us an email at maxdevalue@gmail.com
---
Reach out to me on steemit private chat @maxdevalue
AT THE INCREASE OF HIS KINGDOM THERE SHALL BE NO END!
---
Thank you as you participate.
---
Posted via Marlians.com