The eye is the lamp of the body.
If your eyes are healthy, your whole body will be full of light. [NIV Matthew 6:22]
---
With joy in my heart I welcome all parishioners to yet another month of love and prosperity for Steemchurch community, this is the first day of September and the first Golden Censer challenge of the month, many wonderful things are happening at the background, thanks to the leadership and founders to our worldwide Ministry on blockchain where we spread the love of Christ and freedom that we've received! Amen.
I'm blessed with a beautiful word from the scriptures today through Golden Censer, reminding me the words of Christ concerning how to keep my eyes healthy through the word so that my whole being is lightened up to see the goodness of God, to see good in other people, and to be able to walk in the spirit.
---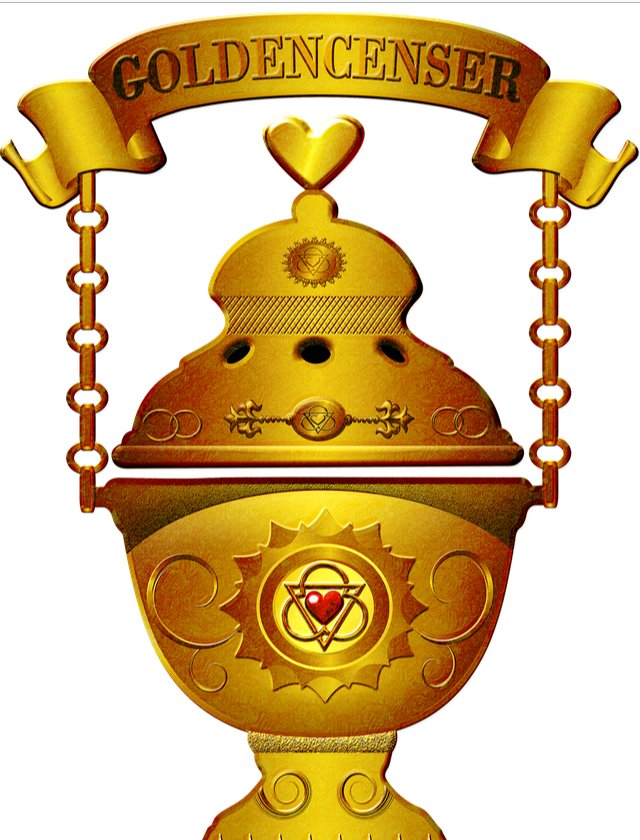 ---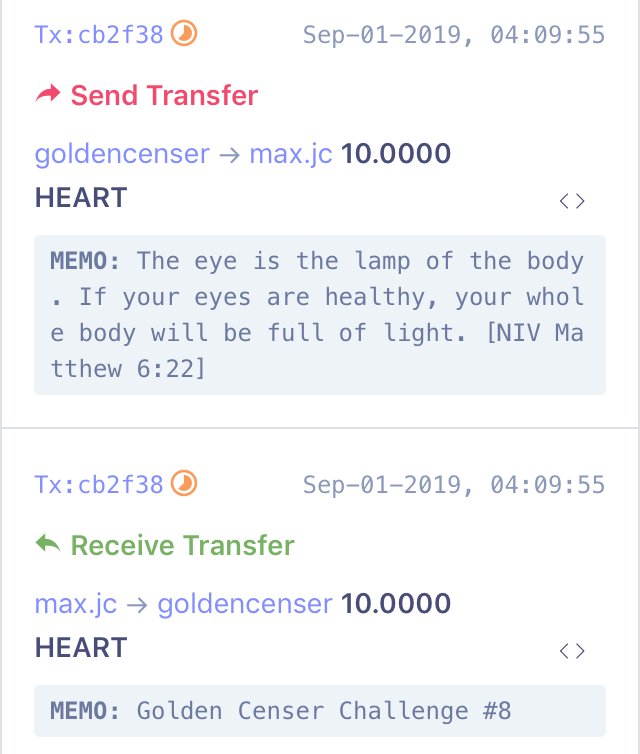 How to participate in goldencenser's challenge.
• Resteem this post for a wider audience
• Fuel the golden censer with some Beatitude HEARTs.
• Comment on this post with;
i. Evidence of the transfer (screenshot like mine above, with the word you received from Golden Censer)
ii. Provide your Telos Steemchurch username with our .jc suffix.
---
Participants will have till 11:59 PM UTC Wednesday 4th of September 2019. Activities and comments after this said time are also accepted but might not be rewarded.
---
Rewards that will be distributed to participants:
Our golden Knight @sirknight has increased the TLOS and HEARTs by 50% 😱, please tell other parishioners to participate.
300TLOS, 300 Beatitude HEART Blessing, and other hundreds of Tribe Tokens from @uyobong and 10 liquid Steem from I myself to be distributed among participants, and good curation from our friends @sniffnscurry to entries, comments and posts.
You are also free to make a post with your challenge activities; I'll also encourage parishioners to consider using steemleo.com, sportstalk, and marlians.com for their posts as some of us has big stake in those places to support church members.
Rules for posts
i. Our Golden Censer Image should be your first Image in your entry post.
ii. Provide evidence of your transfer to Golden Censer, and share with us what the word received from Golden Censer meant to you
iii. Mention me (@maxdevalue) in your post for up vote and a resteem.
iiv. Use goldencenserchallenge as your first tag and be ready to get fair upvote from our friends @sniffnscurry.
This challenge is organized and being sponsored by Steemchurch, our leaders and pioneers @sirknight, our apostle @darlenys01, priest @uyobong, my humble self @maxdevalue, and the leadership of Steemchurch International Ministry at large!
We're looking forward for more sponsors, if you're willing to please contact us.
Announcement:
---
• We are extending Golden Censer Challenge to brothers and sisters outside Steem blockchain using Steemchurch Telegram channel as the enabling ground!
Friends and families can now submit their entries there. But how?
Let's hear from golden Knight himself:
Okay these people not on Steem - how do they propose to join in? Tell you what - they could 1 - Send heart to goldencenser. 2 - Make post about what the Biblical reply means to them here at Telegram - this works for me.
SK.
Oh sure good idea.
Darlenys
• Our brother @uyobong is setting us up for massive breakthrough by investing heavily in Steem-Engine Tokens, parishioners are advised to follow such example, we should grow together so that together we can reach out further to those outside.
Post with Steemleo.com for investment related posts, Marlians.com for general posts, and https://www.sportstalksocial.com for sports related articles and receive huge support from @uyobong and other parishioners that gaining skin in the game.
---
Thanks for participating!
---
---
---
Please upvote and resteem this post if you found it good for others.
---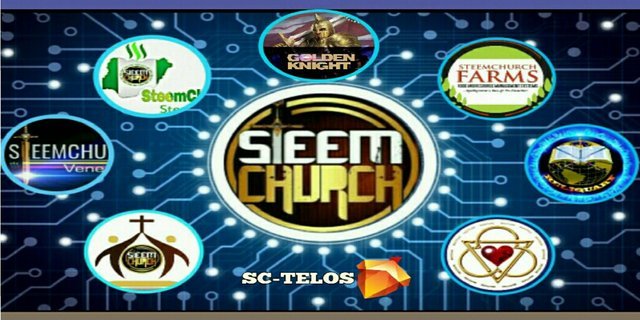 My shoutout goes to our sponsors:
@sirknight,@sniffnscurry,@pennsif,@adollaraday,@fundition,@charitycurator, @theycallmedan,@curatorhulk, @impactn-projects,@partiko.
My special thanks also goes to @adollaraday @reliquary @sniffnscurry @steemchurch @sc-g @sc-v @sc-n @sc-telos and all the parishioners.
Let your light so shine that they'll see your good works and glorify your father in heaven.
Join christian-trail curation trail @ https://steemauto.com , register and help in encouraging one another in steemit.

---
Thanks for your support.
---

You can also listen to our audio/video full gospel messages on our YouTube channel
For prayers and further interactions send us an email at maxdevalue@gmail.com
---
Reach out to me on steemit private chat @maxdevalue
AT THE INCREASE OF HIS KINGDOM THERE SHALL BE NO END!
---
Thank you for reading
---
Posted via Marlians.com