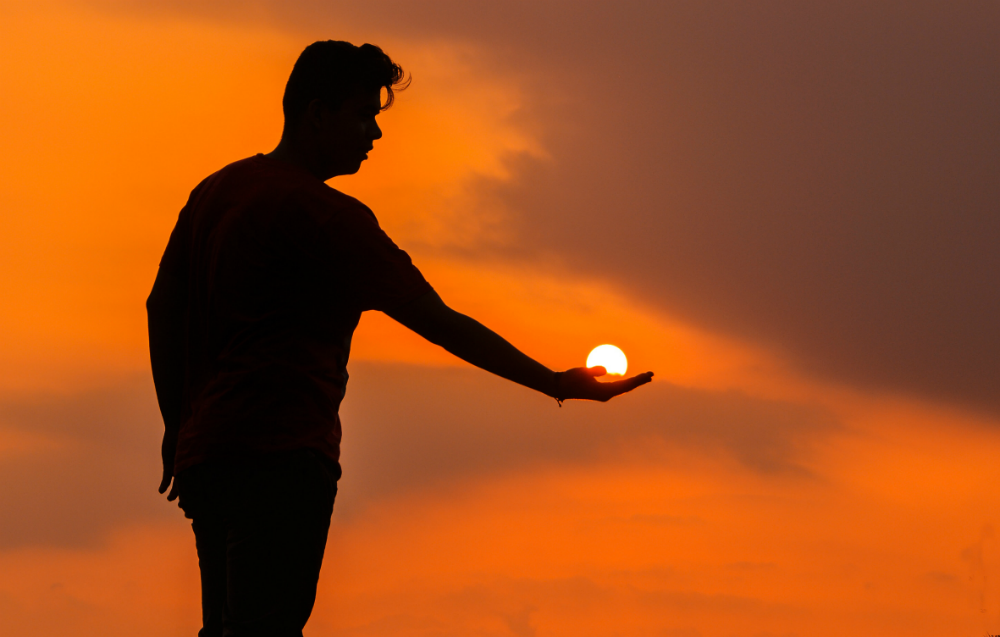 A Zen Master asked a student; "Where is your mind?".

The student answered; "When I perceive my thoughts it is as if someone is speaking inside my head, so my mind must exist there.

The master motioned for the student to approach him, the master banged his fist down on the student's big toe and said; "Now where is your mind?"

- Zen Golf
Zen Golf teaches us that when our mind is not completely focused on the shot we are about to take, it is pointless to expect the outcome to be anything other than poor.
Technically in golf a putt is the easiest shot, it requires the least body movement and needs little to no strength or flexibility, a child of two can be taught to putt in very little time at all.
However perhaps because of the ease of the shot, it is one of the hardest psychological things to do in golf.
To illustrate the size of your mind, Dr Joe gives the example of when you are approaching a green to putt the ball, noticing that there are some people on the tee (the starting point for a hole in golf) a few hundred yards away waiting for you to finish.
He says that often a golfer will miss the putt badly when they make this particular observation. The reason is that as you notice the waiting players, your mind expands out and you start to watch yourself from their perspective several hundred yards away.
How can you be expected to make a precision shot like a putt whilst standing a few hundred yards away from your ball? Exactly, you can't!
Your Mind In Place
You may have heard the philosophical stance that being in the moment is the place whereby we can perform our best. That wonderful point in time when you are concentrating 100% of your efforts to the task at hand, you are fully in the moment, and at that point you may achieve flowstate.
Flowstate is a state of mind whereby everything seems to happen with ease, you are in perfect sync with all that is around you, and the task you're performing almost seems to be happening on its own.
This is true, however we often miss a component of flowstate. As well as being in the moment we also want to be in the right location, this is so often overlooked that when you finally pay attention to it, the results will shock and amaze you.
When Am I? Where Am I?
Those are two questions that I ask myself before playing a golf shot; and of course the answers are, now and here.
The mental routine I use in order to bring myself back to the moment and place are as follows:
Firstly I want to bring myself back to the moment, so I make sure that I'm not thinking about how well or badly I did the last time I played the particular hole on whatever course I'm on. Also I don't want to be thinking about how good or bad my score is. Both of these kinds of thoughts will drag my mind to the past or project it into the future.
Secondly I want to make sure my mind is right where it should be, in my head and body, not, for instance, in the head of my playing partner watching me; or some random guy who has stopped by the fence to watch me play my shot.
The way I do this is by routine, first I listen to the sounds around me. Depending on where I'm playing this could be the sounds of children playing in the distance or birds and crickets going about their daily business.
This brings me back to the present moment.
Next I concentrate on how the golf club feels in my hand, and how the wind and sun (being in the UK, more often rain) feel against my skin. Also how my feet feel in my shoes, and how my clothes are resting on my body.
This brings me back to the present place.
Then I can take my shot.
Back To Reality
These techniques can be used in your everyday life, sometimes you will be so stressed out about something that you can't perform the necessary task at hand.
You will be thinking about how you messed up last time, or how if you don't get it right things will go badly for you. Or even if you do perform in a competent manner, how things will turn out amazingly for you.
Whatever the circumstance, your mind is not in the moment and in the location it needs to be in. Use the techniques above to bring yourself back to the moment and place you need to be in order to perform at its optimal best.
Tweak these techniques so that they become your own, and in time you will learn to shrink and expand your mind at will.
How big is your mind?

Imagine the size of the universe, and you will see that there is no limit to its size.
DO YOU HAVE PROBLEMS STAYING IN THE PRESENT MOMENT AND RIGHT LOCATION? WERE YOU EVEN AWARE THAT TRAINING YOUR MIND NOT TO WANDER IN THIS WAY CAN BE BENEFICIAL TO PERFORMANCE? OR PERHAPS YOU ALREADY HAVE TECHNIQUES YOU USE TO FOCUS YOUR MIND?
AS EVER, LET ME KNOW BELOW!
Further reading:
Incredible You! - Finding Your Flow State Superpower

Incredible You! - Flow Your Way To Success With The Power Of Single Tasking
Title image: Gamze Bozkaya on Unsplash