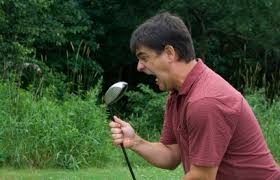 Inevitably you will experience setbacks over the course of what you are trying to accomplish. For me, I'm trying to get from a 18 hole golf score of 92 to 72. As I've explained before, it's a lofty goal but I feel like setting the bar so high is strategically important for me. It's concrete and very specific. A goal of 72 gets me out the door, practicing and playing. It's motivation for me to get moving. That is, unless I'm busy.
That's been the major source of my setback so far this past week. I've been extremely busy and haven't had the time to play, had limited practice time and done minimum research.
This sort of setback wasn't unexpected for me. I knew heading into this challenge that it would coincide with the timing of putting my crab pots in the water. Over the course of two days I set 215 pots. I crab them three days a week, in addition to a full time job and having 4 kids...two of which have swim practice three nights a week. Not to mention the random house chores that come along with warm weather (garden, cutting grass, pool up-keep, etc...)
As a general rule, I understand that setbacks happen all the time. How I deal with them will dictate the outcome of my goal. Since time management is so important for me, I know I need to do a better job of planning out my practice and playing time, like weeks in advance.
The next time I might be able to play is on Friday and that's if I can get off work and my Dad doesn't need to help him crab until the afternoon. It's hard to plan when you just don't know what your day or week is even going to be like.
So that's what I'm dealing with right now...trying to find time for golf. Making it a priority in my life that already full of priorities.
Hope you all have a wonderful week!
Chris