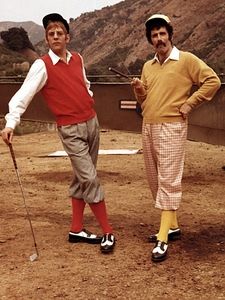 Woohoo! I'm back baby! Back in the 70s. I shot a round of 77 yesterday, 5 over par. Carded two birdies and 2 doubles.
I had some really awesome golf shots, especially in my short game. I also had some great tee shots…both with my driver and my approach on par 3s. I hit 57% of my fairways, and 61% Greens in Regulation (GIR). I'm driving the ball on average about 257 yards off the tee. My farthest yesterday was 291.
I managed the course a lot better than before. Which means I hit the ball in the right spot on the fairway most of the time. I hit my approach shots below the hole and to the center of the green most of the time.
I used my new Game Golf device to track my shots. I'm sharing my round with you now…just click this link: http://www.gamegolf.com/player/Weirdgoose/round/2144099
I'm telling ya, the Game Golf device is really cool. I can track each shot of my rounds, gain insights into my game, and track and study my club performance. To check out the insights section of my game, click here: http://www.gamegolf.com/player/Weirdgoose/insights/share/a1b8b9c7e5
The course I played is not particularly difficult and it's really short… overall it's only 6397 yards and that's from the farthest tees back. There's a 473-yard par 5 😊, number 7 on this course and you can cut a lot of that out by hugging the right side of the dogleg right. I played it in 263 and was on the front edge in 2 and 2 putted for a tap in birdie…almost made eagle. Awesome!
There are a few tricky holes that got me. Both of my doubles came on uphill approaches after being in the fairway or close to it, not more than 165 to the pin. But I missed the green big time on both and it cost me at least 3 or 4 strokes. It's crazy to think how even better my round could have been without those two holes on the card. I hit one in the water on number 6 but was able to get up and down to save bogey thanks to a 14ish foot putt made.
I'm happy with the improvement I've made so far in my game. Going from 92 on 3/27/18 to 77 yesterday (5/10). That's 15 shots dropped in only 44 days or just over 6 weeks. I have 6 more weeks to get to scratch golf. If I can get to scratch golf I will play in the Southern Maryland Amateur (http://www.somdamgolf.com/default.asp), assuming I can get in. It's June 15-17 (which is only 5 weeks away) and it's an invitational tournament. They invite previous players first and then new golfers. I've never played it. I'd also need to get a USGA handicap.
I'm going to continue working hard on my game by hitting balls daily for 20 mins, chipping and putting for 20 mins and working out for 20 mins. In addition, I'm updating my 2006 driver with a 2012 Ping G20 driver I got off of Ebay for $70. I went with the G20 for it's high loft and low spin. I'm hoping to add 20 yards to my drives with the updated technology. That's what the marketers say rights…gain 20 yards off the tee…lol. If Bubba can hit it, so can I 😊.
Until next time,
Chris
If you liked this post and want to stay up to date on my progress, please subscribe to my channel and give this post and others an upvote.
You can also check out my other posts in this series:
https://steemit.com/golf/@weirdgoose/went-golfing-yesterday-lol
https://steemit.com/golf/@weirdgoose/golf-rehab-step-1-getting-back-in-shape
https://steemit.com/golf/@weirdgoose/golfing-rehab-round-2-improvements-already-being-seen
https://steemit.com/golf/@weirdgoose/golf-rehab-practice-practice-practice
https://steemit.com/golf/@weirdgoose/golfing-rehab-my-strategy-for-getting-to-scratch
https://steemit.com/golf/@weirdgoose/golf-rehab-week-4-swing-speed-measurements
https://steemit.com/golf/@weirdgoose/golf-rehab-a-period-of-setbacks-and-how-to-push-through-them
https://steemit.com/golf/@weirdgoose/golf-rehab-round-4-results