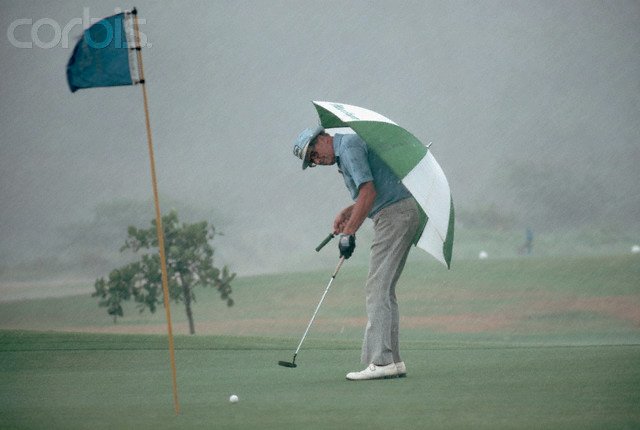 When you're on a schedule to get to scratch golf in 12 weeks from a 20 handicap, the last thing you need is literally a week of pouring down rain to get in your way. But that's exactly what happened to me last week. You couldn't go outside for 7 days unless you were in full rain gear. And there was no let up...day and night...it was like the coming of the big flood.
The only thing I could do towards my goal last week was putt and workout. No hitting balls into the net, no chipping and no golfing. Ugg!
But all is not lost, the weather is all cleared up now. The sun is shining and the fairway grass is growing! Things are looking up from this point forward.
I got my new Mizuno MP-5 forged 6 iron in the mail the other day. I have hit it. And it feels like warm butter! I love it. The look and feel are just super awesome. I've never hit a forged club before. It feels so much different than cast clubs. It's made of is 1025E mild carbon steel, using Mizuno's Grain Flow Forging process with Harmonic Impact Technology (H.I.T.) providing for the outstanding feel. And while they are 2015 technology, they are a huge step up from my Taylormade TP R7 irons and I can't wait to take it out on the course to test it out. And who knows, I might end up with a new set in my bag?
Still have yet to hit my new Ping G20 driver on the course. So I have so much to look forward to and so much to be grateful for. I'm very lucky to be able to take on this golfing challenge and I love sharing my journey with you.
Until next time,
Chris