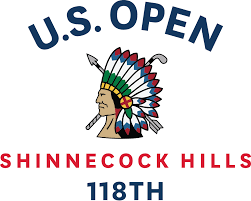 Let's go Steve Stricker! My pick to win or place in this year's US Open. At odds of 150/1 how can you not love him? Former runner up, 51 year old who had to qualify through a sectional qualifying event in Minnesota to even make it to this year's event. LOL! But...if he does win or even places in the top 10, I'm sitting pretty :)
This weekend, starting on Thursday, is the playing of the 118th US Open at Shinnecock Hills Golf Club, Southampton, NY. It's a brutal course, set up intentionally long and difficult by the USGA to test a players precision, distance control, putting and mental fortitude.
This is my most favorite major of the 4 during the golf season. I love watching the best in the world barely scrape by with even par. In fact, I think the USGA will consider it a successful tournament if the winning score is even par after 72 holes. Which is just kind of sick. But it's designed to test the best of the best. You have to bring your A game to the golf course if you want a "shot" at winning. The cream of the crop will rise to the top on this course over the next 4 days.
I love the story lines as well. Can Phil Mickelson finally get that US Open Championship and complete the career major slam? For those of you who don't know this story, he's had 6 (SIX!) runner- up finishes at the US Open and some classic meltdowns on holes 71 and 72 of this tournament over the years. If he were to actually break though it would be AWESOME. He has a good chance this year in my opinion and I think he'll be a contender on Sunday.
Tiger Woods is also an interesting story line this year given it's his comeback year and if he were to break through for his 4th US Open win he'd tie Nicklaus and others for the most all time.
I have created a DK lineup for this tournament. Here's what it looks like:
John Rahm
Tiger Woods
Phil Mickelson
Bubba Watson
Rafael Cabrera-Bello
Chesson Hadley
I entered a $0.25 Tournament since I don't really know what I'm doing when it comes to DK Golf. I just wanted to keep it interesting. I'll be rooting for Steve Sticker this weekend. How about you?
Chris