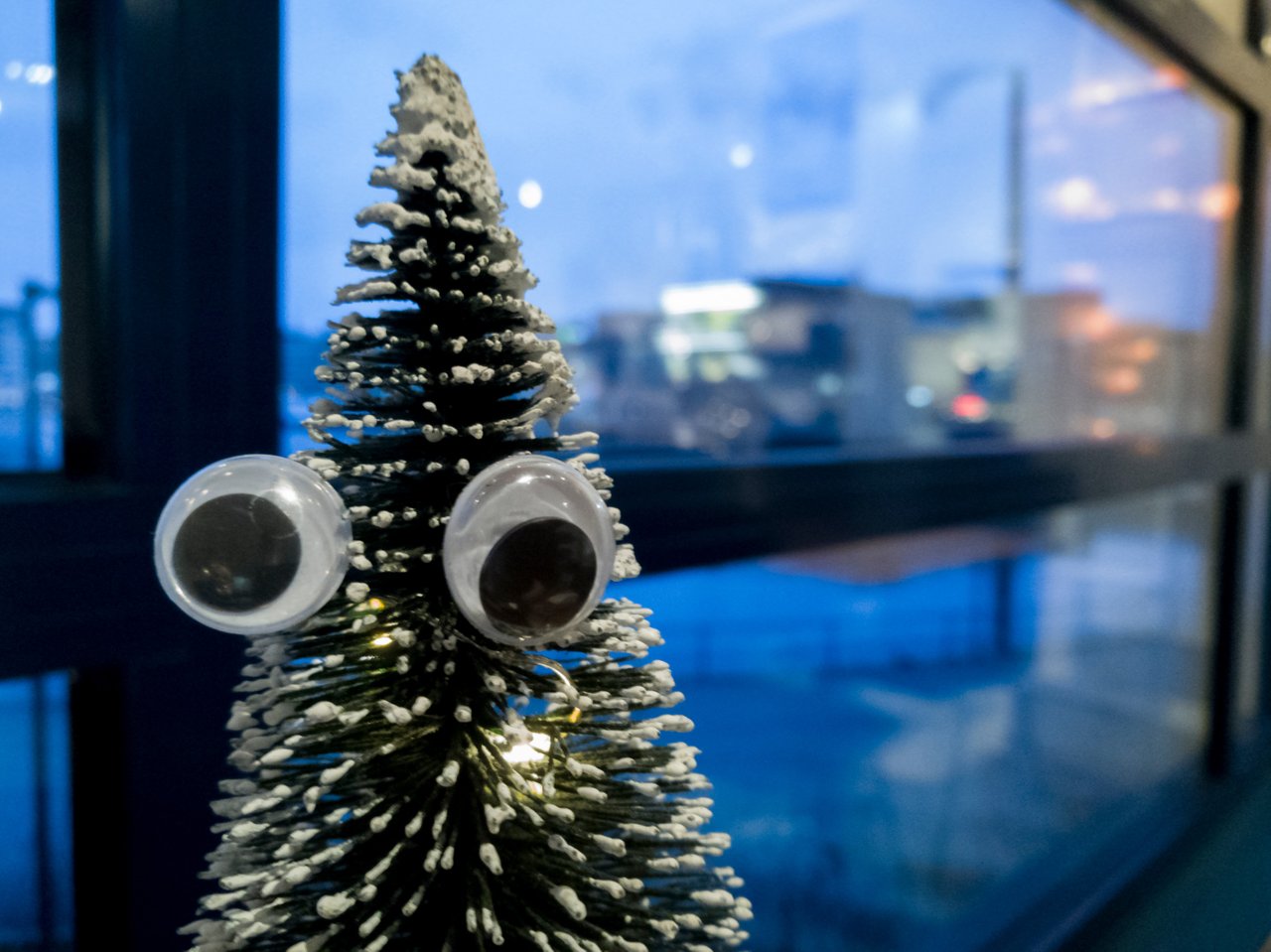 "Haya! I'm Chris Sprucy! I'm so glad you came to see me! So glad, so glad! It's pretty lonely here sometimes and I have no-one to talk to so this is really excellent that I have you to talk with now! I mean, I love to look out the window and see what people are doing, but for a people lover like me, it's not just enough! I love, love, love that you came here! Just sit down and have some coffee with me! Enjoy the view and tell me something about you! Look at that one passing by! Hey! Hey! Hey! Hey! She can't hear me! Tap the window! Tap the window! Tap it! Tap! JUST TAP IT!"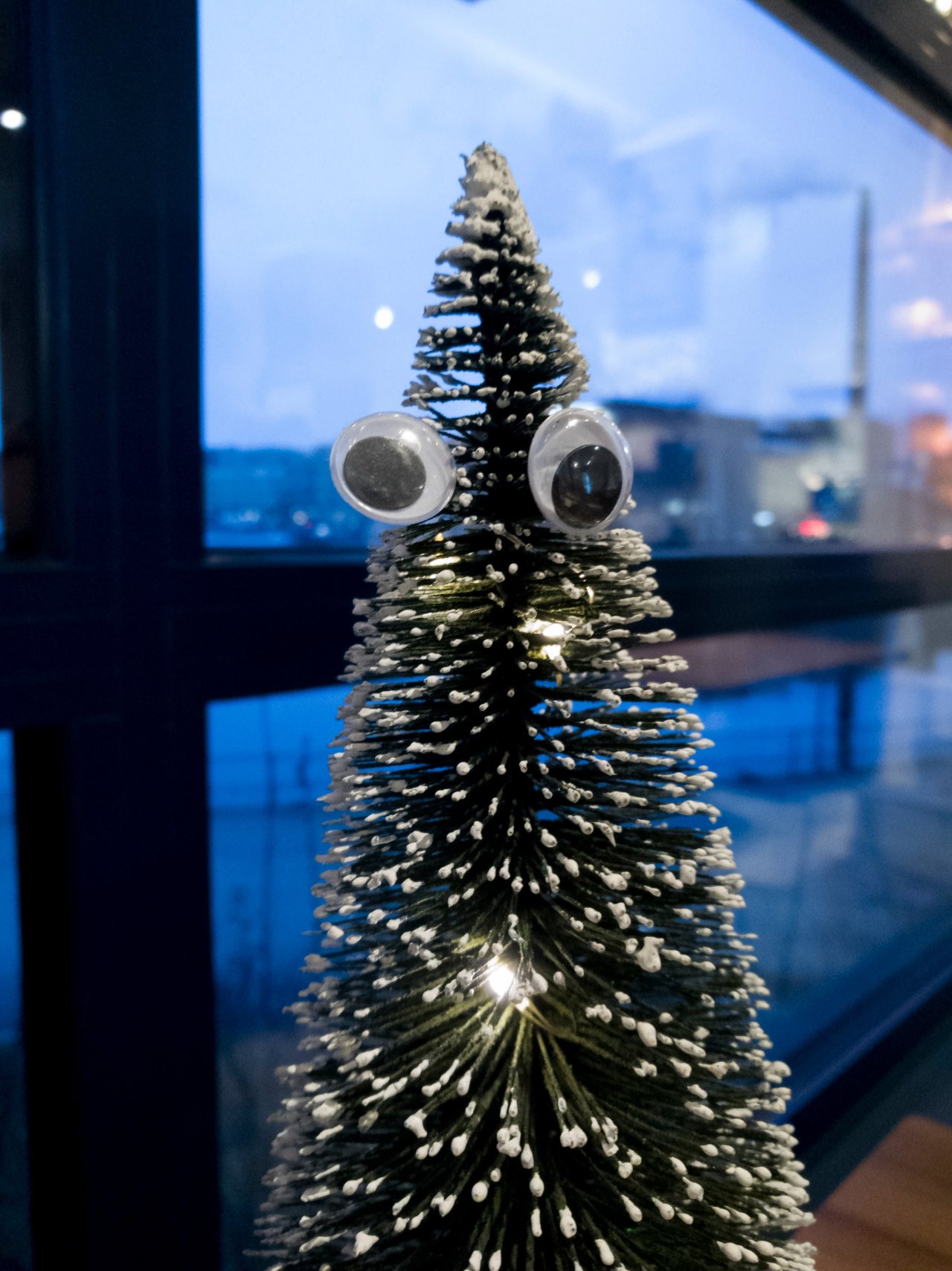 "I've decorated myself with some lights! You know lights! Lights! And don't tell anyone but I also have snow with me! You know! Snow! Yes, snow! That I have! Yes indeed I have! But my lights! They are soooooo shiny and beautiful and and and... But tell me about yourself! I mean HoW aRe you?! I meaN Who are YOU!? It's so nice to meet new FACES here and it's sooooo quiet and lonely HERE SOMETIMES and I just CAN'T... I JUST CAN't, you know?! You DIG IT! I dig it! AND I know! WE ALL DIG IT! ARE YOUR FRIENdS COMING HeRe?! JUST TAKE A SEAT, OH, you are already Sitting, just take some coffee, OH, YOU already have, JUST TAKE A CAKe, OH, YoU ALReaDY HAVE! LOOK AT MY brighT LIGHTS! AREN'T THEY BEAUTIFUL! LIke the SNOW I HAVE! I LIKE TO PARTyyyyyYYYYYY! BRIGHT! BRIGHT! BRIGHT!"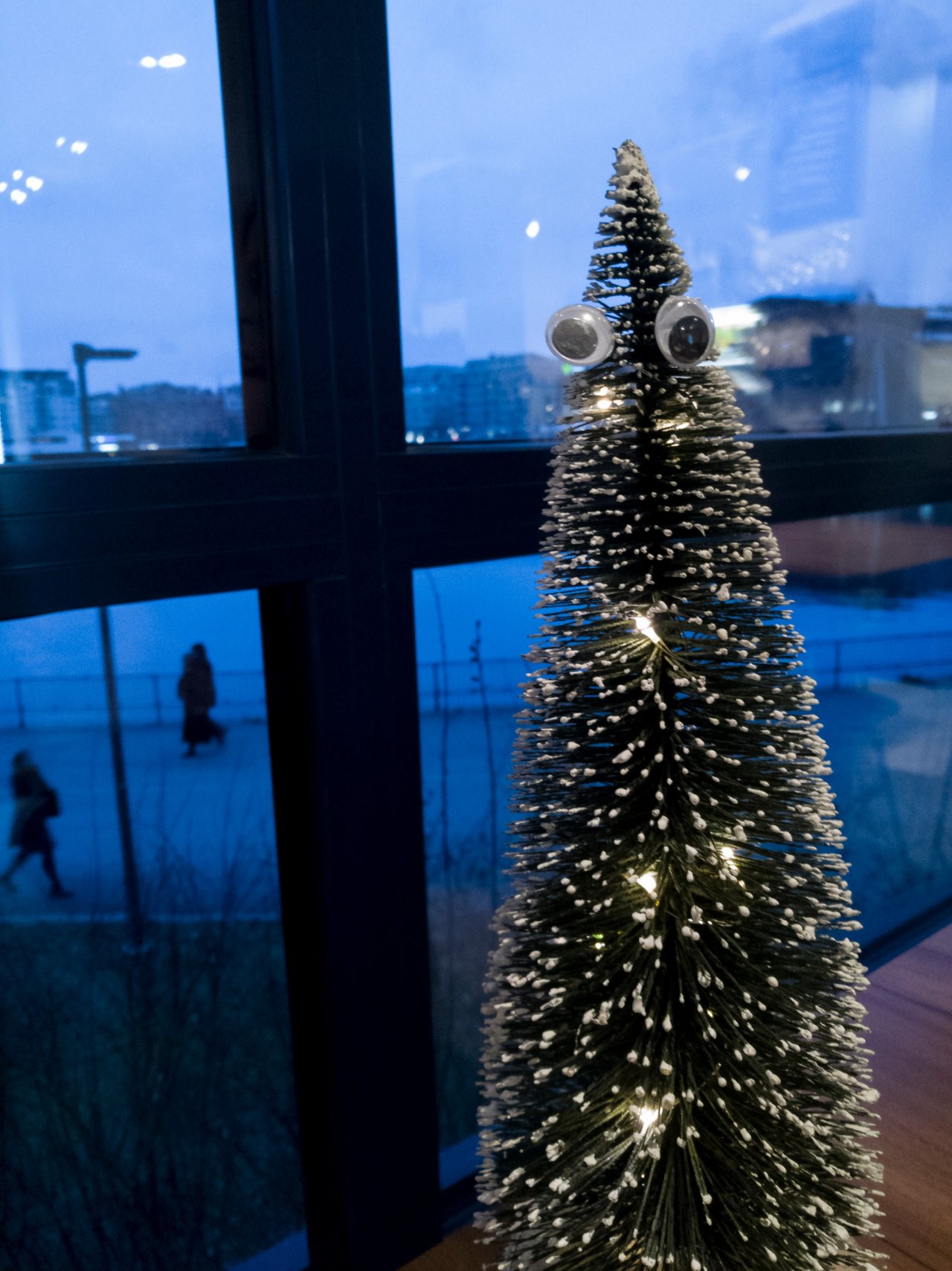 "HEY! HEY! HEY! HEY! BANG THE WINDOW! JUST BANG IT! BANG IT! IF WE SHOUT LOUDERdo you think that woman would hear us?! I HAVE A... A... A... WHATCHA call it... A craving FOR PEOPLE AROUND ME AND TALKING WITH THEM! DO WE HAVE A PARTY HERE?! WE NEED A PARTY HERE! LET'S INVITE ALL THOSE PEOPLE INSIDE! YOU GO, NO, I GO, NO, YOU GO, NO I GO... I INVITE THEM! HEY! HEY! HEY! COME HERE WE HAVE A PARTYYYYYYYY! AND BRIGHT PARTY LIGHTS AND SOME SNOW! BOOM ZIGGY WIGGY ZIGGY WIGGY! LIGHTS! LIGHTS! LIGHTS! SHAKING' IT! I HAVE SNOW! DO YOU HAVE SNOW! I LOVE SNOW! IT'S AWESOME! SNOW, SNOW, SNOW! I A RAPPER! HEAR THIS! WE AIN'T SLOW, SLOW, SLOW! WE LOVE SNOW, SNOW, SNOW! WE HAVE A GOOD SHOW, SHOW, SHOW! AND PARTYYYYYYYYY WITH SNOW, SNOW, SNOW! WE NEED SOME MUSIC!!!!!!!"
"WHOA! THAT'S KINDA OLD! WE NEED NEW MUUUUUSIIIIIIC!!!!
MORE AWESOME SNOW, SNOW SNOW!
HOW LOW CAN YOU GO, GO, GO!
MORE BEAUTIFUL LIGHT, LIGHT LIGHT!
MAKE MY DAY BRIGHT, BRIGHT, BRIGHT!
ANYTIME YOU HAVE A CHANCE, CHANCE, CHANCE!
YOU JUST HAVE TO DANCE, DANCE, DANCE!"
"SnoW! snow! snow! MOOOOOOREEEEEE!"
"CAT! HAHA! CAT! HaHa! SnoW IS FUN! Look at that CAT! If I just COULD HAVE as much SNOW as the CAT HAS!"
"I Feel A Bit low nOw. I'm... I need something to drink. So dry. Mouth. I feel... I feel... nothing. Is there someone following me? I'm sure there is. Do you see a white... a white rabbit? Where did it go?"
.
.
.
.
.
"I'm alright now. It was nice talking to you. Come again!"