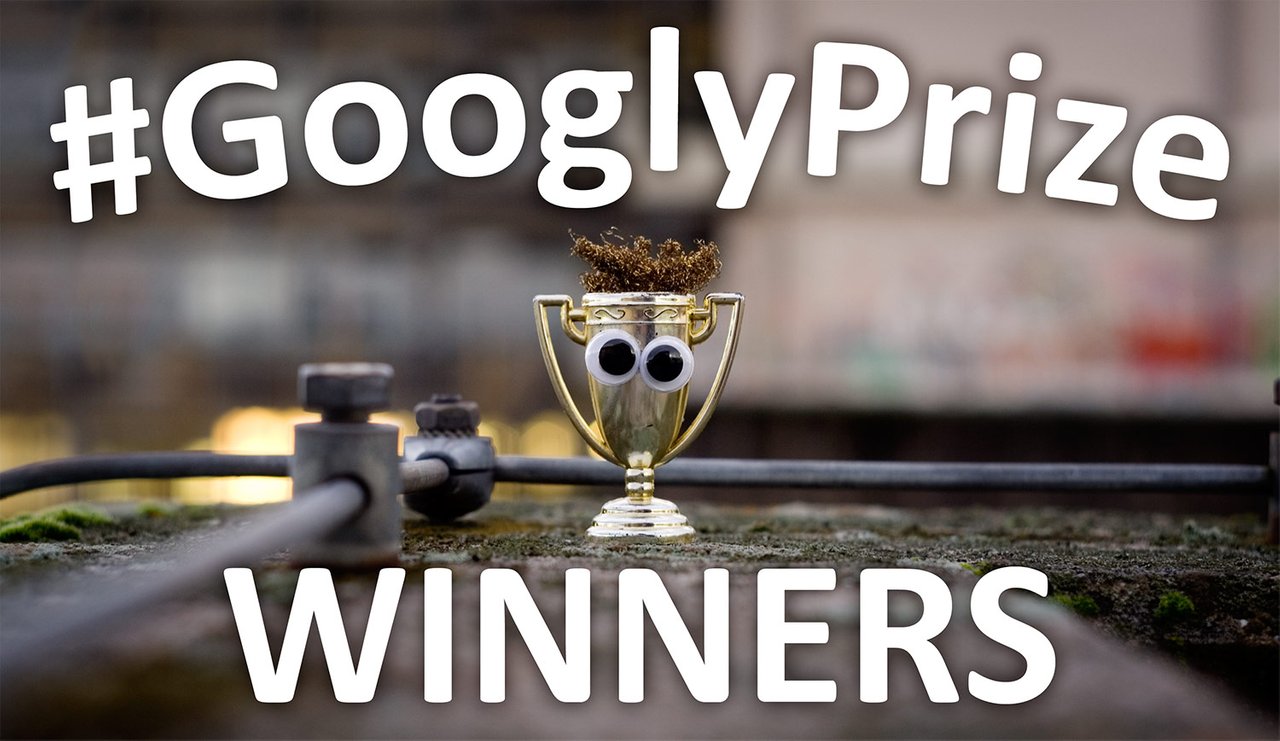 Here we googly again.
Creative ideas with curious eyes.
Every week the best ones get a prize,
the #GooglyPrize for the best #GooglyEyes!
This prize is entirely funded from the generosity of the community and the patrons unrelenting support. Every single cent in rewards on these announcements is going back to fund the prizes. Liquid rewards are paid out and stake is building a continuously growing delegation award.
And this week we're a bit above average again because the lovely @contrabourdon from the witness team @untersatz decided to bring some bonus curation our way last week, and then last week's winners also received bonus SBI shares because the ever-fluffy @drakernoise wanted his to be redirect the googly way.
Everything is better with #GooglyEyes!
---
The Prize Pool:
carried over from last week
0.034 SBD, 5.564 STEEM,
5.453 PAL, 29.1876 CCC and 2.25479 PHOTO
in liquid funds
and an available delegation of 536.155 SP
plus
100% of all rewards on last week's winner announcement:
0.000 SBD, 12.205 STEEM, 12.107 SP
8.593 PAL, 42.4927 CCC, 4.62957 PHOTO
PAL, CCC and PHOTO pay their rewards in 50/50 staked and liquid tokens
only the liquid amounts, available for immediate prize-payouts, are noted above
staked tribe-rewards in equal amounts have been added to @googlyeyes' stake
you are welcome to join the discussion on how these funds should be used
share your thoughts on the Planet Googly Discord
adding up to:
💰
0.034 SBD, 17.769 STEEM,
14.046 PAL, 71.6803 CCC and 6.88436 PHOTO
in the liquid prize-pool
60% will be given out today, 40% will be carried over into next round!
1st - 30% | 2nd - 20% | 3rd - 10%
and
548.362 SP for delegations!
delegation prizes are exclusive to winners with low stake and good voting manners
 
 
Need more details and numbers about the Prize-Pool? There's a whole spreadheet for you!
---
As always, friends and family on the Planet Googly discord were asked to select up to three personal favorites from 11 entries made under the #googlyeyes tag since the last winner announcement was posted.
qualifying posts were submitted by:
@marpa, @contrabourdon, @detlev, @krakonos, @anouk.nox, @saffisara,
@crosheille, @mathowl, @marblely, @farm-mom and @steemean
today's guest judges were:
@bucipuci, @drakernoise, @hazel420, @hopehuggs, @isnogud,
@jamethiel, @marblely, @ninahaskin, @qwerrie and @sparkesy43
guest judges can never vote for their own entries
first of all, an honorable mention:
@detlev with "Cinnamon C.L.T."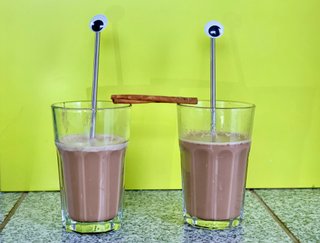 @detlev's delicious entry had just as many jury votes as our third winner's entry today, but having already won the Grand Prize just a week ago, I've decided to pass the cup on to the next one today.
and now,
drumroll please...
🥁 HERE ARE OUR WINNERS: 🥁
🥉 Today's 3rd winner is: 🥉
@marblely with
"Piña CoGoogly"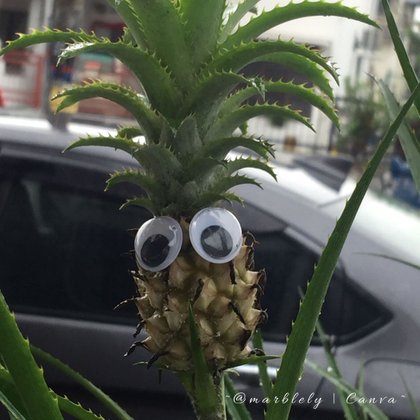 @marblely is a frequent winner as well and she often meets her googlies in the kitchen, too... but this time she faced a drizzly rain and prickly thorns just to show us some exotic friends in unseen poses. That's definitely worth a prize!
🥈 The 2nd winner is: 🥈
@mathowl with
"Train journ-EYE"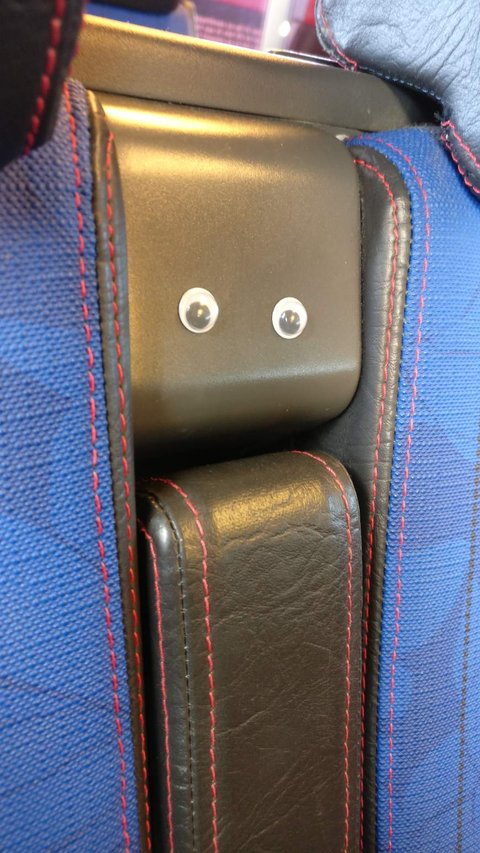 The owl is back with a punchline, or actually five. I for one am quite glad he's getting a bit bored on these train rides, if that means we get to enjoy more puns and funny faces here, I am all for it!
🥇 And Our Grand Winner is: 🥇
@steemean with
"Aliens in my lemon Tree"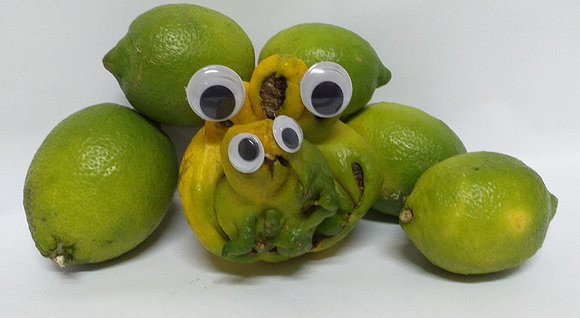 WOAH! Well, that has to be one of the craziest fruity alien figures I've seen on this show, and I've seen quite a bunch in the past few years of doing this, so it's definitely something! Go check it out, a great grand winner. If life gives you disfigured lemons, you know what to do...
#GooglyEyes and win!
aaaaand
another drumroll, please
🥁 the Googly-Delegation-Winners are: 🥁
you will receive delegations worth
274.181, 164.508 and 109.672 SP
for at least 9 days.
All of today's winners qualify for the delegation prizes, none of them is ridiculously rich or self-voting too much. We're doing the normal 50/30/20 split for the delegation pool.
---
prizes are being awarded every 7-8 days
No-Conditions Policy:
No mandatory resteems, upvotes or follows are required!
just:
- get some #GooglyEyes -
- stick them onto something -
- take some pictures -
- make a post with the tag #googlyeyes -
- and it must be one of the 1st five tags -
- post original content and don't spam -
- this is a creative contest and not a lottery -
- show us something special and post with passion -
More Winners Every Week!
The prize-pool for the next issue already contains:
liquid funds of 0.031 SBD, 7.107 STEEM,
5.620 PAL, 28.6723 CCC and 2.75376 PHOTO
and 536.512 SP for delegations
and
as always,
100% of ALL rewards on THIS POST!
Want to learn more about this contest? Read:
A brief History, some Updates and a few Tips for Winning
Have more questions or just want to hang out? Join:
Planet Googly on Discord
---
bonus image: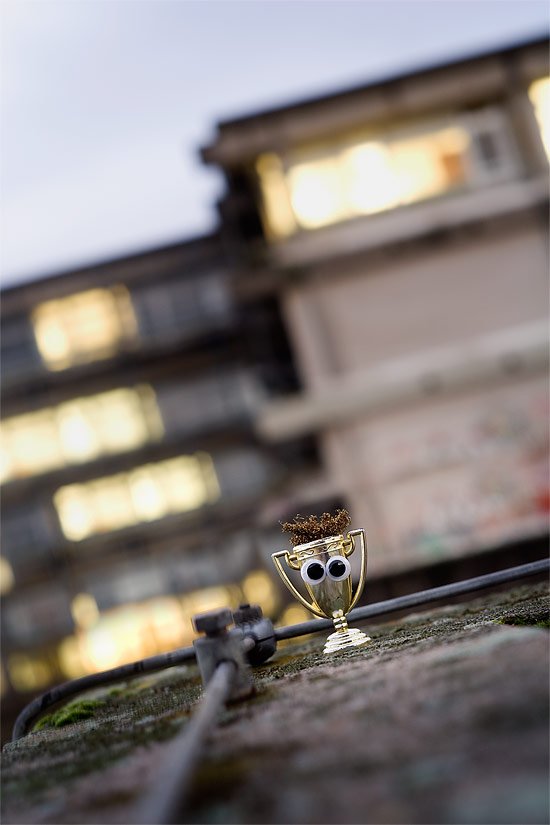 if in doubt or in a hurry... just tilt it a little bit
---
My special appreciation goes to our googly patrons:
@krystle, @ausbitbank, @reggaemuffin and @drakos!
They are bootsrapping this contest with their ongoing support!
@ausbitbank, @reggaemuffin & @drakos are also running as witnesses,
show them some love by giving them your approval!
More shoutouts go to @perepilichnyy, @abigail-dantes, @ew-and-patterns, @detlev, @tattoodjay, @thecryptodrive, @contrabourdon, @tengri, @leysa, @killerwhale, @saboin, @steemean, @mathowl, @charlie777pt, @seckorama, @brittandjosie, @shasta, @steemseph, @jasonbu, @marblely, @ninahaskin, @marty-art, @arcange, @drakernoise, @saffisara, @kamikaze, @cryptomancer, @norwegiansteem, @bashadow, @megadrive, @apsu, @jacey.boldart, @ewkaw, @tryskele, @marpa, @syndicates, @monster-one, @krakonos, @healthandfitness, @lordvdr, @qwerrie, @sparkesy43, @insaneworks, @yoogyart, @publicview, @queeirisa, @okkiedot, @anomallies, @droida, @jamerussell, @bubbleburst, @chain.games, @xcountytravelers, @pixelfan, @glitterbooster, @gweern, @bucipuci, @robofox, @yo-yo, @superbad, @w0olf, @antdroid, @lunamoon, @khaldeesi, @freyamber, @psyborg, @shadowmask, @thesummoner, @lord-of-the-d, @actisam, @lukasmining, @butthugs, @iovoccae, @steemlandia, @brickmanbrad, @fambalam, @sexualtendencies, @omstavan, @steemersayu907, @x40l1n, @echobourdon, @thomasgift, @newbiegames, @deadlyvesy, @i-c-e, @soundworks, @allied-mafia, @twonuts, @raphaelle, @toonuts, @kgdruglords, @steemforsteem, @pinkyspiky, @sam99, @isaria-ccc, @pal-isaria, @organduo.voter, @ikarus56, @siomarasalmeron, @linkerstinker, @zanetaviz, @aditus, @tokengesture, @moneyman19, @vaccinusveritas, @bitting, @oleksa61, @iedot, @nurah, @arsadulislam, @ambercookie, @orbo, @leysa.ccc, @fallrain, @mohaaking, @kingnosa, @sifondeseltz, @brendanweinhold, @stmdev, @roknavy, @wstanley226, @themuffinman, @filipino, @shahabudin, @laissez-faire, @life.syndication, @samlee2018, @rainbow83, @badham, @changeangels, @atomicannie and @cn-photo for upvoting last week's announcement and thereby helping to fund this awesome award!!
---
everything is better with #GooglyEyes
Your upvote on this post is funding next week's prize!