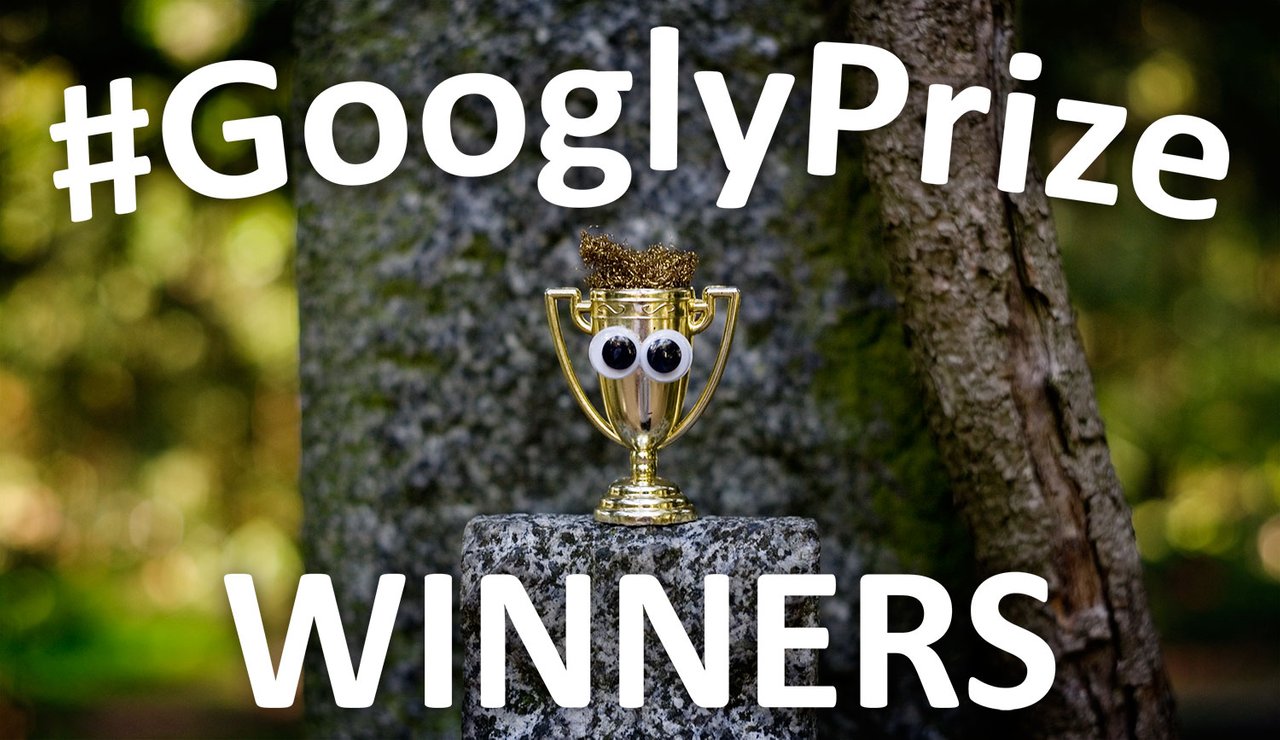 More great Googlies yet again!
Because we do this about once every week.
The ongoing shortage of liquid SBD rewards is causing the prize-pool to get skewed over to the STEEM side. But luckily, we now have tribe tokens, too. The PAL pool has already established itself as a decently rewarding pond so far.
But now, there's creativecoin.xyz, too! In my humble opinion, this is perfectly matching the googly niche, because this googly thing, it is all about creativity in the end!
So, we're starting to use the #creativecoin tag with this round of the announcements and we'll see how that goes! @googlyeyes has staked it's CCC airdrop so if you use the tag on your googly posts, we can make sure you'll get at least a little CCC for those right away, even if you don't win a prize in the end.
now on with the show:
---
---
The Prize Pool:
carried over from last week
1.779 SBD, 8.428 STEEM and 11.095 PAL in liquid funds
and an available delegation of 402.558 SP
plus
@suesa is sponsoring 10 STEEM again
(week 6/6)
plus
100% of all rewards on last week's winner announcement:
1.104 SBD, 6.513 STEEM, 17.402 PAL and 10.609 SP
adding up to:
24.581 STEEM, 2.883 SBD and 28.497 PAL in the liquid prize-pool
60% will be given out today, 40% will be carried over into next round!
1st - 30% | 2nd - 20% | 3rd - 10%
and
413.167 SP for delegations!
delegation prizes are exclusive to winners with low stake and good voting manners
 
 
Need more details and numbers about the Prize-Pool? There's a whole spreadheet for you!
I haven't fully integrated the tribe bookkeeping in there, yet. You'll find it way off to the right: column BF.
---
As usual, friends and family on the Planet Googly discord got together to pick their three favorite posts among all qualifying entries. The voting via emojis on discord was a bit bumpy due to some missing preview images... steemit's DDoS protection and some image servers just didn't want to play ball today. We still managed to get a result, though. The community picked clear grand and second winners, but I had to chose one of multiple entries tied for the 3rd rank myself.
the qualifying posts were submitted by:
@marty-art, @wakeupkitty, @marpa, @debo-medstudent,
@tryskele, @roguescientist84 and @bucipuci
today's guest judges were:
@brittandjosie, @dexterdev, @fraenk, @hazel420,
@isnogud, @jamethiel, @krystle, @marblely and @mathowl
guest judges can never vote for their own entries
drumroll please...
🥁 HERE ARE THE WINNERS: 🥁
🥉 Today's 3rd winner is: 🥉
@tryskele with
"Lost Little Duck"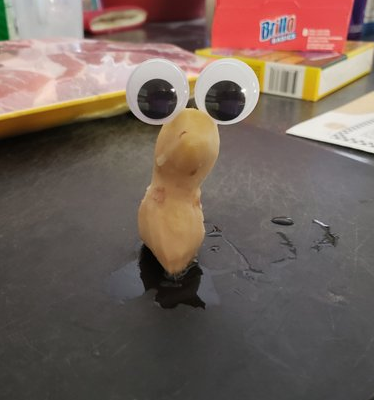 A spicy little ginger duck. Yummy! And that's the final proof: It's totally a good idea to play with your food, you might even win something for it.
🥈 The 2nd winner is: 🥈
@roguescientist84 with
"Just looking for someone to turn him on"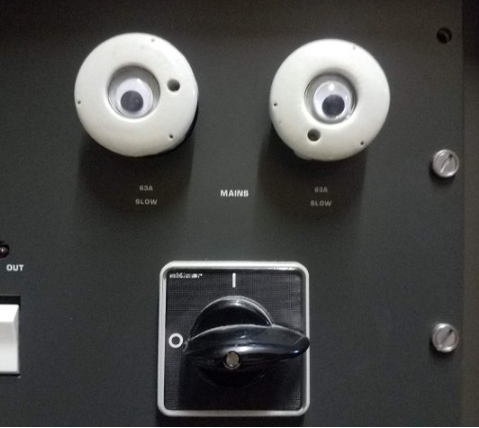 Another googly appliance from the rogue scientist's well organized and just hardly cluttered laboratory. Will you dare to turn him on?
🥇 And Our Grand Winner is: 🥇
@marty-art with
"Googlyeyes Blast from the Past!"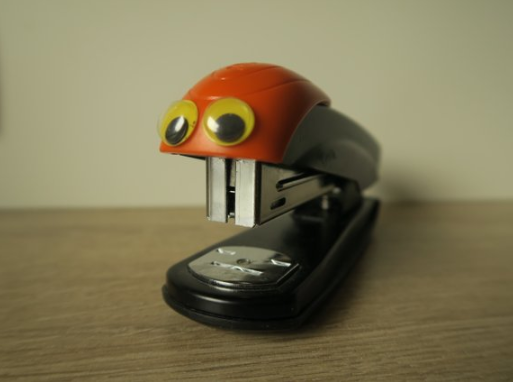 Woah... @marty-art has been missing in action for ages (measured in blockchain-time). And then he suddenly comes back to us with these classic googlies that had been lost for over two years. What a nice surprise!
aaaaand
another drumroll, please
🥁 the Googly-Delegation-Winners are: 🥁
you will receive delegations of 247.900 and 165.266 SP for at least 9 days.
Unfortunately @marty-art is still mostly missing in action, so his account shows barely any organic voting. That means the delegation pool goes to the 2nd and 3rd winner in a 60/40 split.
---
prizes are being awarded every 7-8 days
No-Conditions Policy:
No mandatory resteems, upvotes or follows are required!
just:
- get some #GooglyEyes -
- stick them onto something -
- take some pictures -
- make a post with the tag #googlyeyes -
- post original content and don't spam -
- this is a creative contest and not a lottery -
- show us something special and post with passion -
More Winners Every Week!
The prize-pool for the next issue already contains:
liquid funds of 9.832 STEEM, 1.153 SBD, 11.401 PAL
and 415.117 SP for delegations
and
as always,
100% of ALL rewards on THIS POST!
Want to learn more about this contest? Read:
A brief History, some Updates and a few Tips for Winning
Have more questions or just want to hang out? Join:
Planet Googly on Discord
---
bonus image: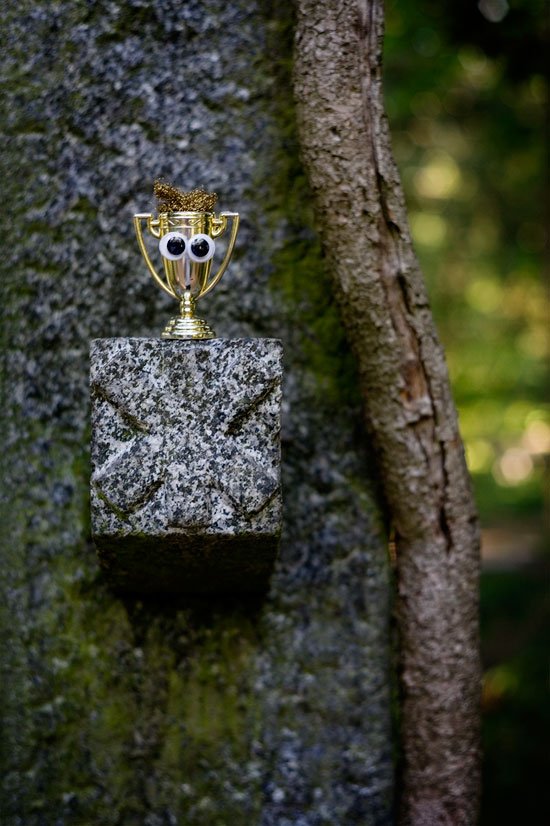 Are we getting too tribal around here?!
---
My special appreciation goes to our googly patrons:
@krystle, @ausbitbank, @reggaemuffin and @drakos!
They are bootsrapping this contest with their ongoing support!
@ausbitbank, @reggaemuffin & @drakos are also running as witnesses,
show them some love by giving them your approval!
More shoutouts go to @perepilichnyy, @contestkings, @abigail-dantes, @ew-and-patterns, @thecryptodrive, @suesa, @brittandjosie, @shoemanchu, @erniegreenhill, @steemseph, @okkiedot, @mathowl, @jasonbu, @marblely, @samstonehill, @swelker101, @drakernoise, @kamikaze, @marty-art, @brandt, @bashadow, @shasta, @phoenixwren, @insaneworks, @arcange, @tryskele, @monster-one, @steemitboard, @artemisa7, @suesa-random, @heyhaveyamet, @marpa, @whitelistauthor, @fiberfrau, @yoogyart, @legato, @lordvdr, @o07, @steemean, @bucipuci, @bubbleburst, @seadbeady, @vaccinusveritas, @gweern, @regularowl, @yo-yo, @dexterdev, @estefania3, @bidesign, @wizardofaus, @robofox, @glitterbooster, @hazel420, @iovoccae, @steemlandia, @rehan.pal, @treasure-chest, @mytunes, @lukasmining, @xcountytravelers, @thomasgift, @newbiegames, @soundworks, @omstavan, @shadowmask, @ticket4fun, @ikarus56, @carlosgauna, @owlpal, @yestermorrow, @linkerstinker, @raphaelle, @iedot, @orbo, @arsadulislam, @mohaaking, @nurah, @kingnosa, @cryptogeorge21, @wstanley226, @anthive, @zedpal, @banjo, @badham, @ambercookie, @cerd26, @jchappe, @changeangels, @shahabudin, @pamahdoo and @atomicannie for upvoting last week's post and thereby helping to fund this award!!
---
everything is better with #GooglyEyes
Your upvote on this post is funding next week's prize!