Heavy is my heart as the finale of Game of Thrones etches closer and closer. I love to read and have always felt mixed feelings of anticipation with a touch of sadness when reaching the end of a story, but this ending of the Song of Ice and Fire series tugs a bit more on my heart.
On one bored day in my college years, I asked my cousin-in-law (good friend back then) if he had a good book he recommend reading. At the time, my preferred genre was Suspense, Thriller, with some Romance tossed in, and Dean Koontz being my favorite author. He lent me George R.R. Martin's, A Game of Thrones. I didn't read fantasy novels back then but well, I had nothing else to read.
What he did not tell me…
It took nearly 10 years for George R.R. Martin to come out with the first three books, with three more novels still to come!
I absolutely loved the story but pointed out to him ALL the time that he could have recommended a book with an ending. So we waited, and waited for the next installments. The years went by and he bought me a copy of Feast for Crows when it came out and I bought him a copy of A Dance with Dragons. We looked forward to the TV show even though the book is way more awesome (besides the point) because finally, an ending might be in sight.
His heart gave out too soon and he is not here to witness this grand finale. I missed him dearly at my wedding many many years ago as he was to be the best man but more so as this year brings an end to Games of Thrones because we shared the love for the story.
Winter is Here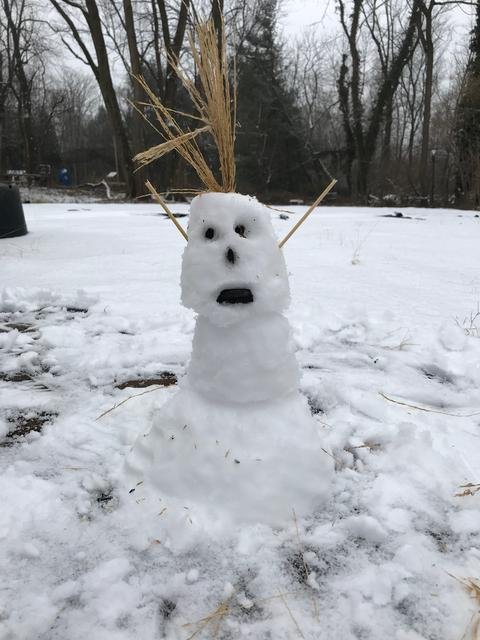 Chi, the years passed by in a blink of an eye. Your nephew built this super snowman.

There are not many topics inspiring me enough to write these days but I thought it interesting to play the guessing game with @v4vapid's GoT Contest: Who Will Die and Who Will Survive Episode 3. Afterall, Chi would have had a kick playing the guessing game with me on this one. I can imagine him picking Jon, being the instigator he was ❤️.
Number
Name
Lives
Dies
1.
Jon Snow
X
2.
Daenerys Targaryen
X
3.
Arya Stark
X
4.
Sansa Stark
X
5.
Brandon Stark
X
6.
Tyrion Lannister
X
7.
Jamie Lannister
X
8.
Cersei Lannister
X
9.
Sam Tarly
X
10.
Brienne of Tarth
X
11.
The Hound - Sandor Clegane
X
12.
Tormund Giantsbane
X
13.
Theon Greyjoy
X
14.
Yara Greyjoy
X
15.
Euron Greyjoy
X
16.
Sir Jorah Mormont
X
17.
Lyanna Mormont
X
18.
Varys
X
19.
Davos
X
20.
Grey Worm
X
21.
Missandei
X
22.
Gilly
X
23.
Gendry
X
24.
Bendrick Dondarrion
X
25.
Bronn
X
26.
Podrick
X
27.
Yohn Royce
X
28.
Qyburn
X
29.
The Red Woman Melisandre
X
30.
The Mountain Gregor Clegane
X
31.
The Night King
X
32.
Drogon
X
33.
Rhaegal
X
34.
Viserion
X