Welcome to the Sponsored @MediaWorks Graphics Contest! Status: CLOSED.
Start Time: ~6 PM ET, Friday
End Time: ~6 PM ET, Tuesday
BCShop.io is sponsoring a graphics design contest here on Steemit!
There is a special bonus, so make sure to read the rules!

Prizes: 115 STEEM + 45 STEEM Bonuses + Tutorial Video Bonuses!

1st Place: 22 STEEM
2nd Place: 17 STEEM
3rd Place: 14 STEEM
4th Place: 13 STEEM
5th Place: 11 STEEM
6th Place: 10 STEEM
7th Place: 9 STEEM
8th Place: 7 STEEM
9th Place: 6 STEEM
10th Place: 6 STEEM
11th - 55th: 1 STEEM Bonus

Deadline: 96 Hours
BCShop.io is a platform and an online marketplace that are powered by smart contracts, allowing vendors to put their products and services up for sale!
The product data as well as the exchange between buyer and seller occurs through Ethereum smart contracts.
The big news? BCShop.io mainnet is out! MainNet Release!
Users can now visit BCShop.io and put their products up for sale as well as see what's on offer. The platform is ready for the big stage.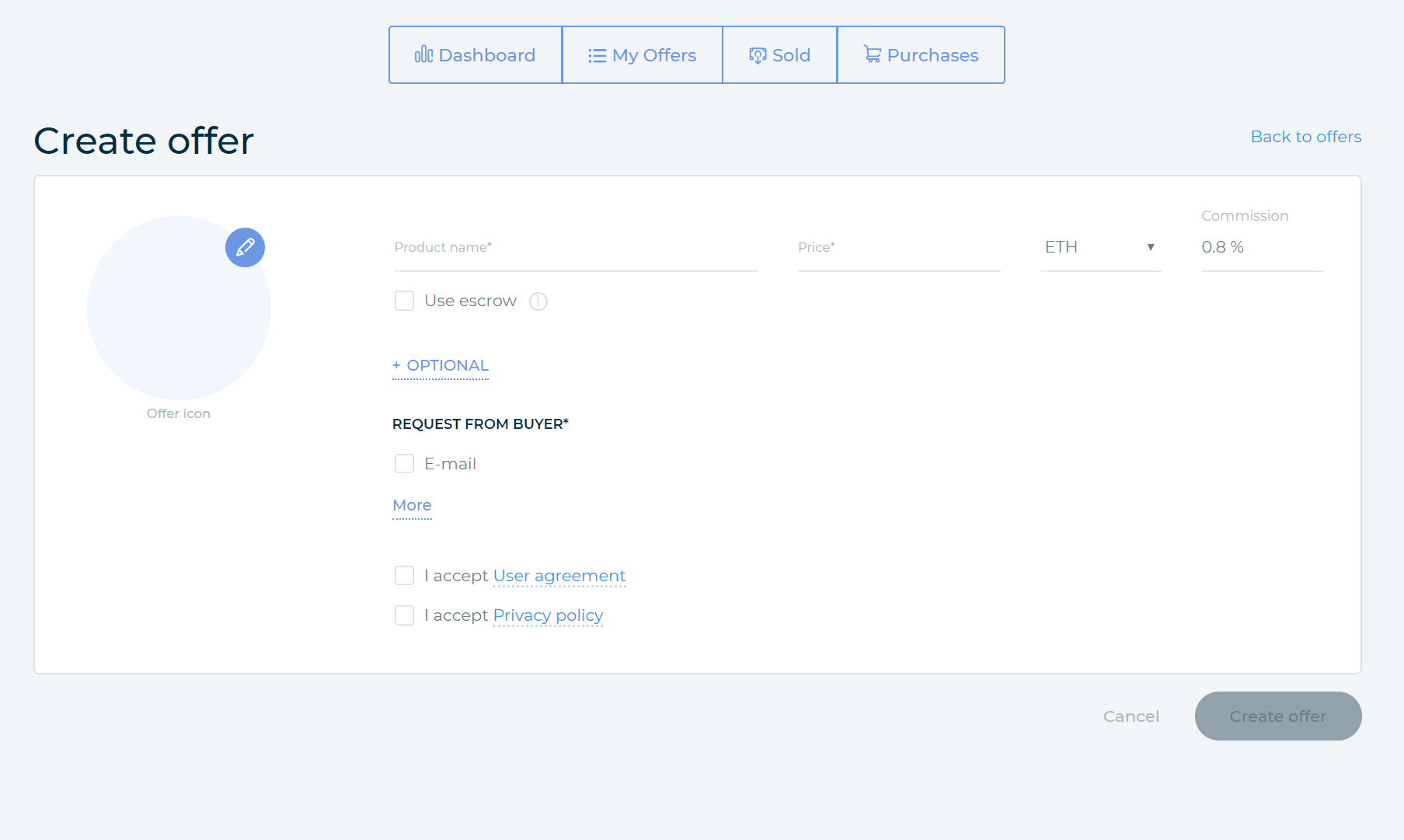 Check it out for yourself!
Creating an Offer
Users can create their own offers by going to the BCShop.io website now.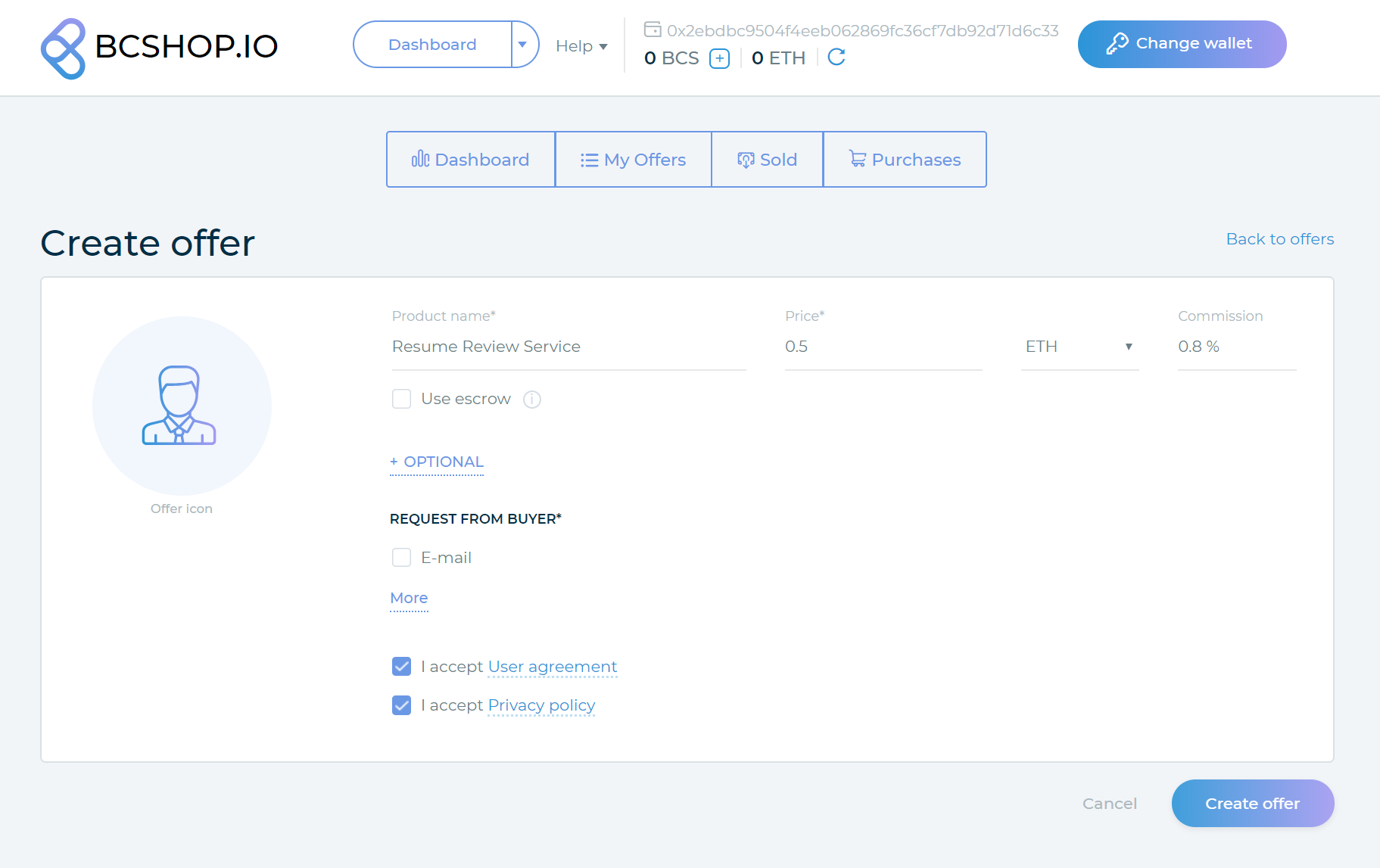 This is the window used for putting up products for sale.
Depending on the trust level of the vendor, they can opt to use an escrow. This ensures that if any complaints are made that they are dealt with before the smart contract releases the payment.
Otherwise, the window is fairly self explanatory and easy to use.
Here are some examples of product listings:
https://bcshop.io/buy/2
https://bcshop.io/buy/62
What Can Be Sold/Bought?
BCShop.io allows the sale of any products of services a vendor may want to sell. The big difference is that BCShop.io can support items that traditional P2P marketplaces have no way to accommodate, such as cryptocurrencies and tokens. Although BCShop.io has these features it does not take away from selling products such as game items, legal services, etc.
Traditional vendors can now put up their items for sale on BCShop.io and have an added source of revenue, while cryptousers have an easy way to purchase items using Ethereum.
Some examples are mentioned here.
A quick overcap of the above mentioned article, is that BCShop.io allows commerce that other platforms simply can't.
One of the great examples that are mentioned are tokens. Token buyers often have to wait for a given token to hit an exchange before they can liquidate it. In some cases this takes extremely long and limits the buyer from part taking in other projects.
An example used in the article mentioned above is "SWEET" tokens.
Let's say you purchased "SWEET" tokens and you want to sell them before they hit the exchange.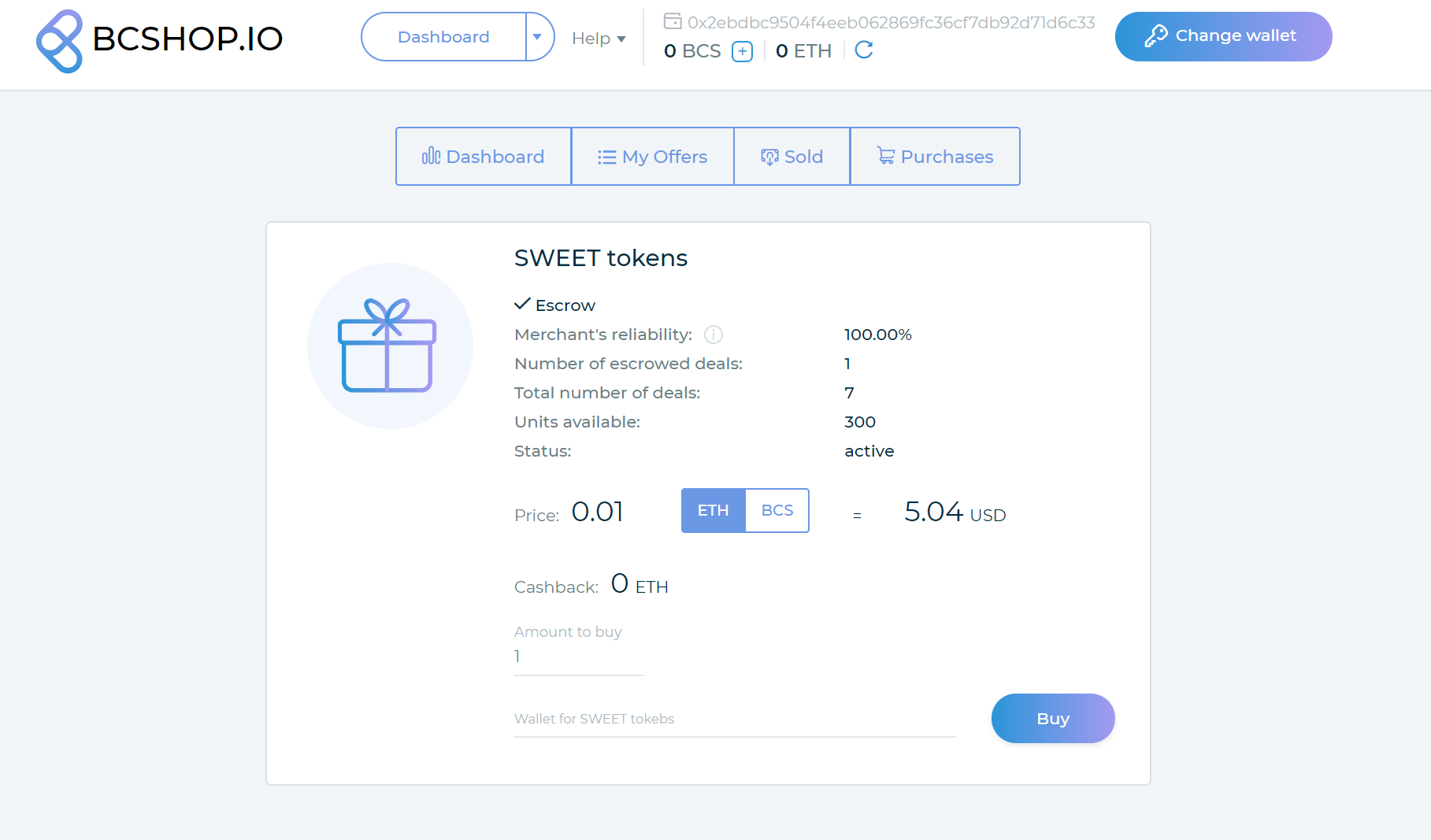 This is how a sell order for the tokens would look. With the offer up, other individuals who missed out on the token sale can get them before they are even listed!
Talk to the team!
The team at BCShop.io is happy to answer any questions.
Go to their Telegram group and ask away!
Graphic Information
Make a graphic that is relevant to BCShop.io and their new mainnet marketplace release! These will be images that may be used in their articles, or just to show their followers! Feel free to stick to the color schema of their logo, or create something totally unique. It can be anything! It can be users purchasing or selling items/services. It can be a store owner finally adapting to crypto! Maybe something that depicts the advantages of BCShop.io over giants in the online commerce space. A flyer, a comic, or whatever you feel will best represent BCShop.io in a graphic! As long as it is appropriate and relevant, anything goes. It can be humorous or technical. The most important thing is that your image is creative and original!
Special Bonus
BCShop.io would like an instructional video to show potential users! Feel free to come up with a video that explains how the platform is used to make purchases/sell items! Good quality videos will receive a bonus on top of the prizes as well! Good luck!
Please follow the rules below. The short description (point 2), must be original!
Contest Rules & Submission Information

Create a post with the graphic.
In the post provide a short description of what BCShop.io does and why you chose the design (mandatory).
Leave a link to BCShop.io.
At the end of your article, add the word "bcgraphic2018".
Link your post in a reply here.
You will get a reply from @mediabot on your post to confirm that your submission was entered into the contest!


If you don't get the reply, don't worry. The most important thing is to leave a link to your post as a reply here. Feel free to let us know if your article did not receive a @mediabot confirmation, and we will look into it!
More Information & Resources:
Disclaimer: @MediaWorks makes no claims as to the legitimacy or operating procedures of contest topics. @MediaWorks does not offer any sort of investment advice. Please note, in the case that you receive a prize, your images may be used by the contest topic company.
Good luck to all the contestants!