GRIDCOIN - STATE of the NETWORK




Report #37 - May 20th, 2019


Welcome to another Gridcoin State of the Network! The SotN is now published on the 3rd Monday of every month. For more information on the happenings within the Gridcoin network be sure to check out the other reports put together by the community!
@crypto-swiss's monthly reports
@parejan's weekly project updates
---
Development
---
Gridcoin 4.0.3 - Denise - Released!
Gridcoin 4.0.4 - Muppet Not Found - Released!
---
What a month for development! The long awaited replacement for the awkwardly named Neural Network has been implemented. It is aptly called... "The Scraper."
It is not just about the name, however. The scraper is the mechanism that collects cruncher contribution statistics from BOINC project servers, verifies their validity, and plops them into a superblock. When compared to the legacy Neural Network mechanism, it reduces load on BOINC project servers, decentralizes the statistics gathering process while increasing reliability (there has not be a single project dropped from a superblock on testnet since January 7th, 2019), makes the process cross-platform and headless, enables the development of many other desired features and improvements down the road (such as removal of the team requirement), and more.
It is graceful. It is elegant. It includes contributions by five core contributors. And it has possible implications throughout the blockchain space as an off-chain data aggregator and consensus mechanism.
It is also only a beginning.
Gridcoin 4.0.3.0 also comes with a veritable platter of additional updates, fixes, and changes, including the reintroduction of Windows 32-bit support!
Contributions to 4.0.3.0 came from:
jamescowens
tomasbrod
Cycy
TheCharlatan
denravonska
G-UK
a123b
cyrossignol
For a more detailed read on how the scraper operates, and to see the complete details of the 4.0.3.0 release, have yourself a gander at @jamescowens' post, Gridcoin Leisure Update 4.0.3.0.
For an audio discussion on the scraper, check out the latest episode of The Gridcoin Fireside.
---
Gridcoin 4.0.4 was released a few days after 4.0.3. It is a hotfix for the scraper and it re-enables the startup wizard that was inadvertently removed. Full release notes found here.
---
The next milestone is scheduled as Gridcoin 4.1.0, Elizabeth, and is expected to be a mandatory update. This means that exchanges will be notified in advance of the update and are expected to disable their GRC wallets as they update and as the update proves its stability. It is expected that the update will contain security and structural improvements to beacons and superblocks, and possibly more.
More information on Elizabeth can be found on github:
Elizabeth Milestone
---
News
---
Update 1: Poll Definitions, Requirements, and Validation Parameters
Update 2: Poll Definitions, Requirements, and Validation Parameters
A major proposal on polling definitions, requirements, and validation parameters was polled and passed with significant support. This poll lays the groundwork for governance of the Gridcoin blockchain, and possibly by the Gridcoin blockchain in the future. In a nutshell, it is a rules-based process that is intended to clarify what makes a Gridcoin poll acceptable and actionable. It is by no means intended to be perfect, but it is a start to getting some processes in place that will help organization, funding, and development discussions focus on the issues instead of on the way a proposal is presented.
---
Following the passing of the new polling processes, two polls were made intending to clean up the Gridcoin whitelist. One poll is to remove the dead project, DrugDiscovery@home, from the whitelist. The other poll is to remove CitizenScienceGrid (CSG) from the whitelist.
CSG is not a dead project, however it is not supplying enough work units to satisfy demand by the Gridcoin network. This creates a severe imbalance in magnitude distribution which means some crunchers are receiving more earned research rewards (ERR) than they deserve. While many people are supporters of CSG, it seems so far that most people think that the project should be removed until it fixes its work generation problems.
Gridcoin does have a protocol that is intended to handle situations like this one without the need for whitelist removal and re-addition polls (should the project fix its problems). This protocol is called "The Greylist". The unique way that CSG is generating work, however, seems to bypass these rules. This has inspired more discussion on the greylist rules as the community hopes to build a complete greylist protocol that can eventually be fully automated.
The polls continue until May 29th. Don't forget to vote!
---
The Gridcoin faucet at https://gridcoin.ch has reached more than 200k faucet payouts. Faucets are time honored traditions of cryptocurrency networks that serve to introduce people to a currency. This particular faucet is run by @grider123 and 200k payouts is no small feat. Congratulations on this milestone!
---
A Steemmonsters tournament was hosted by @hotbit on May 11th. It was enjoyed by 83 players with first place going to @maxi01. Steemmonsters is a card game similar to Magic the Gathering or Hearthstone, but built on the Steem blockchain. These types of initiatives are great low cost ways to get Gridcoin in front of more eyes. Thank you for the work, @hotbit, and congratulations on hosting your first successful tournament!
---
Top Threads
---
Any reason why any mention of Gridcoin gets downvoted on r/cc?
What happened to Gridcoin on Exchanges?
There were two threads over the month that garnered significant activity from community members and core contributors. The discussions were very informative, helpful, and productive. While listing all the people who helped dispel misinformation and who contributed in a constructive way would exhaust your friendly narrator, a shout-out to the entire community is an order:
Thank you all for being such a great community!


STATISTICS UPDATE
The stats update is divided into 2 sections: Blockchain Statistics and BOINC Statistics.
Every month we bring you the most up to date statistics regarding the operation of the Gridcoin blockchain and Gridcoin BOINC projects. The information is gathered from Sunday to Saturday on a fortnightly basis and compiled from the getblockstats RPC command in the Gridcoin wallet, BOINCStats, GRCPool, Gridcoin Stats, and from individual project websites.


BLOCKCHAIN STATISTICS

Blockchain statistics from 5/May to 18/May
The table below contains the blockchain statistics and covers blocks 1,591,940 to 1,605,078.

Blockchain charts
The charts below contain the longer term blockchain trends.

BOINC STATISTICS

Team and pool statistics from 5/May to 18/May
The table below contains BOINC team and pool statistics of the last 2 weeks.

Team and pool charts
The team and pool charts contain the longer term team and pool trends.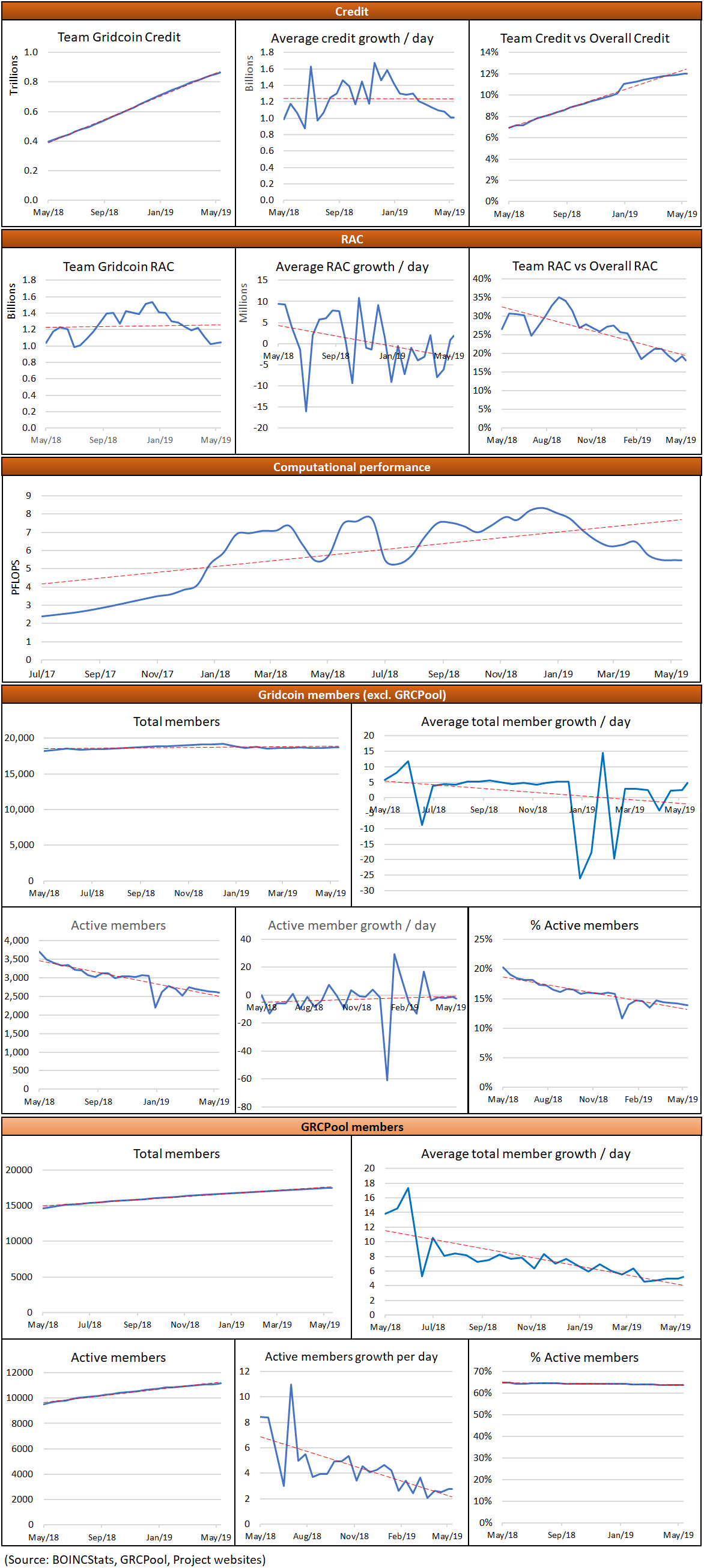 ---
This concludes the 37th Gridcoin State of the Network Report. We'll see you in a month. Happy crunching!
Donate or side-stake to these reports with GRC: S2wn8dq1S39fJyh5Voo7xKwLzFaKyJhRkb