Update: the snapshot got me synced. The problem in the image below is the same, except that it says that the sync check passes. Important thing is done, but if anyone has an answer to the other problem I'd be interested.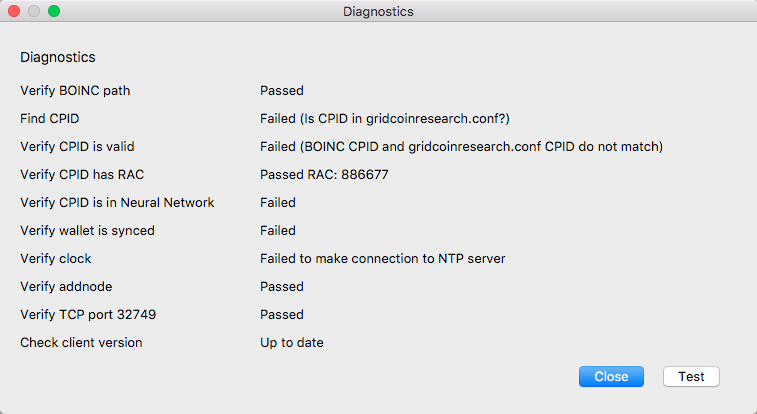 Hi everyone, I'm looking for some help with my wallet. I was on a good fork on version 3.7 for MacOS until about a week ago, so I reorganized to a prior block that had the correct hash. Unfortunately, every time I reorganize to a block it's just stuck there, the wallet doesn't sync beyond that block. Before downloading the snapshot anew, I decided to run diagnostics and the result is above. I've checked my gridcoinresearch.conf folder and added PrimaryCPID=(mypublicCPID), and the wallet still couldn't find my CPID. I also checked the .conf folder before and after the last beacon was sent (earlier in January, before this was a problem) - they were the same, and neither one of them had the entry PrimaryCPID, meaning it was working fine before then without that entry. I'm assuming that the "Verify CPID is valid" and "Verify CPID is in Neural Network" are failing because the CPID couldn't be found; according to gridcoinstats.eu my CPID is in the neural network.
In debug console, list cpids command gives correct, up-to-date information and list rsa command is also correct. I'm currently on v3.7.7.0. Any ideas? Has anyone else had this problem?