I had posted something about an AR15 that I built and who should appear and show excitement than my special friend @saffisara
Everyone knows that she is a big silver stacking fiend and by self confession "likes all things shiny".
Either she was feining interest for my benefit OR actually likes bullets because they are shiny as well.
Whatever the case, I decided to do a post about the bullets that go into firearms for Sara.
Probably one of my stranger posts (not really) for one of my stranger friends (again not really). So here goes nothing. Oh and no animals were hurt in the making of this post.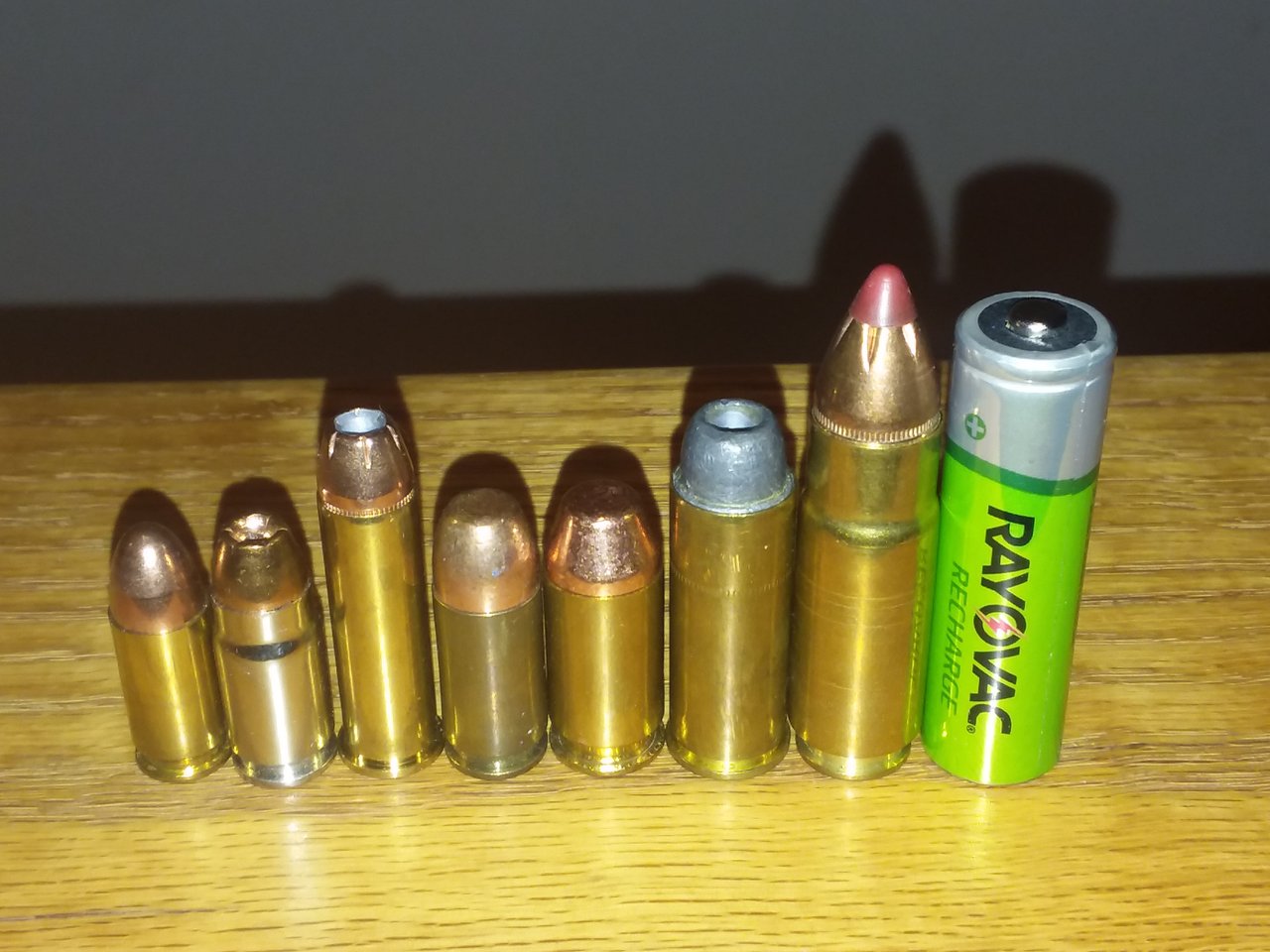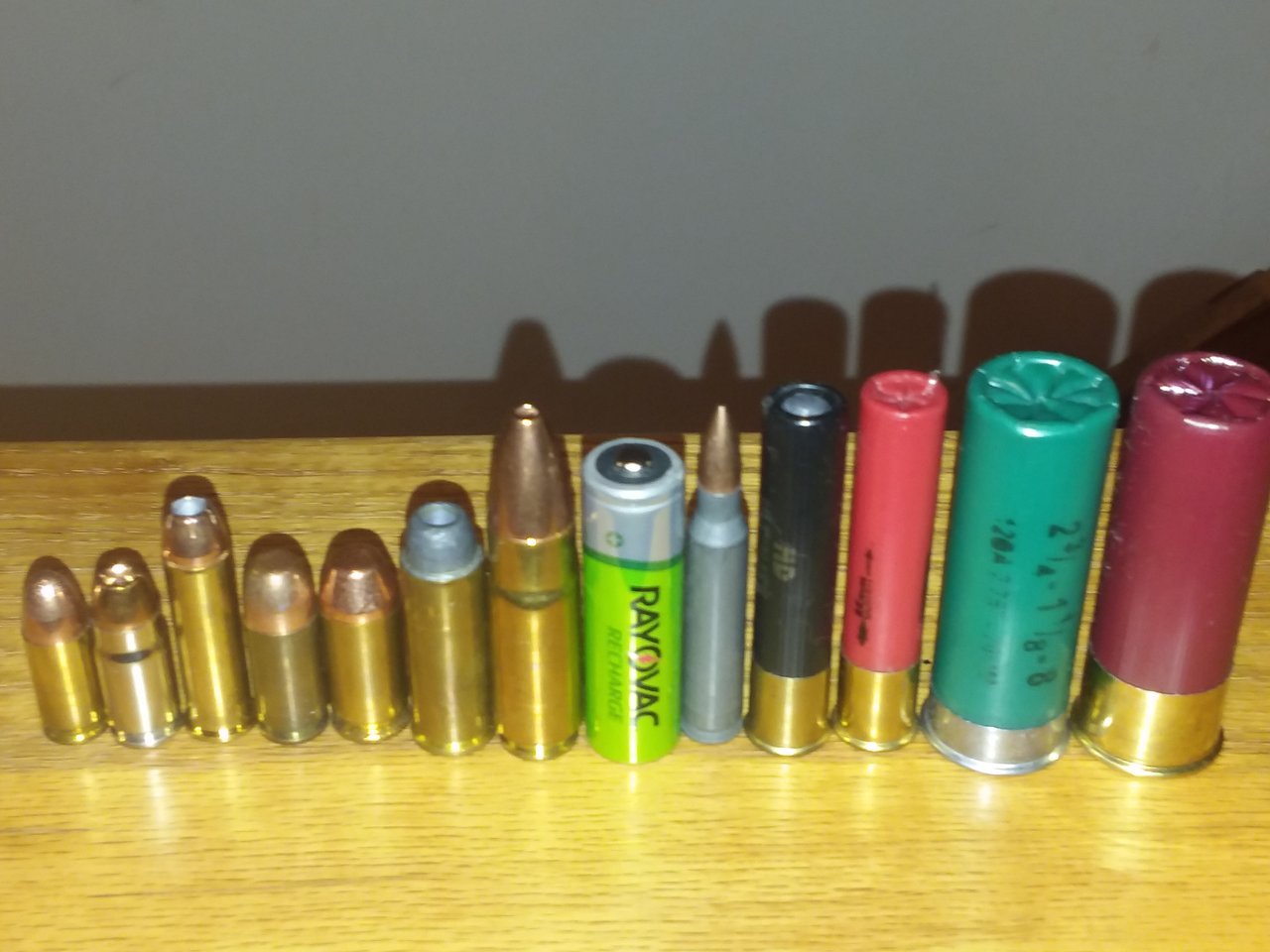 Lets start off with a row of bullets and a double A (AA) battery for size comparison.
Lets start on the far left and work towards the right.
#1. On the far left we have a 9mm. The 9mm and .38 caliber are the same size. One is metric and the other is US measurement. The 9mm short (not shown) is also called .380 which again is the same size.
The only difference is a 380/9mm short has less powder and the brass is shorter.
#2 .357 Sig. The .357 sig is also roughly the same size as a 9mm/.38. This round is made for the Belgium made Glock. Notice how the cartridge is bigger at the bottom and narrower at the top.
This is called "necked down". It allows more powder to be put in and increases velocity. The .357 sig and 9mm are both fast rounds and will break the sound barrier when fired.
Notice how the tip is hollow looking (hollow point) this causes the copper clad lead to expand when it hits something hard.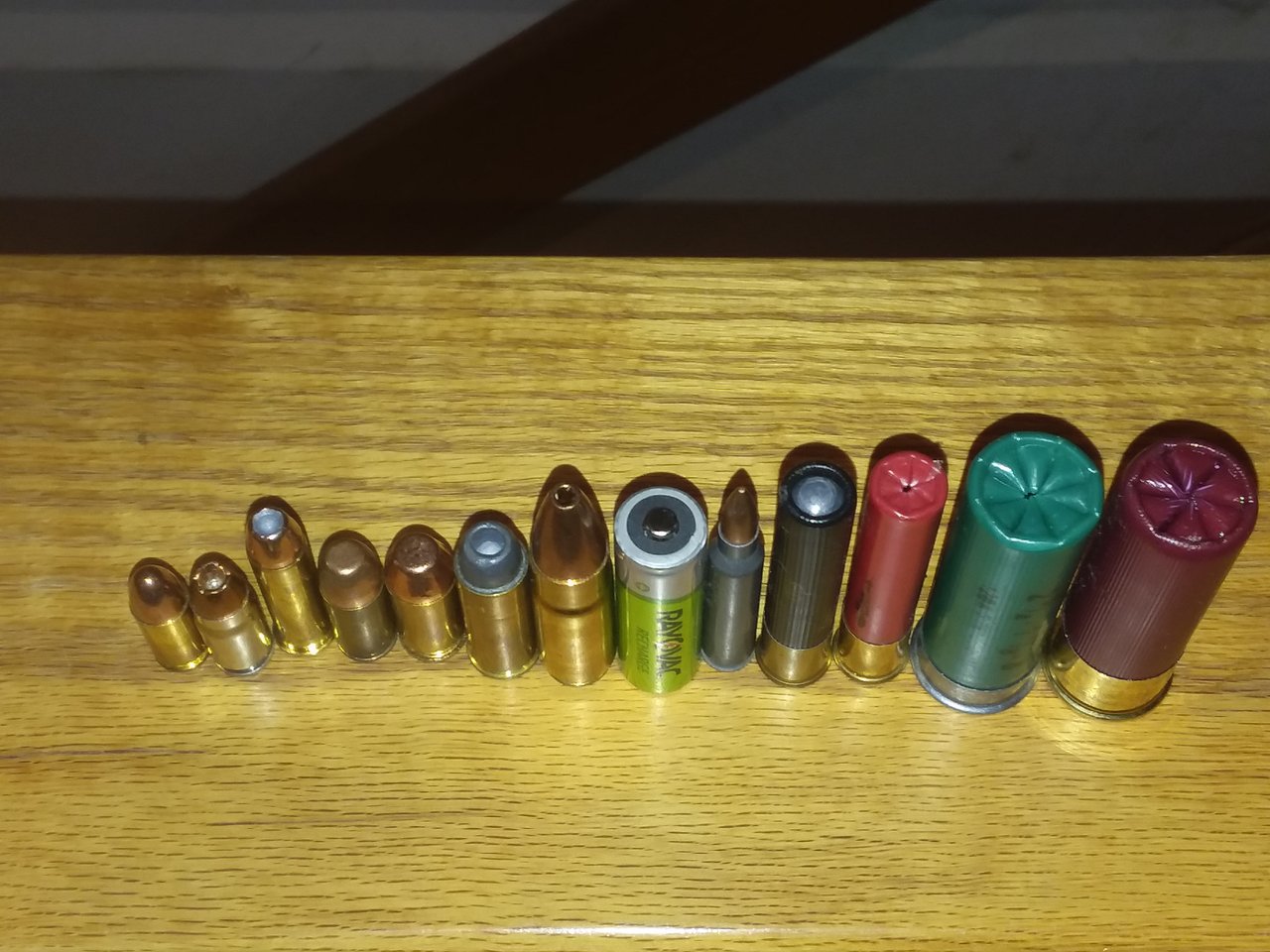 #3 .357 revolver round. Revolvers typically hold 6 shots but some hold 5. There are even some that hold 8. A revolver can stand much higher pressures. Notice how long the brass is. Again the copper bullet is the same size roughly as a 38/9mm but there is much more powder behind it.
#4 caliber .40. The US police wanted something with less pentration than the 9mm and more stopping power but they also wanted higher capacity so many agencies are trying out the .40 caliber.
#5 .45 caliber. Is relatively a slow moving (sub sonic) big round with a lot of knock down power. Teddy Roosevelt, the 26th President of the US, helped bring attention to this round.
The "Rough Riders" a miltary group that Roosevelt was in charge of were fighting indigenous people during the Spanish American War.
The pistol at the time was a .38 revolver. The indigenous people, armed with machetes and natural drugs could run into the US military lines being shot multiple times with a .38 and keep on coming. This allowed the tribesmen to reach the US soldiers and hack away with the machetes.
Roosevelt insisted on switching to a .45 caliber pistol. One shot would hit hard enough to knock the aggressor down and stop them in their tracks.
Because this round moves slow it is easier to supress or make quieter when it fires.
#6 .45 long colt was made popular in the wild west days after the black powder revolvers. Is a .45 sized slug but with lots of powder behind it. Some rifles in the old days fired this as well. The tip is solid lead and a hollow point so very little penetration coupled with big mass.
#7 .458 Socom. The US Special Operations Command (special forces) developed this round. This is how would @enginewitty say it "One BADASS round". The .458 is once again a slow moving, easily suppressed, huge chunk of metal. If someone is hiding behind a cinderblock wall....the .458 can just knock the wall down. It is just under a .50 caliber in size though it is a shorter distance round. 2500 foot pounds of energy.
I have built 2 ARs that fire this cartridge and sold both. I regret that I did.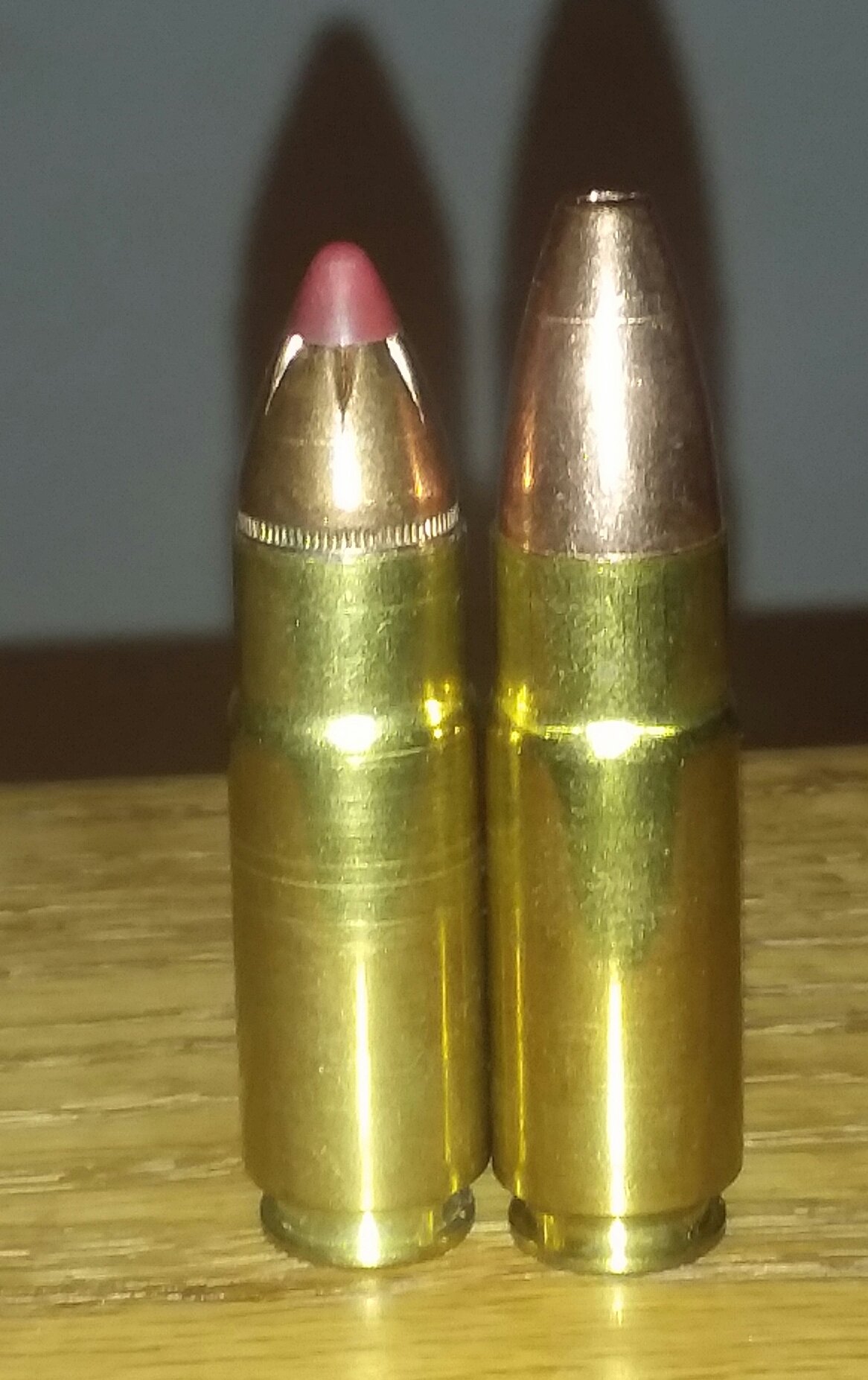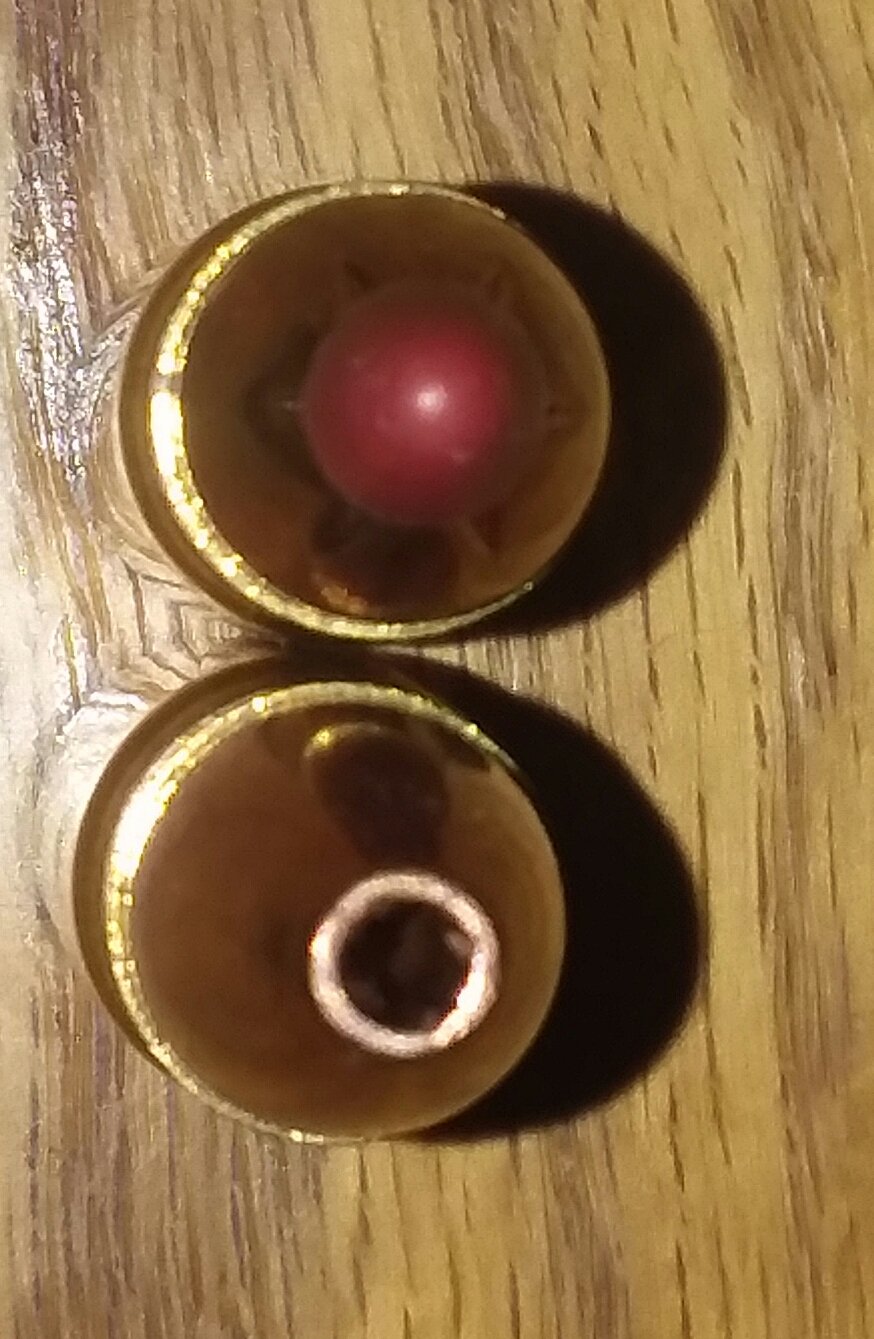 Top view. The red is a ballistic tip made of plastic.
#8 rayovac battery. Can be fired from a shotgun but would be kind of a silly round to shoot.
#9 AR 15 .223/5.56. Very fast small bullet with lots of powder behind it. Basically a .22 on steroids.
#10 .410 shogun/pistol defense shell. Has 6-8 lead pellets that are .32 caliber. Nasty round especially in a pistol. I have a pistol that shoots these OR .45 long colt.
#11 .410 shotgun/pistol "birdshot" is for small game, squirrels, birds ect. Shoots a bunch of little tiny lead beads.
#12....12 gauge shotgun bird shot. Often used when hunting bigger game such as geese, turkey and such.
#13....12 gauge "buck shot" shoots a number of .33-.375 diameter lead balls which is very nasty.
#14 not shown 12 gauge slug. One Big chunk of lead .729 inch fired from a smooth bore shotgun. Would be effective against a bear, rhino, elephant, maybe even a T-Rex.
This concludes my post made especially for @saffisara
Not so shiny.
You are welcome to read, comment, vote, or find something more interesting.
@enginewitty
@saffisara
@sargento
@prettynicevideo
@swedishdragon
@brisby
@thesilverdoll
@raddog
@silver510
@veryspider
@vibesforlife