Hi @transisto, I've addressed each of your points made in your open letter:
• @transisto: You do not up-vote anything other than your own posts
First, I appreciate your candor. I must say, you have been the most civil of all critics and I'm grateful for that. I'd like an opportunity to place the self upvotes into context. Eversince downvotes started raining down on my posts from the trolls, my self upvotes have been reactionary to revive the downvoted posts. There is also very clear evidence of trolls randomly downvoting any and often many of my followers' comments. The followers don't want to be downvote censored by these trolls and are scared of commenting. Even today's posts have plentitude of insulting memes, downvotes and outright lies. Do you know how many of innocent commenters have been the victims of random acts of violent downvotes? I can provide a full list if you'd like to help revive these innocent victims. Without troll downvotes, I have no need to largely self upvote and would love to return it to the community as you do.
• @transisto: You intentionally produce 10 piece of "content" per day to optimize your selfishness.
Again, context is most important. I started my blog with 10 posts per day back in June of 2017 as a demand pulled blog for Technical Analysis of Cryptos. In other words, most of my posts, if not all, are in response to analysis requests made by my followers. They send me emails or make the requests on the comments. I don't pull these analysis posts out of thin air or necessarily select the coins on my own. These are REQUESTED by the readers of my blogs for analysis because they either HOLD these coins or would like my technical analysis to help augment their own due diligence. I actually have a back log of analysis requests but 10 per day has been the output since the beginning. I have NEVER ramped up my number of posts per day to maximize payouts; it's been the same since my posts were making $0.02.
Case in point on Analysis requests: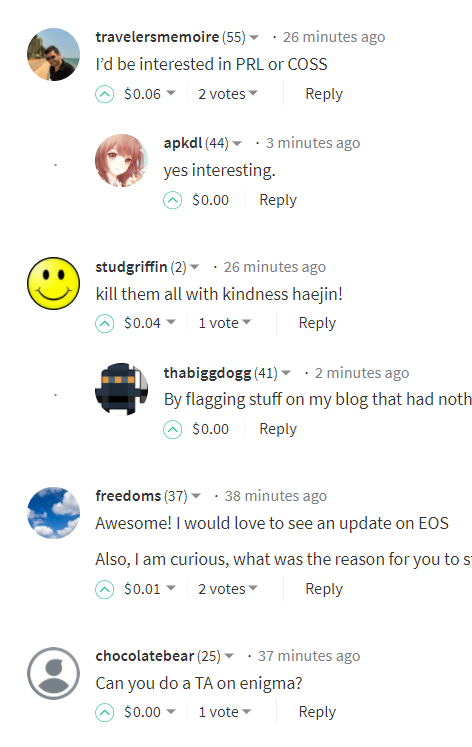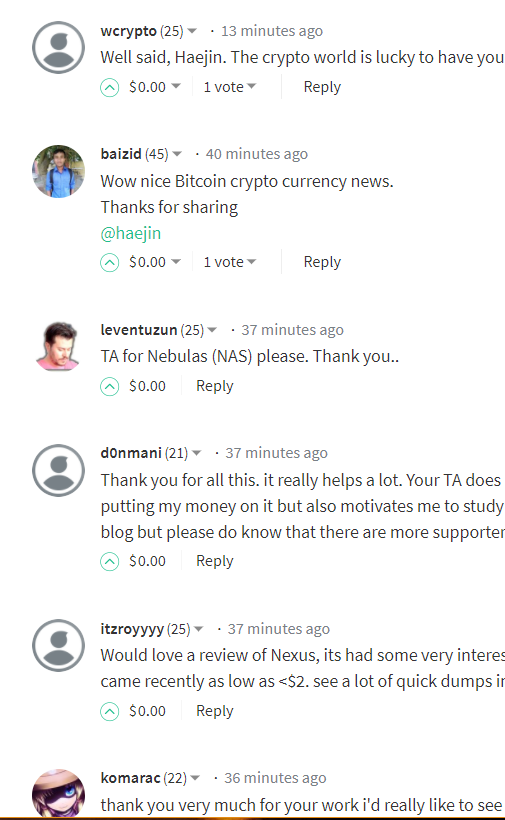 When I started blogging on steemit, I began by posting these offers of free analysis. I offered this as a service to help anyone who wanted Technical Analysis input.
• @transisto: You engaged multiple times in censorship based flag wars (flagging legitimate content below zero).
It would be nice to know your fair thoughts about others downvoting my blogs to zero over the past two weeks. They had legitimate contents containing analysis requested by my followers. First, I have never initiated a downvote for no cause. Second, have you seen the type of comments being left by the ones I've downvoted? One Troll made false accusations and fabricated evidence of a virus he was infected with through using my business website. This was complete slander and I had downvoted his subsequent lies and insults. I've also downvoted memes having an asian face on a donkey..it's unacceptable. What are your thoughts on the troll comments being left on my blogs? Are they legitimate content?
Here is one of many Trolls who spammed my comments, often in rapid fire mode of 50 or more repeats. I downvoted these as I can't see how they are legitimate. I am Korean and I find this racist. Will the owner of this @kimjongpoo account please acknowledge?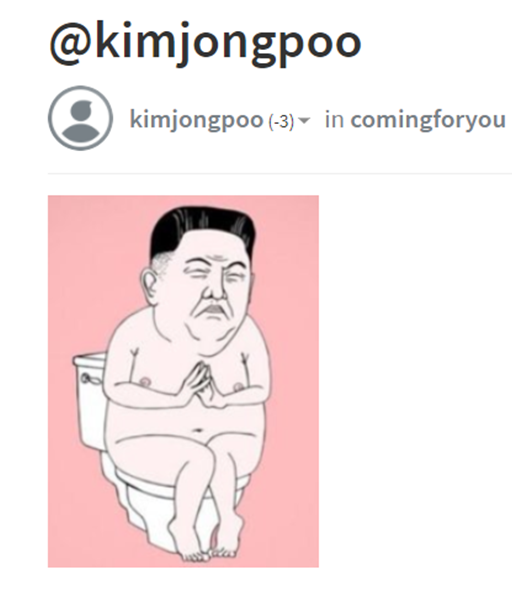 How about @baejin the champion spammer? How about @nijeah the uncouth? There is only ONE sociopathic owner of these accounts: @berniesanders, dubbed as the "Bad Whale" by Dan who also programmed him to -18 for his vulgar ways. He is the ultimate self upvoter of his 3 word or single sentence or one image posts to the tune of thousands of dollars. And yet, he unashamedly accuses and attacks with downvotes others whom he deems, in his own hypocritical, perverse and farsically twisted ways, unworthy of Steemit. What's worst, @berniesanders wants his followers to report spam and selfvote abusers to the @abusereports list....the only problem is that his name is missing as it should perpetually be at the top of the list! (I believe I've seen @transisto on the @abusereports list for self upvotes.) He also was the one who approached me for a truce a few months back and we had agreed. Less than two weeks later, he abandoned the truce by reigniting a flag war. Devious and insane! If you're using @randowhale which is owned by @berniesanders, expect it to constantly be in sleep mode and not upvoting your paid requests. This is because @berniesanders uses @randowhale to do his personal downvote campaign.....in effect, he's using your delegated SP for personal flag attacks and so draining the power that should be used for upvoting the payers.
• @transisto: I do not acknowledge any value to your technical analysis methodology.
• I completely disagree with the conclusion of most of your technical analyses.
Not everyone sees value in Technical Analysis. Is TA perfect? No, because it is based on probability and not certainty. If you don't understand Elliott Waves and don't see how to pattern out charts...then you are a nonbeliever. I have 26,000 Steemians who follow for my analysis and they clearly will be disadvantaged by the conditions you want to set. It'll be ideal if my followers can freely request for analysis...if they are prevented, then THAT is master censorship. Just because one doesn't see value doesn't mean others are not allowed to.
• @transisto: IMO technical analysis on tiny shitcoins that are overvalued / over-hyped by factors of 5-1000x are meaningless.
If you see a coin as worthless, then that's your rightful opinion. But, it shouldn't be forced onto others. For instance, I had recommended BTS at $0.04 and it went as high as $0.92; a 2,300% profit. Many called it shit coin at that time because of the Bittrex delisting. Many said that SPR was also a shit coin because it was a dead coin for whatever reason and as I had projected, it went from $0.19 to $3.65; that was an 18x profit. Many were calling STEEM coin a shit coin when it was sub $1 but my projection was $4 and that was hit and now my projection is $14 and higher. It isn't best for any Steemian to place such censorship requirement on any blogger. I don't think anyone should have restrictions on what they can and can't request for analysis and they should posess the freedom to follow, upvote and resteem freely.
Regarding @ranchorelaxo; I've heard from a third party that witnesses did reach out to him; which was quite out of norm for Steemit. However, I'm not privy to the exact conversation but as he is listed as a developer status investor for Steemit Inc., you might want to find out more on the results of the discussion that took place.
Everyone seems only interested in @ranchorelaxo, but never mention the 10K views and hundreds of total upvotes per post from minnows who usually are often overlooked.
Last but not least, I do not have or operate a voting ring. I do not use duplicate accounts. I do not use bots except for this post so as to counter the downvotes and keep trending.
Again, I appreciate your candor and a chance to relate my thoughts.
Regards,
Haejin
PS: The trolls are doing their random acts of downvoting. @berniesanders owns these 17 duplicate accounts that not only downvote my blogs and commenters but self votes all his own to the tune of thousands of dollars and yet attacks anyone he sees as receiving too much in upvotes. A farse!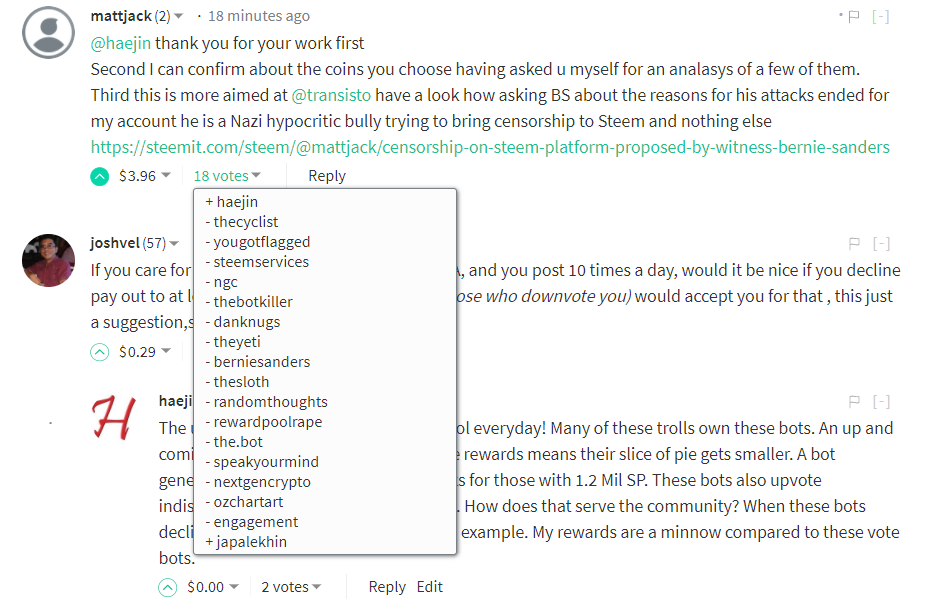 The Trolls who downvote my innocent commenters are no different than the ones downvoting this post: