Yes, you read that right: Finally finally FINALLY here are the results of my 4th haiku contest which was.... 2 months ago.
Cue title graphic.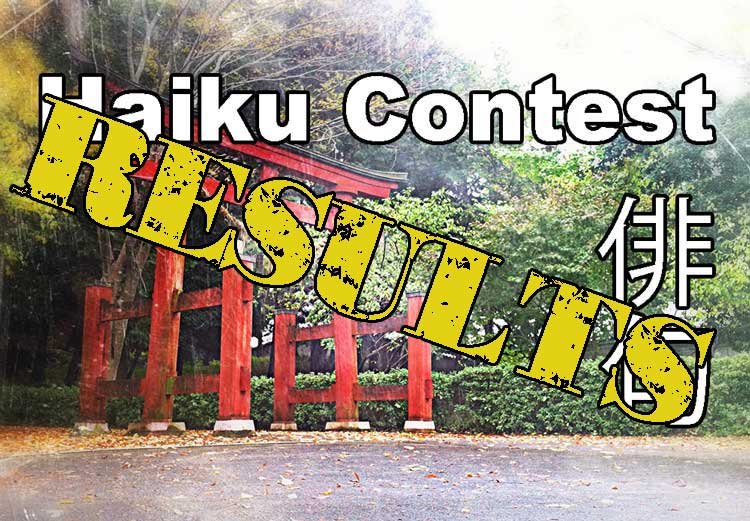 I know, life gets in the way. I have talked with some of you on Discord (before I went MIA from it a few weeks ago) and other places and everyone is being very nice, politely telling me it's ok that I'm so late, and kindly making excuses for me: life gets in the way, family first, and so on.
All this is true. Life does get in the way. Family does come before hobby or work. But I still feel really bad about being so late with the results. I make no excuses for it; I messed up and as a result I made you wonderful folks wait for several extra weeks. I apologize for that. I also apologize to @isleofwrite. I accepted their kind donation of 10 SBD for the contest rewards and then sat on that money for a much longer time than was agreed upon. It's just sitting in my Steemit wallet so I haven't benefited from it in any way, but still... they didn't donate it for me to sit on it. Once again, everyone, I'm sorry.
m(_ _)m
(that is a Japanese emoji of someone bowing head to floor in apology, btw)

With that out of the way, let's get on with the winner announcements.
(Imagine there is a drum roll.)
Special mention
My good friend @geekorner always has one of his non-entries for me. How can I not mention this wonderful ku:
The sun shines,
and the cats sleep.
Short pants galore.
First honorable mention
The spring air conceals
the warm shadows
of my breath
My comment: I like the structure here. The warm shadows of my breath. What a delightful image.
Second honorable mention
ice melts
droplets of water
on petals
My comment: A perfect snapshot in the shasei style. This is a fantastic haiku.
3rd place
More snow
covers green shoots:
not quite spring
My comment: Mother nature is a tricky one, isn't she? Every year I am fooled! This haiku expressed that perfectly
2nd place
Green shoots
amidst the dead leaves
signal longer days.
My comment: Two of the most welcome sights every spring: the new life, and the promise of longer days
1st Place
Spring is here!
The sun warms the earth
Ha!
Snow!
My comment: Another about being fooled. I love the unconventional usage of 4 lines here.
Congratulations!
Everyone, thank you so much for entering the contest. I really enjoyed reading all of your entries. You all did a fantastic job and I hope you keep up with your haiku practice.

So what's next for this contest? I would like to carry on and have another one, but I think I shouldn't do that until I can promise a little more consistency. @vdux has offered to co-host a haiku contest with me so that idea is floating around. At any rate, until I get a better grip on things, he sponsors a haiku contest that is more regular than mine, so be sure to follow him. And watch this space. I will announce another one sometime, so stay tuned.
Thank you all and keep writing haiku!

| | |
| --- | --- |
| | David LaSpina is an American photographer lost in Japan, trying to capture the beauty of this country one photo at a time. |