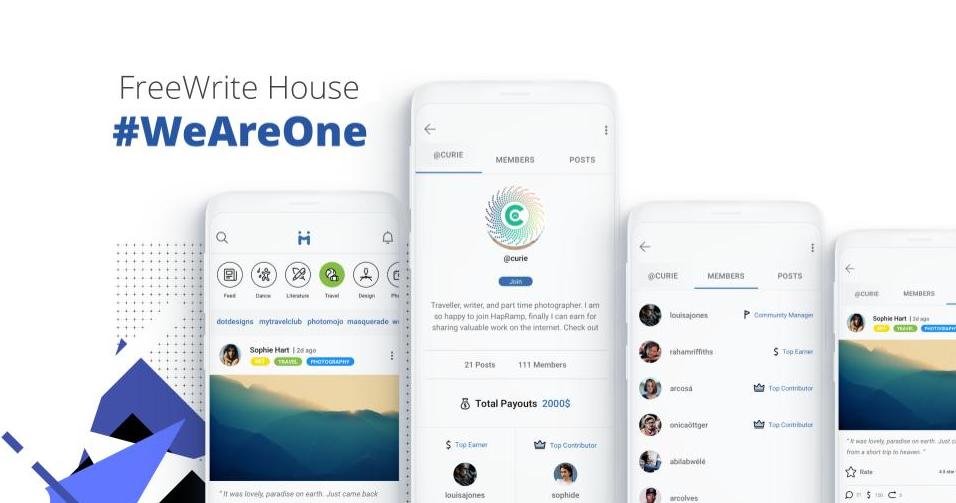 1Ramp is now available on Android and Web
---
1. What is WeAreOne?
---
#WeAreOne is our initiative to give all creative communities on Steem a dedicated space across 1Ramp platform (Android and Web). We believe that this will make content more discoverable and will allow people to connect with more creators.
To learn more about it, read our WeAreOne launch blog.
So far we've listed 9 communities: @curie, @sndbox, @photofeed, @travelfeed, @ecotrain, @photomag, @crowdmind, @recordpool, and @freewritehouse.
This blog is to announce the listing of a new community under the WeAreOne initiative.
---
2. WeAreOne | New Community Listing
---
Free Write House started with a simple 5-minute daily writing challenge on Steem. Now they are an active community of writers bringing interesting content to the Steem for all of us to read and enjoy.
Now you can explore the posts by them on @the1ramp's web and Android app app.
The FreeWrite House was started by @mariannewest @brisby @wandrnrose7 @byn @simgirl @snook @deaconlee @omra-sky @marcoriccardi @improv @f3nix.
---
3. What's Next?
---
3.1. Help us discover more communities and popular hashtags on Steem.
Fill up the above google form and we'll reach out to you to get your community on 1Ramp.
If your community (or a specific #tag) belongs to any of the 1Ramp's domains (Art, Dance, Design, Fashion, Film, Literature, Music, Photography, and Travel), you can get it listed on 1Ramp and use this platform as your own, and get the content created by your community featured across all 1Ramp platforms.
We are looking forward to closely collaborating with the community managers and curators to develop tools that they need to help creators thrive in the Steem Ecosystem.
3.2. Participate in the ongoing contest -- win prizes worth 15 Steem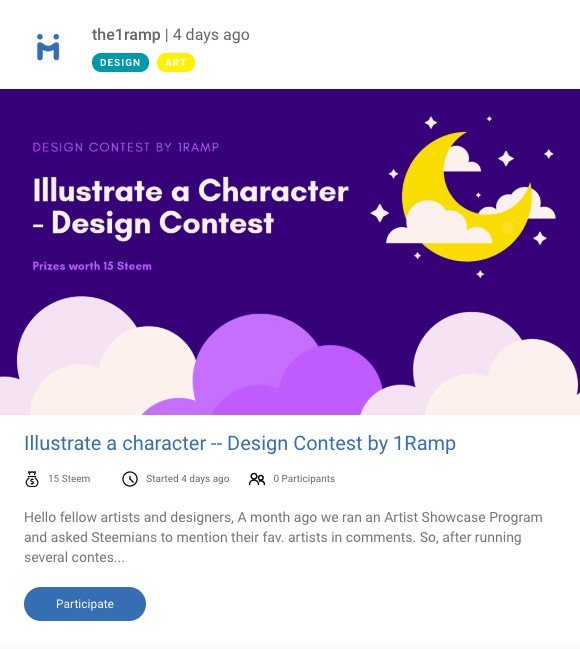 Click here for more information on how to participate:
Illustrate a character -- Design Contest by 1Ramp
Check out the past contests and winners here, contests on 1Ramp.
3.3. We need your feedback
We are building a platform on Steem where people from all the creative interests can come together, engage with each other, participate in the communities, and compete in the contests. We imagine an exciting place with a friendly, familiar, and useful interface and experience. We invite you to try out 1Ramp and give us your feedback. We'd love to work on them and build a better platform for creative communities on Steem.
---
1Ramp is a Social Media platform for creators (powered by Steem blockchain). On 1Ramp, you can join communities of your interest: Art, Dance, Design, Fashion, Film, Literature, Photography, and Travel and earn rewards for sharing your work. We are on a mission to give all creative communities one stage where you can compete, collaborate, and make good art.
---
Twitter | Medium | Instagram | Facebook
---