It was always a bit messy to manage different wallets with a Ledger device and the lack of oversight was annoying too. Yesterday, Ledger Live was launched to enable users to manage all the wallets in one single application and track the account value of all the digital assets combined by creating a portfolio. I just tried it and it was working fine. It makes the Ledger hardware wallet way more user-friendly.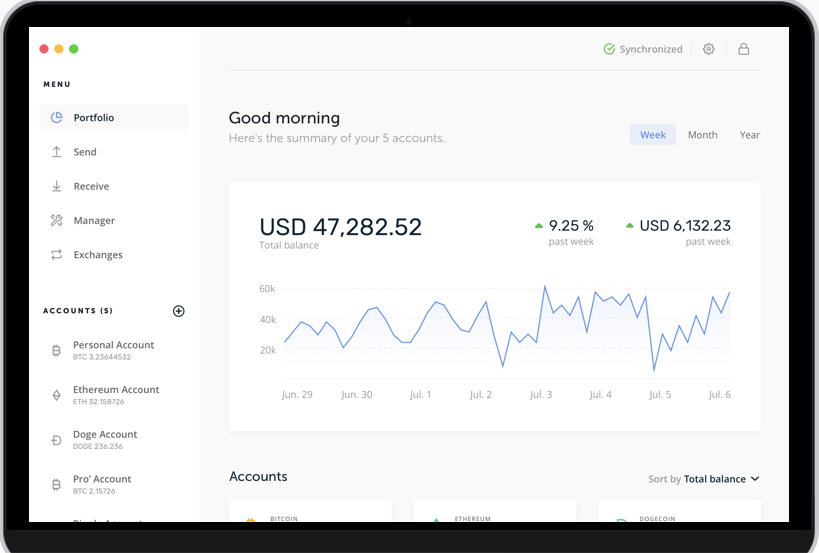 You can now manage every wallet on your Ledger within one easy application!
What is Ledger Live?
To use a Ledger you had to download and install a separate application for every different cryptocurrency. This was confusing for beginners and didn't really make it convenient to use. The Ledger Nano S is less expensive than the Trezor and supports many more alt coins, so for many it was still the best option despite the fact that it was not really easy to use. The Ledger Live application improves the user experience greatly and makes the Ledger hardware wallet an even more useful device!
Ledger Live enables the user to combine all the different wallets in one single application and display the value of the separate accounts and the total portfolio as well. Accounts can be managed and payments can be made easily in a ordered way.
How to install Ledger Live?
Before you can use Ledger Live you have to download and install it. Only download it from the official website of Ledger under the menu 'apps'. When the application is installed on your device you can open it and confirm or configure your Ledger device. The app will also ask to create a password, not to protect your funds (your Ledger does this already), but to protect your privacy.
Inside the app you can create accounts for different cryptocurrencies and add them to your portfolio. When you have already funds on your Ledger but only on the legacy apps, your device will be recognised and the balance will show up and be displayed as account 1. You can confirm and the account will be created. This way you can easy and fast create all your wallets.
How import hidden wallets in Ledger Live?
Hidden wallets are one of the most interesting features of a hardware wallet because it adds an extra layer of security and enhances privacy because nobody can proof that you own these wallets. Hidden wallets are created by setting a 2nd pin code on the device and you can add these wallets to your portfolio within the same application (don't need to download and setup the app again) by just accessing with the other pin.
When you really want to keep your hidden wallets hidden it is advisable to delete the accounts after use. When you create the account again later on your balance will still be there and in the mean time nobody can see your hidden assets in your portfolio, even in case you are forced to open your application!
If you want to buy a Ledger Nano S you can order it HERE
Please Upvote, Leave a comment and / or Resteem!