Dear Steemians,
After a lot of shitstorm came down on hashflare, one of the biggest cloud mining service, in the last few months, i felt like making a conclusion about my Ethereum mining contracts I bought for exactly $986 1 year ago.
In January 2018, I just wanted to test the platform. Sure, the short ETH price increase (up to $1400/ETH) back then was a factor for investing too.
So let's create a list with the 2 investements i did in the beginning of 2018 and also add the payouts I requested in the last 12 months.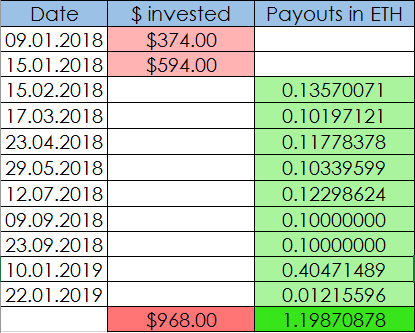 As of today, one ETH is worth around $120. Let's do some math:
1.19870878 x 120 = $ 143.8450536
Which means i lost ~ $825 with my investment. It's around -85%!
Now let's pretend i would've invested everything in Ethereum. It's hard to say how much i would have paid for one ETH because market volatility was pretty high. I tried to find the average for each, the 9th of January and the 15th of January:

Let's do some math again:
0.76858974 x 120 = $ 92.23076923
Which means i would have lost ~ $875 with my investment. It's around -90%!
All in all, i received $50/0.44ETH more with my investments in cloud mining contracts. It was a pretty bad investment after all but I just wanted to show that increasing mining difficulty and decrease in ETH price is not HashFlare's fault. If I would have invested the $1000 into mining hardware back then, there wouldn't be more profit, especially with BTC mining.
Stop flaming and accept your dumb decision to invest money into mining.
Best regards,
Peter