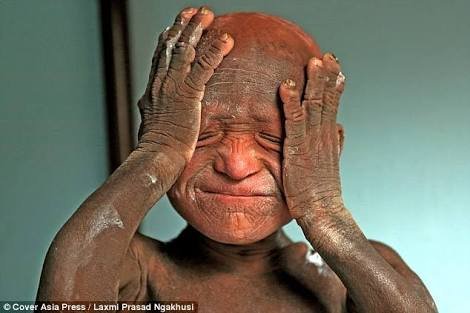 This boy slowly turning into stone. Ramesh was born healthy and happy, her mother noticed few day after giving birth that ramesh starting to grow black scaleon his skin.
Her mother took him to the doctor, the doctor assumed that the baby has fungal infection and told to the mother that they can't do anything about it.
At the age of six ramesh condition gradually worsened he could barely walk or speak. eventually his both parent found out the ramesh condition was called Icthyosis. But they don't have enough money to treat the boy.
Ramesh has started treatments that peel his hardened skin off. A Nepalese singer saw a video about the boy and she immediately help the family.
For full story and resources:
http://www.heartwarming.com/content/boy-slowly-turning-into-a-stone-and-losing-his-life-thanks-to-earths-deadliest-disease?rtg=samyirssak-wc383S&s=6
http://www.dailymail.co.uk/news/article-3629725/The-boy-slowly-turning-STONE-Meet-11-year-old-tragic-skin-condition-entombing-body.html