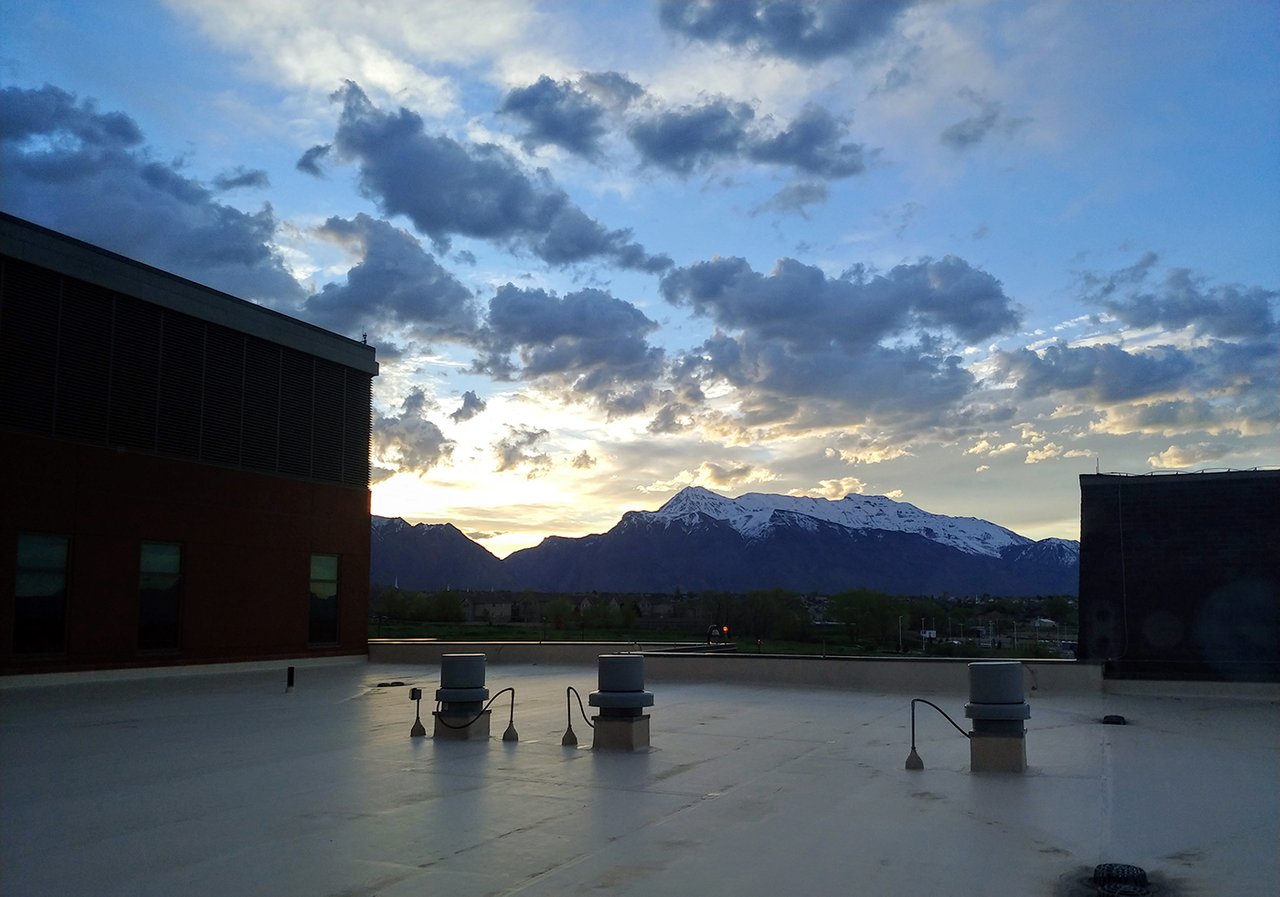 Photo by me
I woke up to a great sunrise this morning

First off, I want to thank you all for the support and words of encouragement on my last post. It has been a rough past few days for my family and I. It is awesome to know that there are so many supportive members in the community that are here when someone is going through a rough time in their life.
One thing I have realized over the past couple days is that you shouldn't take life for granted. As many of you know, I was admitted to the Emergency Room a couple nights ago. Over the past week, I was having some chest pains and pain while I was breathing. The pain had stopped for one day, so I thought that it was gone, but then it came back the next day and it was much worse.
Wednesday, the pain started to get pretty bad. It started to move from my lung area up into my neck and across the middle of my back. That night when I tried to sleep, I was not able to get in any position that was comfortable for me. Every way I sat on the bed was very painful and if I laid on my back, it was a million times worse.
About 1 in the morning I started to get pretty lightheaded and nauseas. I am assuming it is because of lack of oxygen. The pain was starting to get out of hand and I started to get the feeling that something was seriously wrong and it was not just going to go away. I woke my wife up and told her that we needed to head into the emergency room at the hospital.
When I got to the hospital and told them what was going on, they rushed me back and started hooking probes up to me. They thought I had a heart attack, so they hooked me up to an EKG. The EKG showed that I didn't have a heart attack, so they started to prep me for a CT Scan.
CT Scan Hell

So there were a couple problems with the CT Scan. The first one being that I needed to lay down on my back during the whole process, and they said that it would take about 10 minutes for the whole test. The only problem with that is that when I would lay on my back, it felt like someone was crushing my lungs and and jamming knives into them.
So I let the staff know about the predicament about not being able to lay down due to the pain, so one of them got me a shot of Morphine. I had never had Morphine before and I had just seen in the movies when people get a shot of Morphine and their pain just goes away. Well, that wasn't how it worked for me. After I got the shot of Morphine, I laid back onto the table and once I laid back, I couldn't breath and the pain was unbearable. I couldn't even take a small breath. They brought in another pain medicine that they pumped into my IV tube, which helped just enough to make it so I could lay down and take very shallow breathes.
So the next problem with the CT Scan is that you have to hold you breath during the process. So I laid down on the table and prepared for the scan, and they were talking me through what was going to happen. As I was in excruciating pain and only able to take very small breaths, I laid there wondering why they didn't explain all of this crap to me while I was sitting up. Eventually the test started and I was slid into the machine.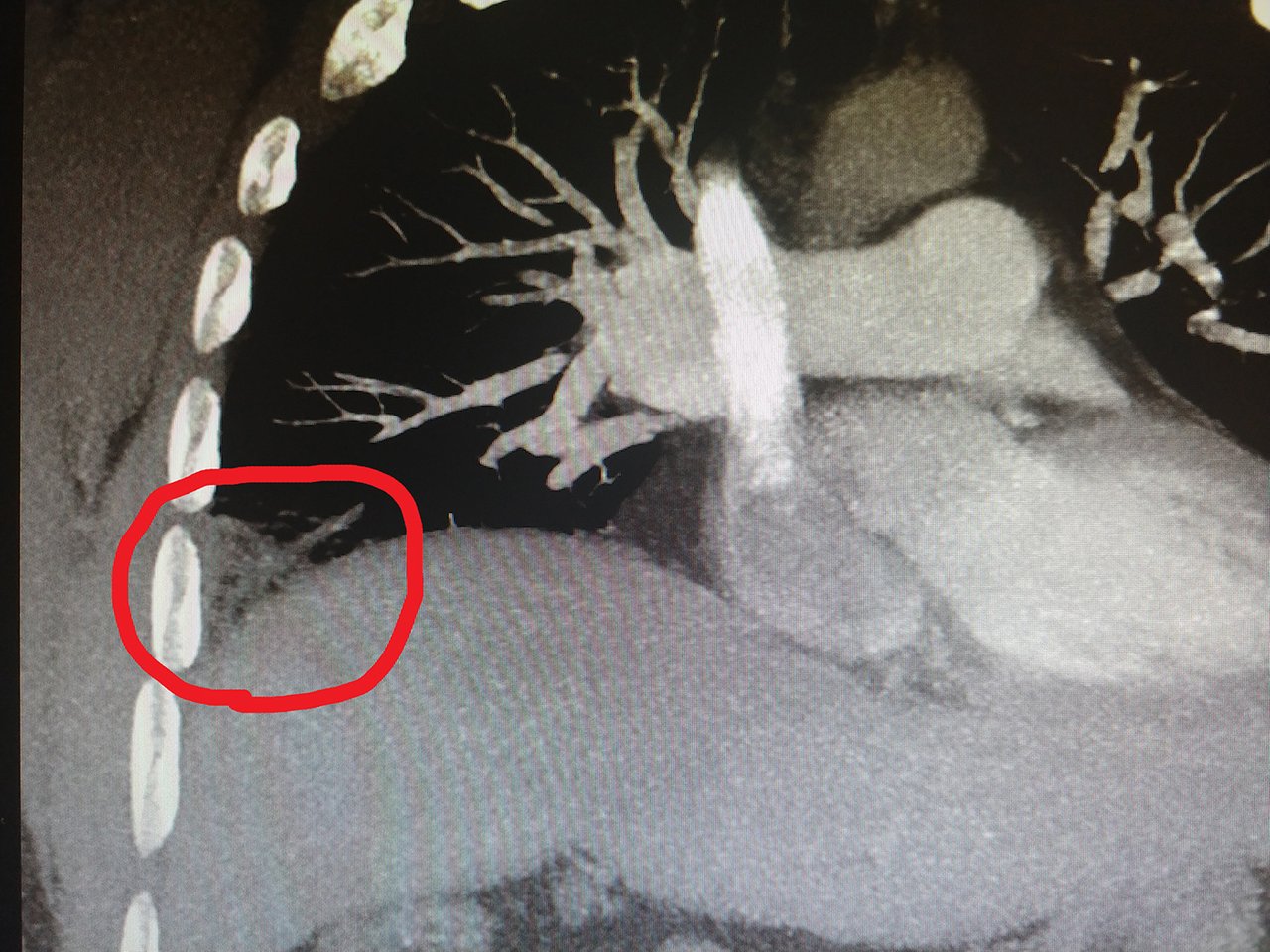 After about 15 very painful minutes, I was done. The above image is one of the shots from my scan. The area I circled in red is damage in my lungs. I have blood clots throughout my lungs and some of them have made their way near my heart. They said that if I would have waited longer to go to the hospital, I would have most likely had a heart attack.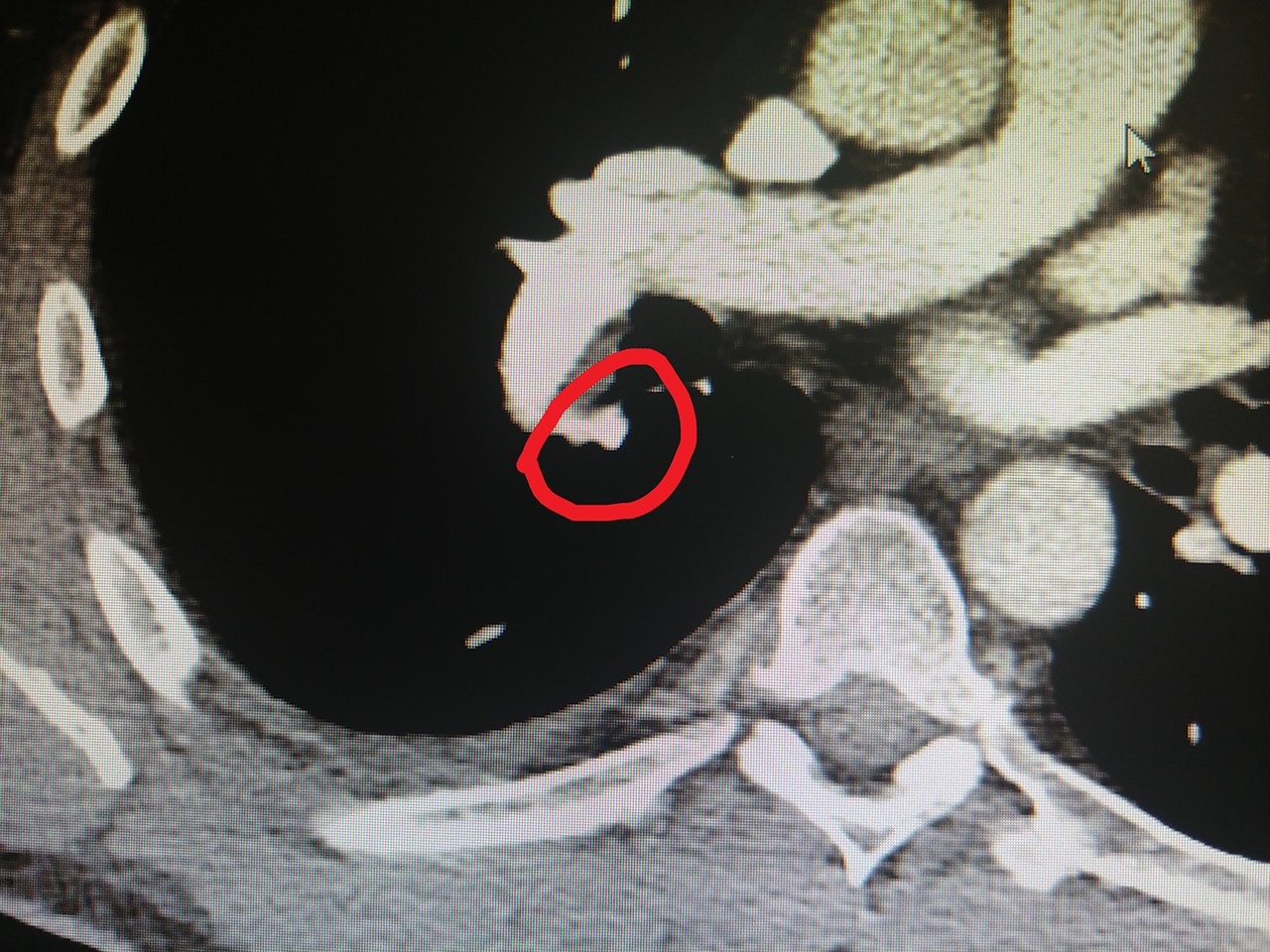 The part I circled in this picture is one of the clots from off of my lungs. There were many other images but they are pretty dumb to look at unless you are a doctor and know what you are looking for.
Pulmonary Embolism

So after the CT Scan was done and the radiologist and ER Doctor reviewed the results, they came in and diagnosed me with Pulmonary Embolisms.
When a blood clot gets caught in one of the arteries that go from the heart to the lungs, it's called a pulmonary embolism (PE). ... If the clot is big or the artery is clogged by many smaller clots, a pulmonary embolism can be fatal. Pulmonary embolisms usually travel to the lungs from a deep vein in the legs. source
I was admitted to the hospital for the next two days for more testing, observation, and pain management. My stay was pretty nice. I was actually able to get some sleep since I had some pretty good pain medication.
Now I wait

I was discharged from the hospital a few hours ago and on the way home my wife and I stopped to pick up my medication. The pain medicine for the month was $3.60 and the blood thinners that I am most likely going to have to take for the rest of my life, since I found out the clotting is hereditary, is going to be $550 a month. So essentially, the pain medication that is highly addictive and has ruined so many people's lives here in the US, is just a few bucks, but the medication that I am going to need to actually live is going to cost me over $500 every month for the remainder of my life.
I am also waiting for the bill from the hospital as well. It is going to be somewhere between $5000 to $8000 for the few days I was there in the hospital. You gotta love the good old US health care. So I am going to be sitting here waiting for the bills to come in to see how much it costs me to live. Until then, all of you stay awesome and thanks for taking the time to read this and for checking up on me the past few days.