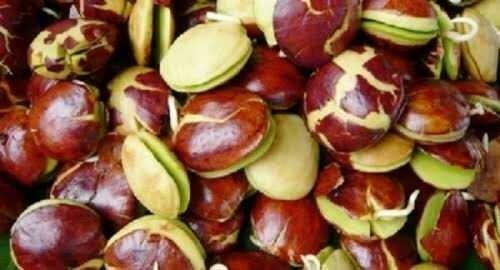 During this jengkol is considered as a vegetable that is useful only for cooking materials, but who would have thought if jengkol is a kind of fruit that has benefits and efficacy is good for health. Jengkol is a favorite fruit of Indonesian society. The unique smell makes this fruit as a unique fruit. The smell will also spread to the scent of your breath after you consume it. Although the typical jengkol smell is often a thing that is not much preferred by some people, but it turns out this fruit has a nutritional content that is good enough for the health of the body. This fruit contains many vitamins, minerals, and even fiber that is good for consumption by our body. You also will not find any difficulty in finding this fruit to get the usefulness. Here we describe some of the benefits and properties of jengkol for health. In order not to misunderstand the benefits and efficacy of jengkol, we give details of some usefulness of this fruit for your health. Here is the information.
Helping the formation of body tissue Benefits of jengkol fruit is very important for us to know one of them is to help the body in forming body tissues. This fruit is beneficial to nourish your body by increasing the productivity of the body in building cells and tissues in the body.
Prevent anemia disease Benefits of jengkol to prevent anemia disease is to provide iron content in the body. Iron is what will help the body in producing red blood cells for anemia does not attack your body. 3. Strengthen teeth and bones Benefits of jengkol which further strengthens the structure of bones and teeth. This is supported by the amount of calcium as the main source of bones and teeth to remain strong and healthy.
Preventing free radicals Benefits of jengkol in warding off free radicals is to provide vitamin C into the body. Vitamin C has been known for a long time as a powerful vitamin to eradicate the harmful effects of free radicals, so you are not attacked by diseases such as cancer.
Treating coronary heart disease Who would have thought if the efficacy of this one jengkol can make your heart back healthy. Yes, this fruit can be a cure for those who suffer from coronary heart disease if eating this fruit with a routine every day.
Slimming The slim body is every woman's dream. For those of you who want to get the ideal body, you can try to eat this fruit. Benefits of jengkol this one is to form the body to become more slender.
Preventing diabetes Other uses of jengkol fruit is to prevent diabetic penyyait. This fruit has some nutrient content that will not raise your blood sugar levels, so diabetes will not attack your body.
Drug narrowing blood vessels Narrowed blood vessels will make the flow of blood throughout your body is not smooth. This situation can make your health disturbed. Eat jengkol fruit as a powerful blood vessel narrowing medicine.
Overcoming constipation felt by pregnant women It is very common for pregnant women if will often feel constipation when pregnant. Jengkol fruit is not harmful to pregnant women. Even this fruit can overcome the illness of constipation if consumed regularly.
Helping the growth of the fetus Jengkol fruit can be a source of healthy food for pregnant women. This fruit will help the growth of the fetus from within, so that the fetus can avoid some adverse effects such as defects or other effects.