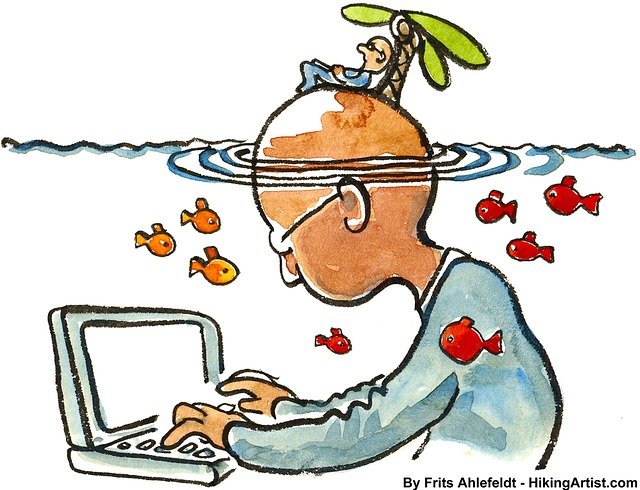 Male pattern baldness fucking suuuucks, and there's a lot of conflicting information out there as to whether or not you can do anything.
You can.
Here's the most effective ways.
1- Blackseed Extract- All round excellent stuff, high in Antihistamines. Scientists aren't really sure why it improves hair health, but it's effects are well documented.
2- Increasing blood flow to the brain
3- Hair roller (derma-roller)
4- Minoxidil (Rogaine)
5- DHT reducers- Finasteride (Propecia,) Saw Palmetto, Stinging Nettle Seeds
Some quick theory. DHT, a form of testosterone causes hair loss. DHT, it turns out, is actually responsible for most of the effects that we usually attribute to T such as libido, aggressiveness and hair growth (in other parts of the body.) This is why those who get pattern baldness can often grow a full beard, while those who cannot tend to have more difficulty on the facial hair front. So the obvious solution to this is to reduce your DHT. Sadly, this makes you feel like fucking shit. So bad.
To quote Mike Mahler-
"…lowering androgen levels is guaranteed to make a man feel terrible, not to mention the risk of developing complications, primarily an unnatural tolerance for Sex in the City re-runs and ABBA revivals. In other words: your life as a man will cease! While these are dark times for men, and essential masculinity is no longer celebrated in the current social matriarchy, the essential man displays vitality, drive, intensity, and a fair amount of aggression--which is not the same thing as violence. If you've lost your vitality, you aren't fully alive, and your hormonal profile will mirror the soul's sad state of affairs, which manifests as lowered health and propensity to disease."
Finasteride, and a great deal of other natural remedies marketed as hair-loss products such as Saw Palmetto and Stinging Nettle, all act by lowering DHT. I have not personally experimented with any of these other than Fin, but my experience with this was more than enough to discourage further use with substances that act in the same manner. Fin sapped me of everything that I like about myself: my energy, my sex drive, my passion etc, and they took almost a year to return to normal. Some people never seem to recover fully. Apparently it is pretty rare that it has this effect, but honestly I think most men are already so sick they don't notice, or they are just that unaware of how they feel. If you want to read some of the websites dedicated to post-finasteride rehabilitation, these poor fuckers will more than discourage you from taking it. Here's a quick example of what I mean-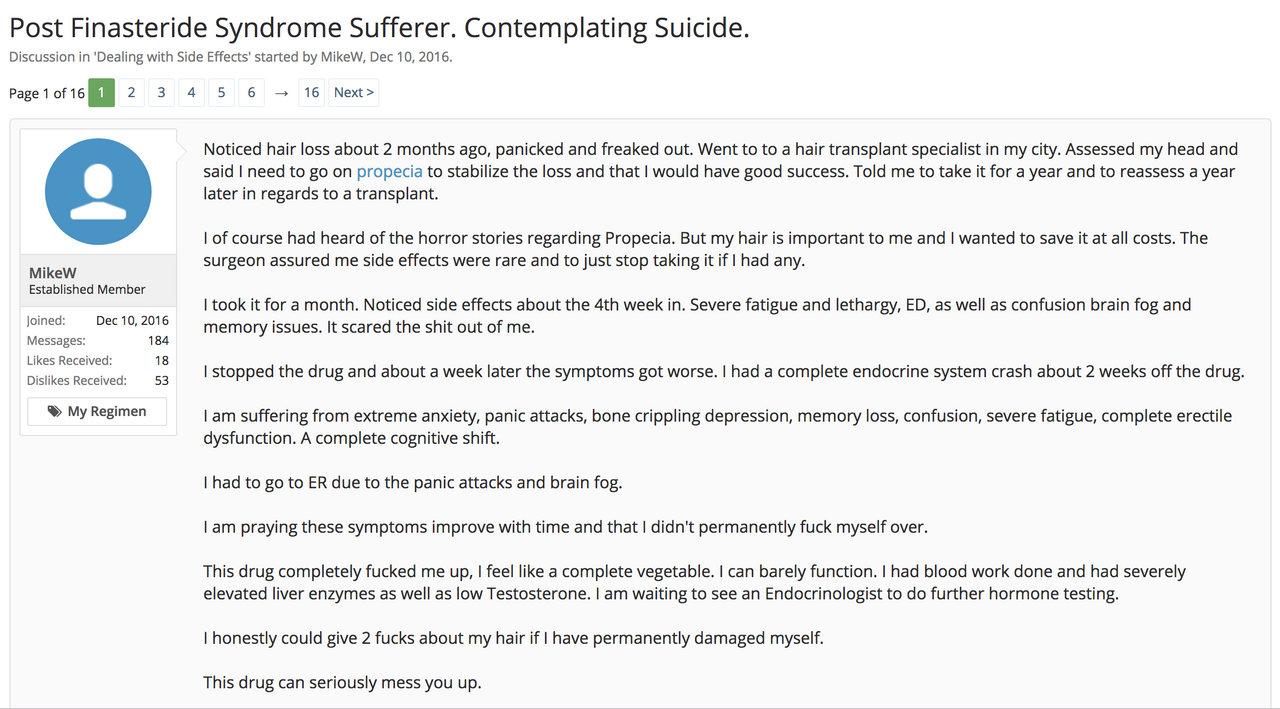 So we're left with two possibilities. Reduce the DHT in the scalp while keeping the serum DHT at regular levels, or find other ways that don't utilise the DHT pathway.
To quote Will Hartfield,
"men who suffer from male pattern baldness don't have particularly high levels of DHT. The problem is that our hair follicles are more sensitive to DHT and the hair follicle miniaturisation that DHT causes. So although lowering your DHT levels will help, there are more effective ways to stop hair loss, by reducing the sensitivity of the hair follicle to the DHT.
So…
Here's my method. I use Minoxidil. Second best chemical after Fin for hair loss. I then dissolve a very small amount of Fin in this. Enough to hopefully reduce the DHT on my scalp, but not enough to reduce the levels in my blood.
Follow closely.
0.04mg of Fin when eaten daily causes 60% reduction of DHT.
0.01mg does nothing.
I apply the Fin directly to my scalp. A very generous estimate is that 50% of a topically applied chemical is absorbed into the blood. So if 50% of a topical dosage is absorbed into the body, we need a dosage that results in max 0.01mg being absorbed. That dosage is 0.02g per day.
I dissolve the Fin in a bottle of Minoxidil, and apply it to my scalp at a rate of 0.01mg per day (just to be safe.) I apply minoxidil on the scalp 1gram per day, so in a 50 ml bottle we'd need approximately 1 mg or one fifth of a 5mg pill.
Honestly, I did this maths myself, and I'm far from a chemist, but it has worked well for me. I personally reduce the fin amount even to half of that dosage 0.005mg per day after I perceived some unusual tiredness.
https://www.ncbi.nlm.nih.gov/pmc/articles/PMC4314881/
Here's the link to a study which does the same thing. They use a 0.1% solution which works out as 1 mg dosed twice daily so 2mg per day.
After this, there are extra precautions to take.
Here are Will Hartfield's steps to do reduce follicle sensitivity-
Improve your fucking diet and increase alkaline foods such as vegetables, nuts and seeds, fruits etc. You know the deal.
Remove gluten. Science has this habit of blaming any effect it cannot yet explain on the placebo, but as much as the medical establishment will tell you it's bullshit the amount of anecdotal evidence is just too large to ignore.
Exfoliate the scalp
Having followed those steps, read this article of Wills and follow those ones also. https://www.hairlossrevolution.com/clean-scalp/
I can promise that these methods combined have worked wonders for me guys.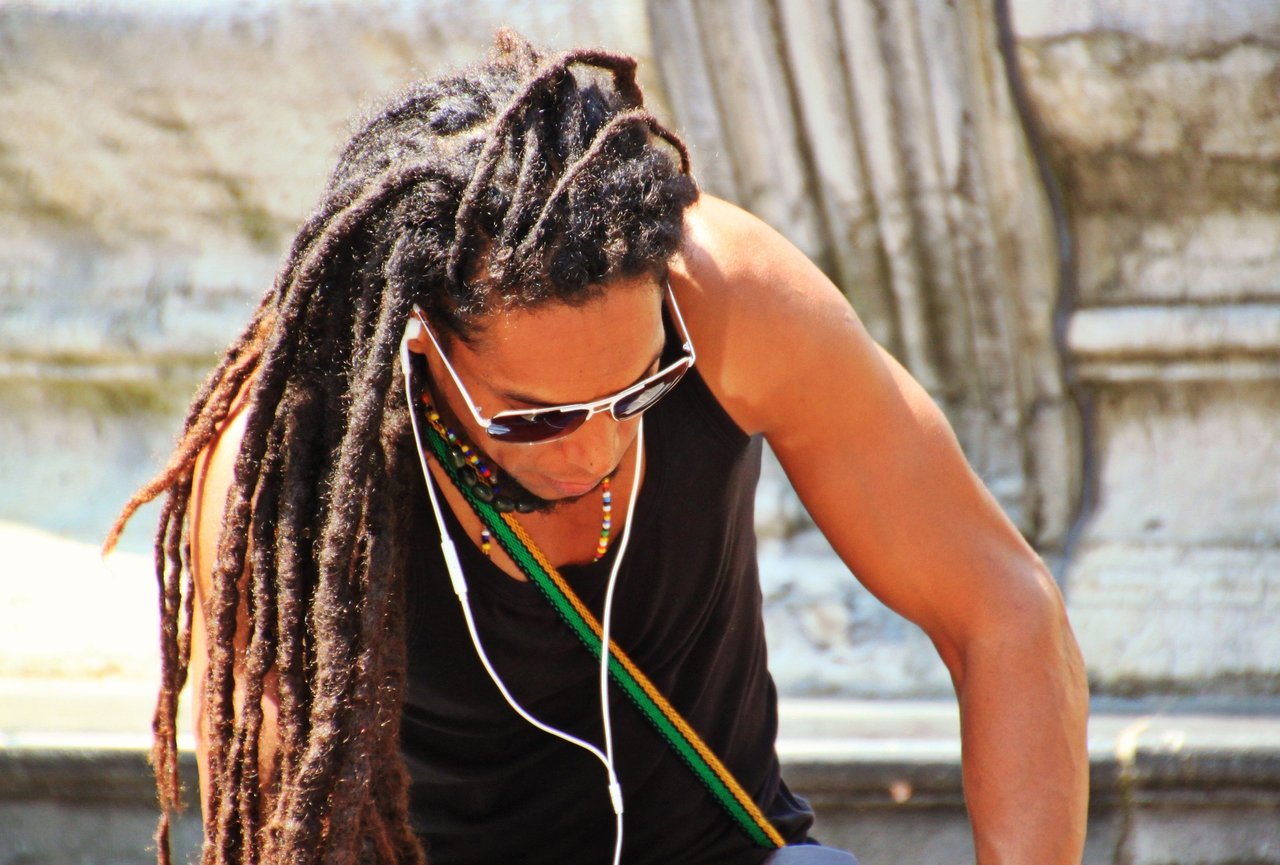 Over and out
Iloveseks