Aerobic Exercises
Aerobic exercise is a type of physical exercise that trains the heart, lungs and cardiovascular system to process and deliver oxygen more quickly and efficiently to every part of the body. Aerobic means "with oxygen" and refers to the use of oxygen in the metabolic activities of the body. Aerobic exercises burn fat faster than any other type of exercise. Aerobics improve all elements of general fitness like flexibility, muscular strength, blood circulation, respiration and cardio-vascular fitness. Aerobic exercise is also known by the term "Cardio".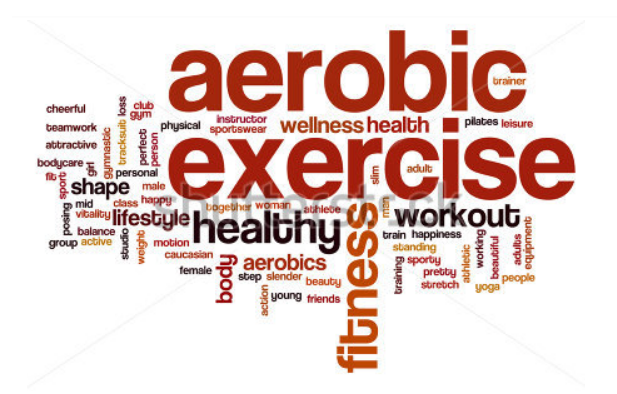 Image Source
Revving up your metabolism
In this Phase You are going to start revving up your metabolism and getting in shape -- slowly but surely with the help of aerobic exercise. You're also going to limit the amount of alcohol that you consume if that is one of your beverage of choice. These, as well as continuing to build on what you learned in Phase One, will be your primary goals here in Phase Two.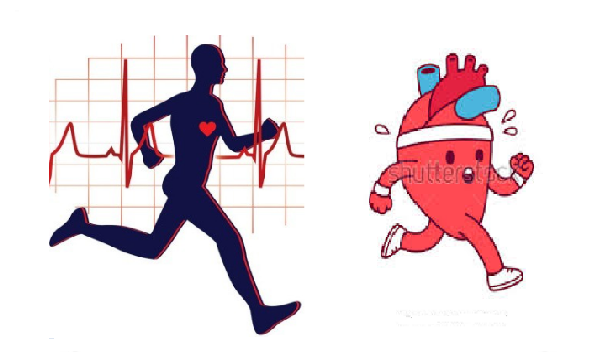 You should be able to complete Phase two in between three weeks and three months. Just remember that your progress must be at your own pace. You might even be content with the result that you achieved here and decide that Phase two is as far as you'd like to progress.. That's fine. If you do, however, I would strongly recommend that you at least read the material about emotional eating in Phase Three.
In Phase one, you were drinking six glasses of water each day. Now, you will add another glass, so you're now drinking seven glasses of water each day. And you will increase your functional exercises to four times a week instead of three instead. of three. Here in Phase Two, you will be exercising aerobically a minimum of fifty minutes each week. Then assuming that you want further results, you will progress to a goal of seventy-five minutes each week as you prepare for Phase Three. Finally, you are going to limit or eliminate your consumption of alcohol.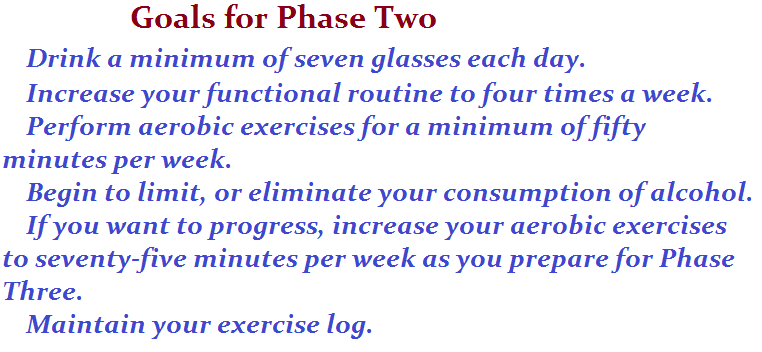 Adding Aerobic Exercise to your life
Aerobic exercise will soon become the foundation of your fitness routine. It is the primary way that you'll improve your cardiovascular (or aerobic) fitness, which in turn will increase your metabolism. Remember the cardiovascular fitness refers to the ability of the heart, lungs, and arteries to deliver oxygen (which is carried in the blood) to working muscles and your muscle ability to use that oxygen to perform work over a particular period of time. By increasing your level of cardiovascular fitness you are increasing the rate that your body can burn calories, I can't stress enough how important this is.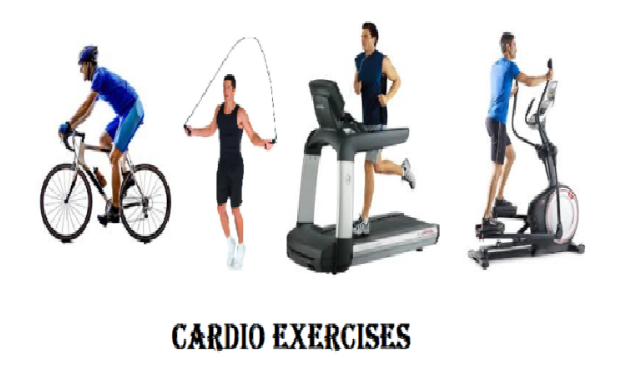 Image Source
You'll also reap the benefits of a stronger heart, more powerful lung, and more toned muscles.
Cardio exercises or Aerobic exercises, should not be confused with strength training exercises. Aerobic exercise has a dulling effect on your appetite as opposed to strength training exercises, which will significantly increase your appetite. Strength training exercises is essential for your long-term health and weight management, so you will be adding those exercises in Phase Four., at which time you're eating choices will be better under control firmly and your exercise habits firmly in place.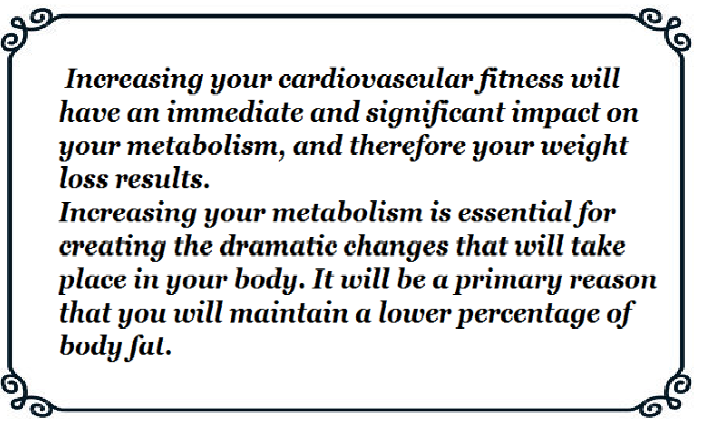 Please keep reading
Aerobic exercises require you to use a lot of oxygen. When you train your body using a highly aerobic exercise, such as power walking or aerobic dancing, you are essentially raising the body's need to provide and utilize more oxygen. While you're exercising, your body's elevated need for oxygen triggers a higher breathing rate and an increased heart rate. Consistently sending this same message through regular aerobic exercise --- that you need additional oxygen --- strengthens your heart and lungs (your cardiovascular system) But perhaps the most important information that this message sends is that you require a greater ability to utilize oxygen.
This eventually leads your body to produce and store more of the aerobic enzymes that are found mostly within your muscles. More aerobic enzymes will help you burn more fat, so obviously you want a lot of them. And while the elevation in your heart rate and your breathing rate is immediate when you begin to exercise, the increase in the number of aerobic enzymes occurs over a period of weeks and months. This is why it takes time before you're capable of increasing the amount of work you can perform during exercise. This is the essence of training.
This process of training works in reverse. When you are inactive, especially in a period of years, your muscles lose the ability to use oxygen, and therefore, lose the ability to burn calories. This is one of the reasons that your metabolism decreases over time, especially when you're inactive, and why so many people regain their lost weight?
In general, the more aerobic exercise, the greater effect will have on your aerobic enzymes, cardiovascular fitness and metabolism, and ultimately your percentage of body fat.