The "B" List
These exercises are slightly less aerobic than the preceding four exercises ( "A" List), the six exercises of "B" List, consist of: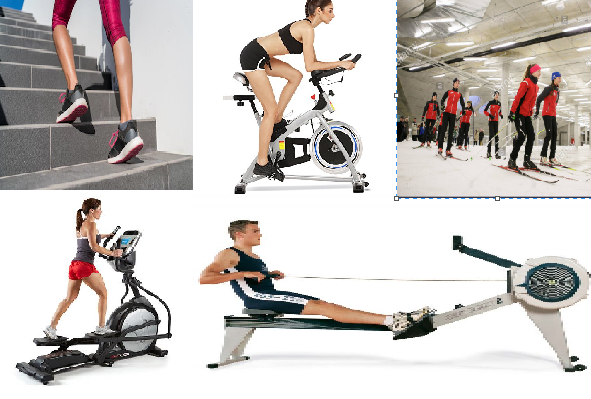 stair stepping

elliptical exercises

spinning

stationary cycling

indoor rowing

indoor cross-country skiing
These are exercises that while not quite as aerobic as those in the "A" list, offer good alternatives.

"B" List are good alternatives and are especially appropriate for individuals with orthopedic and medical complications that prevent them from doing fully weight-bearing exercise.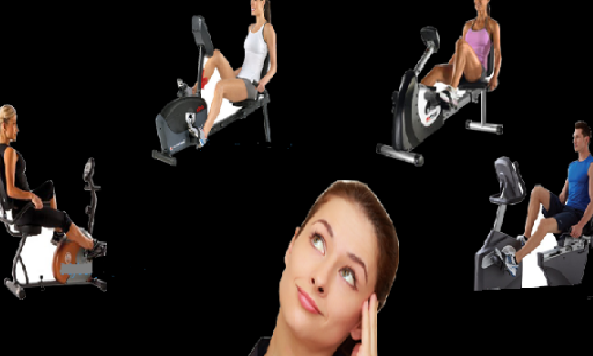 Image Source
To continue helping you choose which exercises are best for you, Here are the pros and cons of each below, For each exercise, aerobic rating is included, a convenience rating, a risk of injury rating, an overall rating and comments regarding who this exercise is most appropriate for and who is not appropriate for. All of the numbered ratings are from one to ten, ten being the best rating.

Aerobic rating: - 7

Convenience Rating: - 7

Risk of injury rating: - Low
This exercise is appropriate for: - Most people, especially those who have a limited amount of time to exercise and want a time-efficient, concentrated aerobic workout.
This exercise is not appropriate for: - Anyone with orthopedic or medical complication that stair stepping would aggravate.
This exercise requires the use of a stair-stepping machine. It is good it is fairly aerobic, It's easy to learn, and it doesn't place much stress on your body.
If you perform stair-stepping as an aerobic exercise, watch your posture. Be sure to keep your shoulders back, your arms slightly bent, and your hands in light contract with the machine (for balance, not to support your body weight).



Aerobic rating: - 6- 7

Convenience Rating: - 7

Risk of injury rating: - Low
This exercise is appropriate for: - Beginning exercises. Individuals who have a difficult time performing weight-bearing exercises. Anyone with orthopedic or medical complications that prevents them from doing other aerobic exercises such as power walking, jogging, aerobic dancing or stair stepping.
This exercise is not appropriate for: - Anyone with an orthopedic or medical complication that prevents from performing the unique elliptical motion. Very fit individuals who would benefit from a more intense exercise.
Elliptical Exercise
Elliptical exercise is sort of a combination between jogging and stair stepping. It requires the use of specialized exercise machine called (what else?) an elliptical exercise machine. When these machines first came out, the movement involved was more of a sliding motion, which did not provide for a very aerobic workout. Most of the newer models allow you to exercise your arms as well as your legs, and they tend to require that you lift your legs higher than the old machines. This motion closely resembling jogging and is, therefore, more aerobic. This machine is so good that they do not put much stress on muscles and joints.


Aerobic rating: - 8

Convenience Rating: - 7

Risk of injury rating: - Low
This exercise is appropriate for: - Individuals of all fitness levels. Those who for any reason have difficulty with fully weight-bearing exercises.
This exercise is not appropriate for: - Individuals prone to orthopedic complications, such as tendonitis that especially affects the knee, ankle or hip. Also, those with certain types of back/ or neck conditions.
Spinning
Spinning is a fitness trend that gained popularity in the mid-nineties and continues to be a force in the fitness industry. Spinning uses a specialized stationary bicycle, music and an instructor who conducts the class. The instructor takes you on a cycling "journey" that involves a variety of intensities and body position on the bike.
Spinning can be an exciting way to work out in a group setting. You don't have to learn a bunch of intricate moves or steps like in an aerobic dance class. And the music gets you moving!
The ability to add resistance to the wheel of the bike overcomes the fact that your weight is fully supported by the bike. All in all, Spinning is a good way to improve your cardiovascular fitness.
Be aware that the standard Spinning class lasts between fifty and ninety minutes., and that includes your warm-up and cooldown. Those of you that are in the beginning phase of the program may not be able to finish the entire class. That's fine. You only need to satisfy the requirement if your phase. Remember that within the average Spinning class you are exercising at the proper intensity for a total of thirty to forty minutes.