Welcome to my DTube Hebrew reading & language series.
The full study is now on line covering the Alef-Beyt here in my blog. This is a beginners program to teach letters, vowels, and reading. The vowels are marked in this bible and are designed to help avoid confusion on what a word is and how it is pronounced. The confusion is obvious in the hundreds of interpretations globally.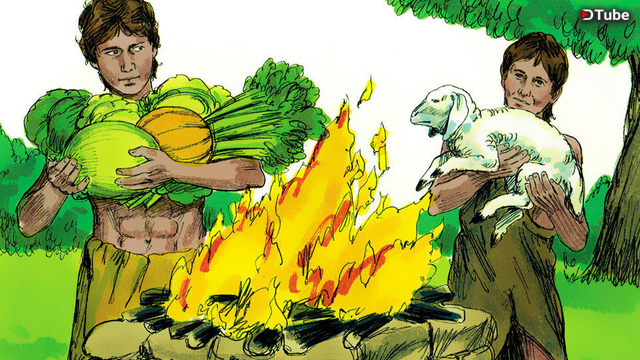 ---
Today we are continuing in Genesis 4:4-6
The first three verses brought the boys from conception, through childhood and into their professions. We continue on as Abel's sheep was looked upon with regard by Elohim.
Then the offering of Cain was not looked upon with regard, which made Cain "very hot" and his "his face, they fell."
It is interesting that his face is plural (they). It is common in Hebrew for anger to be expressed as one's face or nose getting hot. I am not sure why one offering was seen as good and another as not...
We leave it at this point because I do not want to present the main point before it is read. I usually limit my readings to one screen full of Hebrew, which is plenty when learning to read.
There are a few words that may be new to you:
Gam = Also
Meod = Very
Lamah = Why
Pnav = His face
Fneycha = Your face
Note that the the letter Pey with a dot in the middle is pronounced as "P" and without, like "F". See his face and your face above.
Here is the English to compare. When there are three male persons speaking it is hard to find the right word order in your mind.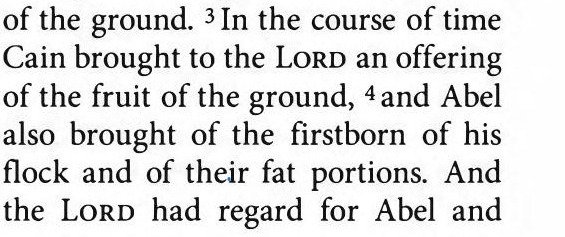 It sometimes helps to see the interpretation thought out in English.
Today's reading


This is one of the best ways to learn a language, reading and learning to understand words and word order in Hebrew while reading. Click the links below to hear the reading.
---
Here are the links
Please click over to DTube and read the above passage with me in Hebrew.
---
▶️ DTube
▶️ IPFS
Note: my pronunciation of The Name as Yehovah is explained more fully in Genesis 2, DTube Video #2 and the coinciding audio is linked here.
---
If you are just starting, my lessons are all here starting at Alef, adding vowels (the dots and lines) as we go, the sofit formations and numerical values. Just go to my blog and scroll to the bottom or click here
Get your Hebrew Bible now!
Click here to obtain the book we are using. It is a free download - or browser usable.
Thanks for taking the time to watch and read.
Shabbat Shalom