Welcome back to my DTube Hebrew reading & language series.
The full study is now on line covering the Alef-Beyt here in my blog. This is a beginners program to teach letters, vowels, and reading. The vowels are marked in this bible and are designed to help avoid confusion on what a word is and how it is pronounced. The confusion is obvious in the hundreds of interpretations globally. In modern Hebrew, only children need a niqqud or vowel marking for each letter. Old manuscripts also usually have vowels marked.
This week - Genesis 2:1-3
Thes is where the word Shabbat first appears. Again, there need not be a pause in creation before the seventh day. Chapter and verse numbers added in the sixteenth century. I for one, think that chapter one ends where we ended today. Verse 2:4 clearly starts a different theme.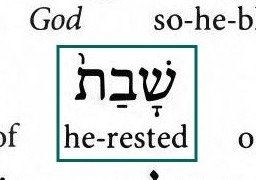 This week, I am reading about how God rested on the seventh day. Day is masculine. Let's take a look at, "He made him holy because on him He rested, located just before (to the right of) the word shabbat. The him refers to a day, specifically the seventh day. I capitalized He where it refers to the one who made it holy and the same one who rested. Many Latin languages have he or she for things, so Spanish speakers have a leg up understanding that, eg; la el las los.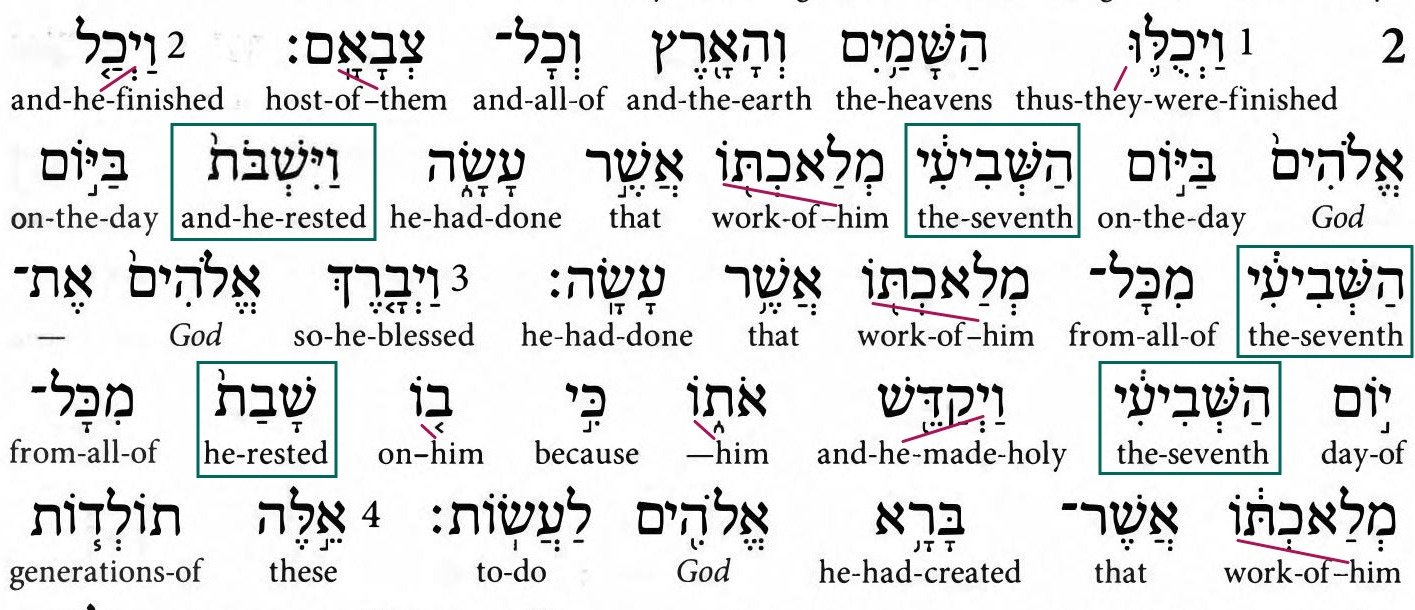 I marked the three variations of the same structure, seventh, he rested, rest which contain "shin" and "beyt". Can you figure out some others?
I also highlighted some of the references to they, he and him as a review from when I taught about how pronouns can be attached at the end of the word relating to either verbs or nouns.
Definitions:
Blessed: to kneel and give a gift
To make Holy: to set apart, or differentiate
On the seventh day, YHVH gave a gift which was a new kind of day. One day of rest and reflection to remember what he had done.
---
Here are the links
Please click over to DTube and read the above passage with me in Hebrew.
---
▶️ DTube
▶️ IPFS
---
If you are just starting, my lessons are all here starting at Alef, adding vowels (the dots and lines) as we go, the sofit formations and numerical values. Just go to my blog and scroll to the bottom or click here
Get your Hebrew Bible now!
Click here to obtain the book we are using. It is a free download - or browser usable.
Thanks for taking the time to watch and read.
Shabbat Shalom