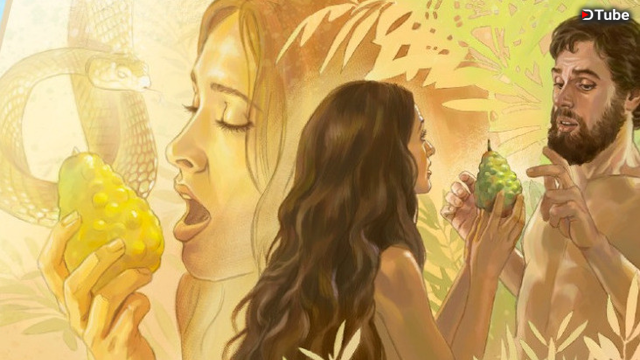 ---
Welcome to my DTube Hebrew reading & language series.
The full study is now on line covering the Alef-Beyt here in my blog. This is a beginners program to teach letters, vowels, and reading. The vowels are marked in this bible and are designed to help avoid confusion on what a word is and how it is pronounced. The confusion is obvious in the hundreds of interpretations globally. In modern Hebrew, only children need a niqqud or vowel marking for each letter. Old manuscripts also usually have vowels marked.
We are reading Genesis 3:6-7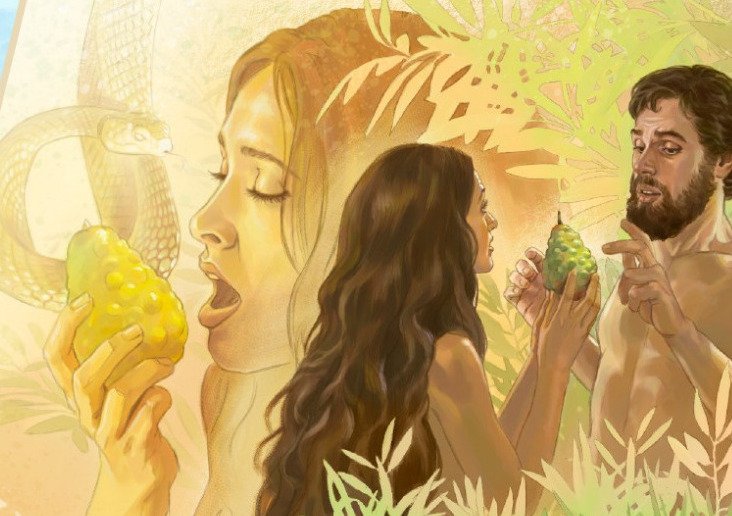 There is a lot here. This passage predates the ten commandments, but I believe the instructions on how not to covet were rooted right here. She saw that it was desirable and good for food. Not so.
In Genesis 2:9 "God caused to spring up every tree that was desirable to the eyes and good for food. The tree of life was in the middle of the garden and the tree of knowledge of good and evil" (also), telling us that these other two trees were there and quite different from the food trees.
The interesting thing is that the woman did not know good from evil, but did attribute God's words to this particular fruit. Again, the woman had not been there when God said, "of the tree of knowledge of good and evil you shall not eat..." See below, how that command was given. After which, He decided to make a helper for man so that he is not alone.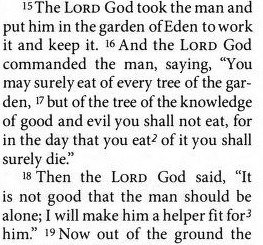 Genesis 2:15-18
God had not said this tree was good for food. Adding to or taking away from God's word is dangerous. Much discussion has been had on why God blamed the man. The woman knew about the command, but she had not yet had a physical body when it was spoken not to eat of that tree. The blame game I will leave for the future.
Vocabulary
In today's video, I touched on some vocabulary that I had covered before. Commentary is not my strongest area. But I also showed the different spelling of two words in the same passage the woman and her man sound exactly the same, but the spelling is quite different, seen below.
Today's reading


The interpretation of the Hebrew here takes the liberties of translating this as "her husband", but in Hebrew I see that she gave the fruit to her man. You are allowed to form the words that you like best in English, Thai, Mandarin, Russian or Spanish. Many do and they argue on and on about interpreted words. I am telling you what it says.
It is clear that she was his, having been made for him. Conversely he would be hers. They were destined to be one flesh stated at the end of Genesis two and therefore, it would be reasonable to call them husband and wife at this point. They started as one flesh, one man alone. She was made from his flesh and bones and they are now two, destined to unite and become one flesh again.
Other vocabulary you should already know:
tov - good
hoo - he
eyts - tree
pri or pree - fruit
gahm - also
im or eem - with
---
Here are the links
Please click over to DTube and read the above passage with me in Hebrew.
---
▶️ DTube
▶️ IPFS
Note: my pronunciation of The Name as Yehovah is explained more fully in Genesis 2, DTube Video #2 and the coinciding audio is linked here.
---
If you are just starting, my lessons are all here starting at Alef, adding vowels (the dots and lines) as we go, the sofit formations and numerical values. Just go to my blog and scroll to the bottom or click here
Get your Hebrew Bible now!
Click here to obtain the book we are using. It is a free download - or browser usable.
Thanks for taking the time to watch and read.
Shabbat Shalom