Welcome to my Hebrew reading & language series.
Genesis 12:16-20
Congrats! We knocked out another chapter of the Tanakh.
We are reading on how Abram got many gifts as he entered Mitsraim (Egypt). When Pharaoh and his household were afflicted, the leader realized that it was because he had taken Sarai.
Upset, he told Abram to leave and take his wife with him. That is the end of the chapter. They are back on the road again.
This video ends with an English paraphrased film instead of me simply reading the English from our Tanakh. The actors are speaking Hebrew under the dubbing. You can see the Egyptian pointing to Sarai saying, "Aht!" which is Hebrew for "You!"
Please have a look and repeat the words after I point and read. I am getting better at keeping my cursor below the Hebrew and vowels. See if you can repeat the words with me.
I am pleased to see over 1500 views on last week's video. A special thanks to all.
---
Today's reading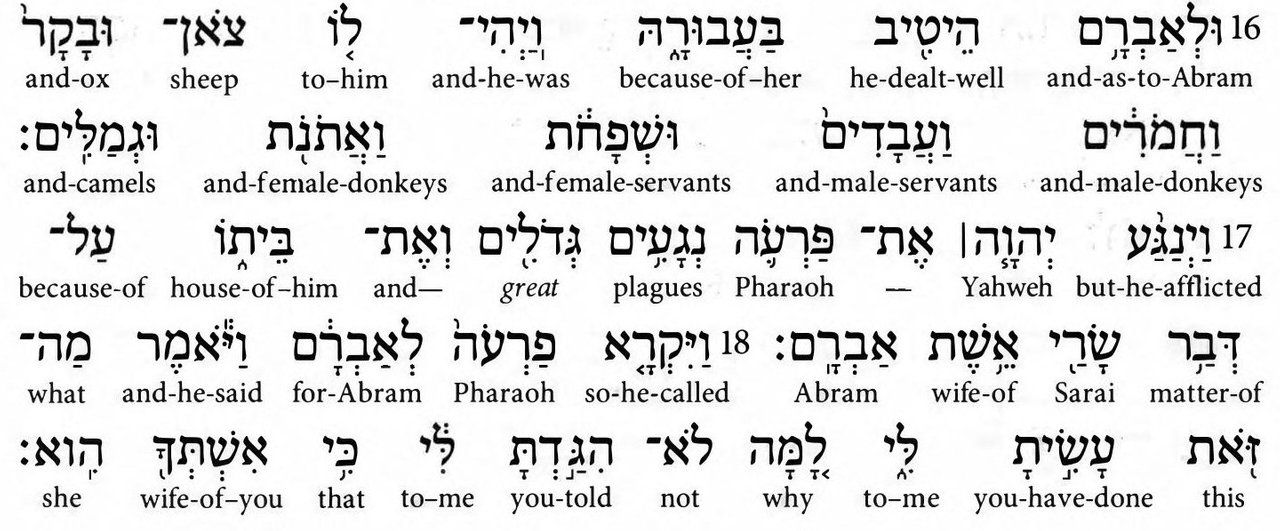 Here is the video link.
Please have a look and read with me in Hebrew.
Info on each letter starting at the beginning
If you are just starting, my lessons are all here starting at Alef, adding vowels (the dots and lines) as we go. I explain the meaning of each letter and its numerical value. Just go to my blog and scroll to the bottom or click here
Get your Hebrew Bible now!
Click here to obtain the book we are using. It is a free download or browser usable.
Thanks for watching.
Shabbat Shalom