Welcome to my Hebrew reading & language series.
Genesis 17:12-14
Today we are seeing the other half of the covenant commanding that the boys that are born need to be circumcised on the eighth day of life. People who are not "Jewish" were also required to be circumcised, as well as bond servants in their homes.
This is a sign of the covenant between the almighty and his people. Many today are pushing back on this. I was surprised at all the debate going on about it.
On the grammar side:
The text reveals the genders of words in Hebrew.
Male (M) that is he not circumcised...
The Person (F) ... she shall be cut off from her people...
There is no woman in the context of this second part we read. The logic is that the word "male" is masculine, and the word "person" is feminine. Spanish speakers accept this much more easily as they are raised with el hombre and la persona.
Thanks for stopping by and reading / viewing. This in home requirement makes a great excuse for learning a new language.
---
Today's reading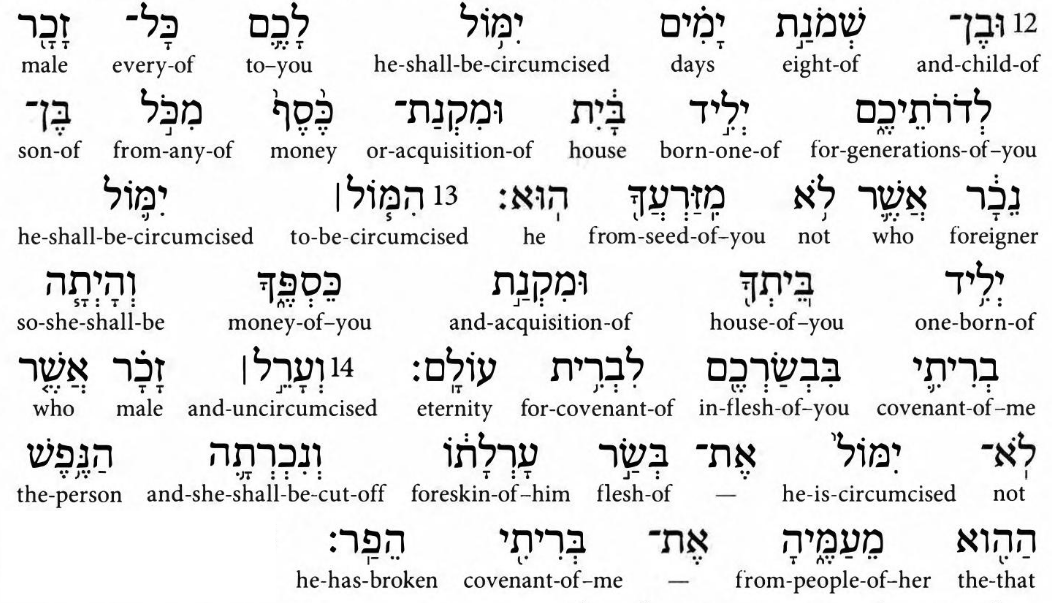 Here is the video link.
Please have a look and read with me in Hebrew.
Info on each letter starting at the beginning
If you are just starting, my lessons are all here starting at Alef, adding vowels (the dots and lines) as we go. I explain the meaning of each letter and its numerical value. Just go to my blog and scroll to the bottom or click here
Get your Hebrew Bible now!
Click here to obtain the book we are using. It is a free download or browser usable.
Thanks for watching.
Shabbat Shalom