It's time for a push to grow the user base of steem and our Community. We are going to join in with the push being made by @anomadsoul, @yabapmatt, @OCD, @steemonboarding and @theycallmedan. This powerhouse group of steemians are putting their money where their mouth is (again). They all have been vocal supporters of steem pushing forward great projects and contests to help out the growth of steem users and user base. Now they have created an amazing contest to grow steem's user base called Operation Mass Adoption with some massive prizes.
---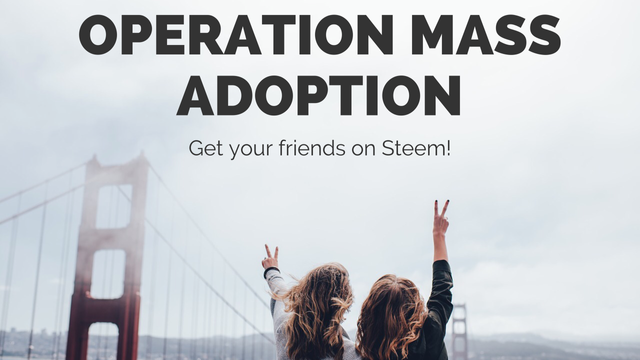 Source
---
The Contest
By using the @steemonboarding videos at https://steemonboarding.com, get as many people to sign up on Steem. They have to be real people, users who will create content, engage in other people's posts, Steemians who will play one of the various games on Steem or that will be active users in one of the various DApps.
The Steemian who gets more users to sign up, wins the contest. It's that easy.
Seriously how easy is that? And honestly if you don't win who cares? The more people who join steem the better steem becomes long term. We all win even if none of us win a prize.

Free Accounts with 50sp Delegation
@pifc is going to give away free accounts to friends of @pifc community members' friends and family and @thedarkhorse is going to get everyone started with a 50sp delegation for up to 30 days for each person.
This will allow people to play around on Steem and the dApps to see where they fit in. Will it be blogging, curating great content, tracking their fitness goals, posting videos, playing @steemmonsters or @nextcolony, or maybe they love online gambling. Who knows what part of Steem they will love, but there is something for everyone at this point.

@pifc has 24 Free Account Tickets to give away and @thedarkhorse has another 3. @pifc will claim more as it's able to and if we run out it will be a great problem to have. If that happens I know we can get more from at least 1 other person for free and after that we will figure it out to keep new people signing up for free instantly...well as instantly as I can do it working around my real life.
Requirements for free accounts
These need to be real people who aren't already on Steem. Please don't cheat on this...you really don't want to get caught creating an alt account as part of this contest considering the massive fire power behind this contest. I don't think our community has people like this so let's win this in an honest way.
The new Steemians invited, must create an account within the time limit of the contest. It doesn't matter what Account creation service they use.
Every user you invite has to make a post introducing themselves before the end of the contest. On this introduction post they have to mention your username and why they joined Steem, otherwise said sign-up will not count for winning the contest. For this intro post, they must use the tag "newonsteem".
To make sure it's clear they are joining as part of the @pifc community they need to also add the tag #pifc to their introduction post.
Prizes
This is the best part, @pifc can win while you win. So let @pifc help you earn some Steem (yes liquid steem) while we earn a large delegation for 90 days...which in turn helps all of you.

11,000 Steem Power Delegation for the most engaging community
The community that gets more people to sign up on Steem, regardless of the winners of the Liquid prize, will get a 10,000 SP delegation from @yabapmatt and a 1,000 SP delegation @OCD for the next 90 days.
So go read Operation Mass Adoption contest post for all of the details. There are some requirements for the users recruiting people in terms of start date and reputation scores, but overall it's pretty simple.
Contest Ends: Wednesday, June the 12th at 23:59 PST.

Coordinating New Sign Ups
People will need to sign up for discord and then message me directly there. My handle on discord is thedarkhorse #6765. I will give them instructions on how to pick a handle/steem name and get them their master password via email (I don't trust discord for this).
Go talk about Steem to your Friends!!!
Ok that's it...now get out there and tell your friends to get on steem. Have them go to watch the @steemonboarding videos at https://steemonboarding.com and see if they are interested. You never know who will be interested in trying something other then Facebook...you know that company that keeps selling all of your private data yet the sheep people keep using it. Show them there are options!