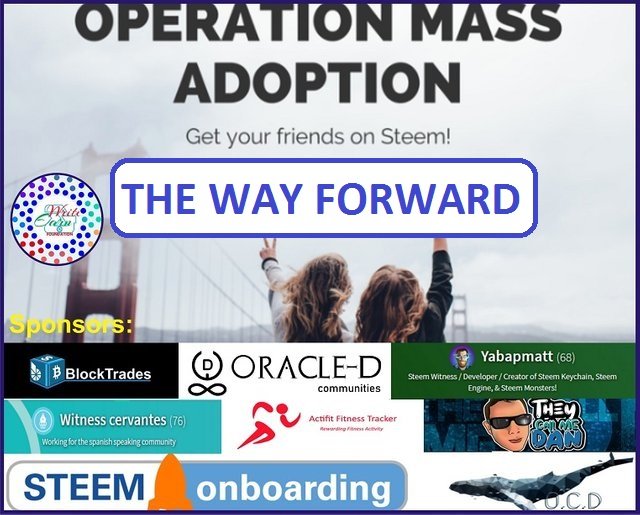 Congratulations to the winners of Operation Mass Adoption 1.0 - @danielvehe @uyobong @alokkumar121 @knowhow92 and @olivia08, who in that order helped to onboard 29, 24, 15, 13 and 4 new users respectively, totaling 85 new users. This was an awesome first strike and one of the biggest contest I've been a part of on Steem. Here was my submission
A big "Thank you" @Steemonboarding's team @Coruscate and @Anomadsoul, for thinking out and hosting this. I am on the look-out for "Operation Mass Adoption 2.0"
Hugs to our sponsors @blocktrades, @ocd-witness, @yabapmatt, @oracle-d, @actifit and @cervantes, @theycallmedan, @ocd for curating the newbies and as well giving us the mouth-watering prizes.
I won't fail to acknowledge the special roles played by our communities - @Steemchurch, @Writeandearn, @rutablockchain @Actifit as mentioned by some of the contestants. The communities are awesome in that they are at eh reception to nurse these new users to stardom on Steem. Though I am sure @Acidyo and @ocd through their newest @osd project will support to build these new users to 500 SP strength.
For me, @Steemchurch has been an amazing community, which has so far absorbed all the new users to our sub community - @Sc-n. I am so grateful especially with the curation services offered by our friends @Sniffnscurry and the warm words of welcome by our parishioners, with special thanks to @Sirknight, @Darlenys01, @Maxdevalue @Kufray @You34 among others.
After the Adoption "1.0", what Next?
As keenly noted by @knowhow9, something must be done to help sustain the new users to motivate them to be active on the blockchain. We have to be conscious of the nurturing process to keep our users active.
Let's just guide the newbies to the right direction and help them as much as we can. Signing them up was the easy part, the hard one is to keep their accounts active. That can only be done through communities -@knowhow9
This call therefore goes to everyone that was connected to the contest – the host, contestants and their communities and sponsors. All hands must be on deck to encourage the new users to be at their best. I am sure, some of the users secured @ocdb curation which is a good start for them. Besides, I think there should be some follow-up commitments for the users who joined Steem via Operation Mass Adoption 1.0
My Roles
I am personally ready to give in my time and resources to the training and mentoring of these new users on Steem blockchain. This was why I created @Writeandearn, where I already have some active steemians working.
@Writeandearn has helped to nurture our invitees with "ONE-ON-ONE" and "FACE-TO-FACE"physical coaching in our local environment and as well provide for space with internet facilities to new users, such beneficiaries will be encouraged to stay on Steem.

However, @writeandearn Foundation conceived and created in October and December 2018 respectively is a writing-curation and support initiative that wishes to make the creative contents of the Steem blockchain tangible for offline readers in libraries, bookshops and reading clubs. @writeandearn seeks to give a tangible future for passionate writers.
Besides, I am committed to ensuring that @Steemchurch and @Sc-n will support these new users through their programmes. Already, @Steemchurch demands that all new users be able to present their life-projects which could be supported by the community. Many of them have already put in their submissions and all is set to help them push their dreams to fruition with Steem.


On the part of the host, I am expecting something big expecially with the Steemonboardin.com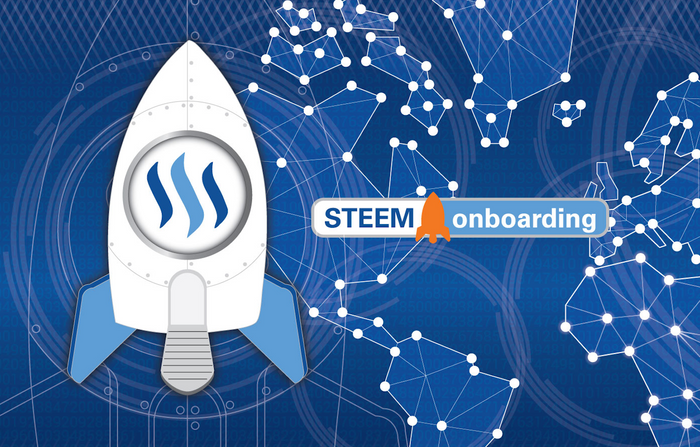 Anticipating "Operation Mass Adoption 2.0"
Hey Onboarders! We hope you are still spreading the word about Steem with everyone you meet, everywhere you go!
Those were first lines in the contest result announcement made by Steemonboarding. To me, those words sound deep to me. I see a dire need to set up a structure to further populate Steem blockchain with actual and human users to boos this platform. I am sure this is the purpose of their existence on the blockchain.
However, I am seeing a bigger "Operation Mass Adoption OMA) 2.0".
Modelling after @Oracle-d and they efforts they did put in concerning the BLockchain University in Indonesia, I hope that OMA 2.0 will be dedicated towards institutionalizing Steem. This is how will break out to gain mass adoption. Just few hours ago, @Steemchurch published a blog on how engage professionals through the blockchain. It is what we can do for steem. When we are able to have professional bodies and institutions adopt Steem, then we are on a path to stardom.
---
Let's Brainstorm How we Can have a More Corporate Adoption of Steem in Institutions, Professional Bodies
---
I was recently elected the Technical Secretary of the Nigerian Institution of Agricultural Engineers (NIAE), Akwa Ibom Chapter and I am glad to announce that it is part of my goals to ensure the entire team endorses and embraces blockchain technology. Definitely, Steem will be top on the list.
Let's watch out!

@Steemchurch and @Sc-n are communities am proud to be a part of on Steem.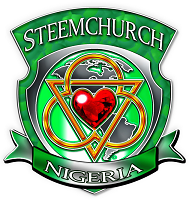 I am @UYOBONG