Shovo Chandra Das, age 25 or 26, he is the life of some children. He is the founder and the only teacher of ''Lal-Shobojer Pataka Shree Shovo Chandra Das Primary School'' ,known to everyone as 'Shovo Sir'. He is a tea seller by profession. This school is the new awakening of his shattered dream.
The end of the platform of Narayanganj Chashara railway station a scene is seen. Lessons are being exchanged while sitting on a torn sack under the open sky. Curious crowds have gathered around them. This school goes on disadvantaged children every afternoon. There is no pressure to bring books here, no need to buy anything at your own expense. Everything is given from here.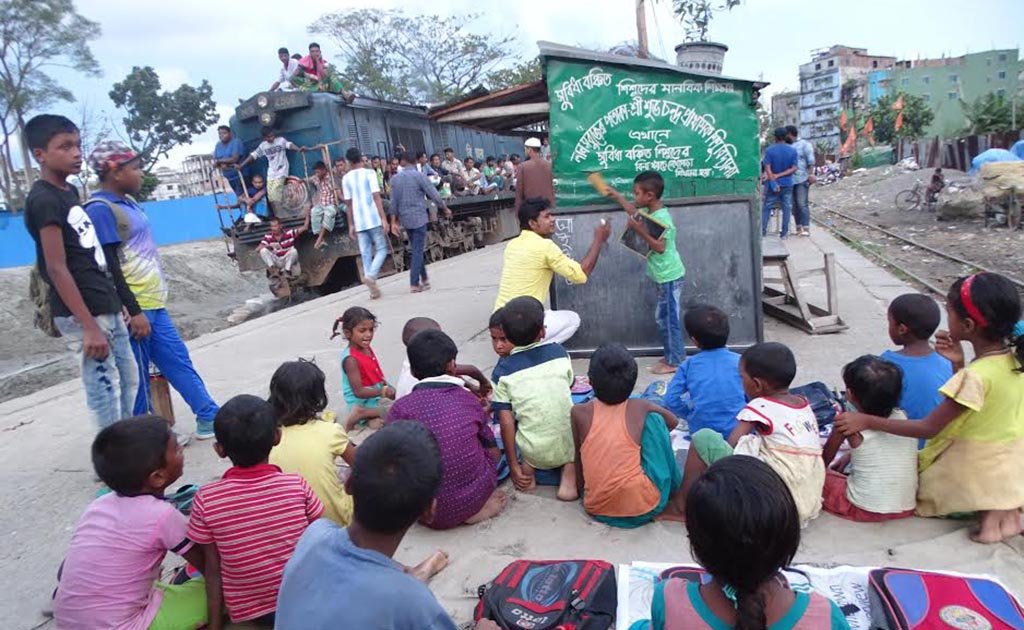 From a young age of Mr. Shovo Chandra Das, his dream was to become a teacher after finishing his studies. But after the death of her mother, he stopped going to school in the fifth grade due to financial crisis. His dream also stopped. His was diagnosed with tuberculosis in 2005 while in he is fifth grade. His mother is bedridden and needs a lot of money for treatment. One day his father called their four brothers and sisters and asked them. What do you want for your mother ? They wanted their mother. Then his father sold all the houses in the village for his mother's treatment. At the same time the study was stopped.
They siblings started working in garments in the hope of healing his mother but they could not save her. Then due to lack of money, there was no opportunity to go to school. Due to his strong desire to study, he studied up to eighth grade with the help of a great teacher. Then fate did not accompany him.
But he kept the dream in his mind. He started working in a tea shop at Chashara Railway Station in Narayanganj. In between work, he often had the opportunity to chat with the boys and girls of the slums. In various conversations, they get a chance to get acquainted with their dreams. Shovo came to know about their strong desire to study. But their parents do not have the ability to teach with money.
Then in 2016, ''Lal-Shobojer Pataka Shree Shovo Chandra Das Primary School'' is started with 21 books and 10 students. At first there was a house but due to lack of money the house had to be abandoned. So he ignore the sun-rain-storm and spread the sack on one side of the platform and started teaching. Many storms are gone, still going. He doesn't have a house, He can't afford to buy books, notebooks, pencils and erasers due to lack of money. Still, He doesn't want to give up. He doesn't want anyone like me to fall out of the dream for lack of money.
The school is taught from kinder garden to third grade. At present there are 70-80 students in the school. After studying up to third grade from here, those whose condition becomes like school admission are admitted to the nearby government schools.
Although they grow up in slums, many of them are very talented. If they can study well, they will be able to do something good in the future. So even after hundreds of hardships, Shovo is trying to fulfil their dreams with as much as he can earn from the tea shop. Due to lack of money, the school was closed many times. Yet he wants to keep this school going. So that no one like me is deprived of education.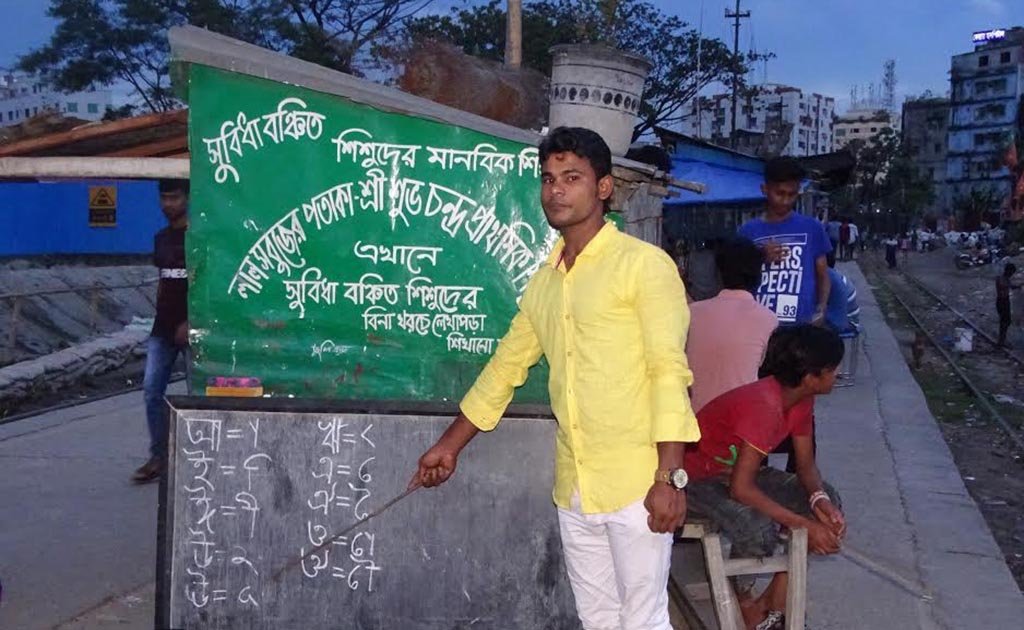 Shovo has many dreams about them. He wants to fulfil his unfulfilled dream with them. One day the students of this school will work in a respectable position in the country. Maybe one day they too will work with such disadvantaged children. That day he will be successful. His dream will come true. Their indomitable will is my inspiration.
I know that place where this school has been established in Narayanganj City. We would like to help this school. Please You can also help him. I will give all money of this post. So you can upvote this post.
Good luck to these disadvantaged children of Narayanganj Chashara Railway.
Both Picture was published subject to the permission of the Photographer.