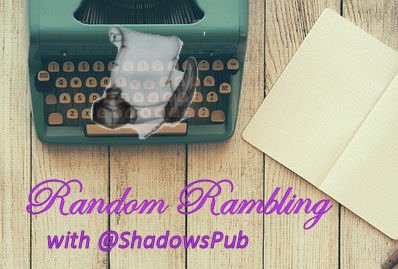 About once a week, I've been doing a random ramble about anything I feel like. I was pretty much targeting doing them on the weekend but right now I'm in catch up mode. So, it's happening right now.

Personal End of an Era
I wrote a letter last night. It was a painful letter to write. When I submit it to its recipients in a couple of weeks it will mean the end of an era in my life. An important era to me. If I don't take the step away, bad behaviour by others will receive tacit approval by my staying. I wont have that.
I don't wish to go into the details of what is going on. I will say that the letter will not be in isolation. Other steps are being taken to shed light on the bad behaviour. I'm at a point I'm no longer as vested in the outcome that I might have been before.
For various reasons my attention has turned to other things in my life. Things that have my interest. Things that tie in with what I want in my life. Things that are instrumental in moving me forward. One of those things is Steem.

Musings on the HFs
The last week has been rather eventful on the Steem blockchain. Two hardforks. The first, HF21, caused a few hours of downtime which had most who remember HF20 breathing a bit of a sigh of relief that it wasn't worse.
Fourty-eight hours later HF22 was necessary to fix a problem that would have been difficult to discover in testnet. The moment of the hardfork on Thursday passed without a flicker. The chain went on and a bigger sigh of relief was felt.
Then mid-day on Sunday the chain came crashing down. The minutes slipped into hours and then days.
People were working on the problem, there were other things to do in life. I could choose to complain about the chain being down. Or I could choose to be grateful to those who gave of their time on a long weekend to get it back up again.

Musings on Post-HF
The structure of how the chain operates has flaws. What those flaws are vary depending on whose opinion you listen to. I'm no blockchain expert. I'm just here to do some writing, run some shows and hopefully support others who are trying to grow on the platform.
I get frustrated sometimes when it seems like things are not going to go well, especially for smaller users. Usually that is because of something where it's clear the larger stakeholders are going to do just fine no matter the impact on the smaller ones.
Then I realize, that is life. It's always going to be life. Those who have, will for the most part, take action to have more. There will also be those who have who will try to work to put a hand out to those behind them to give a hand up.
HF21 could have been worse. It could have returned to the super linear curve we had in the early days of the platform. That was a curve where only the larger stakeholders gained and the small accounts were dependent on upvotes from the larger accounts.
That is if the smaller accounts didn't make themselves bigger by buying in.
The convergent curve is sort of a compromise between the two and does at some point give the small account a fighting chance.

Musings on the Small Accounts
Can the little guy still grow? The answer is yes, they can.
It may be slower than it was pre-HF21 but it can happen with consistent posting of decent content, commenting on others, get to know others and use proper posting etiquette.. You know like don't steal other people's content and try to make it your own, or toss up a photo and call it a day cause people should flock to your post.
There are people on here who behave badly. Some more than others. If you're a small account, don't try to deal with them by putting your account in jeopardy. Talk to others about what is going on, listen to their input.
Head down and build the right way.

Musings About Voting on the Curve
When we had a linear curve, if our vote was 2cents, then it was 2cents. The only thing changed that would be if the person's post was downvoted, then they lost some of the value showing on the post depending on the size of the vote.
Now, if I leave a 2cent vote on a post it depends who comes behind me to vote if that continues to be 2cents or not. If I vote before some larger votes, my 2 cents could be worth more at payout.
Don't get too attached to what you see on the screen. See what happens when the payout comes.

Last But Not Least — Musings About the Price of Steem
Yeah, we'd all love to see STEEM back up there like it was in the last bull run. Bitcoin is looking like it will move up, eventually. When it does, it will pull the alt coins like STEEM up too.
Here's the thing. If you have the capital to invest, then increasing our trading volume will help the price. If you don't have the capital, then you can contribute by either creating good content, curating it or both.
"But the price is so low, why bother?" Here's something to think about.
You put a post up and at payout, it's only worth a buck. A measly buck. Why bother eh. So let's see, split that with the curators, you get 50 cents worth of Steem. So about 2.94 STEEM.
Well that sucks right? Let's do some projecting.
Let's say the price of STEEM jumps to $10. That's better right? That would mean your post would jump to $29.40 for your share of the rewards. That's better, right?
Is it? You still only have 2.94 STEEM. IF you keep posting and working at building your account at these low prices, you'll start doing better on your posts as people get to know you and appreciate your work. You could earn say 200 STEEM before the price jumps to $10.
At the current prices, those 200 STEEM would have shown as $34 in rewards when earned. At $10 per STEEM those 200 STEEM would be worth $2,000.
So which would you rather have $34 worth now or $2,000 worth later? You can have both by continuing to work and build the right way.
Just saying — it's a marathon, not a sprint.
Want to keep up on what is happening in The Ramble? Sign up here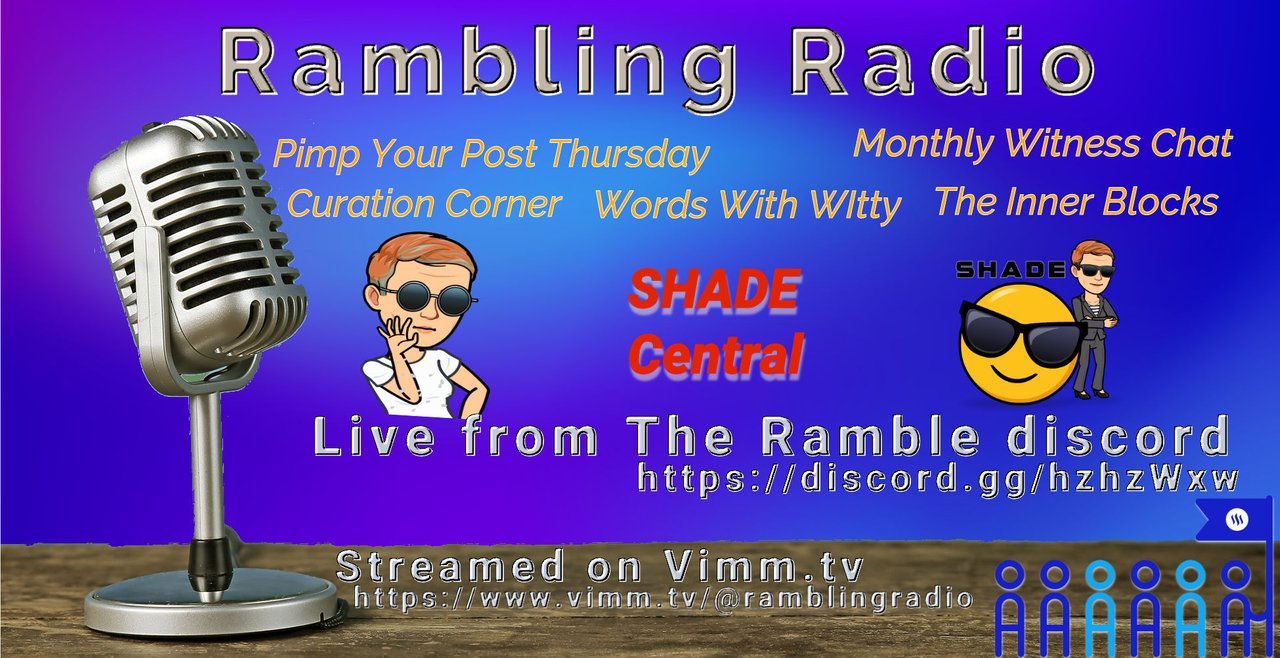 Until Next Time — Just Steem on











If you like this, please follow me and upvote the post.