Hip Hop Legend Series 
#1: Eminem
presented to you by Isaac Lim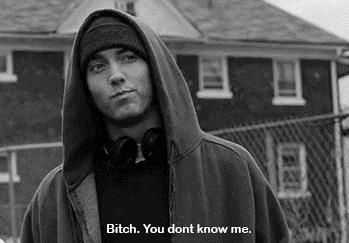 How did I find out about Eminem/Hip-Hop?
In the year 2010, I was listening to the radio. I was 14 years old, I heard a voice filled with so much rage, spitting words so fast I cannot even catch the words. Growing up learning three and more languages, my English was very basic and I cannot even speak fluently at that time. But that song was like magic, it attracted me and I tried my very best to identify the song (back then there was no Shazam), it was Love The Way You Lie by Eminem and Rihanna. 
Ever since, I started listening to Eminem everyday. The more I listen, the more interested I got, then I started researching onto the whole Hip-Hop industry. 
My Favourite Eminem's Work
Lose Yourself (2002)
The souls escaping, through this hole that its gaping
This world is mine for the taking
Make me king, as we move toward a, new world order
A normal life is borin', but super stardom's close to post mortem
Lose Yourself is a soundtrack released for the movie "8 Mile". It won Eminem countless awards and I think it is still the craftiest song Eminem has ever written. 
"Lose Yourself" won the Academy Award for Best Original Song in 2003, making it the first ever rap song to have received this accolade,[4] and also won the Grammy Award for Best Rap Song and Best Rap Solo Performance in 2004. In 2004, it was one of only three hip hop songs from the 21st century to have been included on Rolling Stone's list of the "500 Greatest Songs of All Time", and was also the highest ranking, at number 166. Rolling Stone also ranked it one of the top 50 hip hop songs of all time. The song was certified quintuple platinum by the Recording Industry Association of America,[5] and as of September 2017, it has 7.4 million downloads in the United States alone.[6] It was ranked number 93 on AFI's 100 Years...100 Songs list. In October 2011, NME placed it at number 57 on its list "150 Best Tracks of the Past 15 Years".[7]
Check this video out. It deciphers the lyrics and tell you why this song is one of the best song ever written by Eminem.
Top 10 Eminem's Songs You Must Listen To
Aside from Love The Way You Lie and Lose Yourself, here are some of his tracks I believe you should check out:
1. Stan
3. Cleanin' Out My Closet 
I hope my introduction to Eminem is going to get you interested in Hip-Hop music. If you already are, and you're a big fan of Eminem, I hope you'll upvote this to show some support. 
Comments are most welcomed, this is my first time writing on Hip-Hop, so I definitely need a lot of opinions and advices. Drop a comment below if you think there's something I miss or you'd hope to see I add into it. Thank you! 
I'll continue the series by doing a write up on: 2Pac, Biggie, Jay-Z, Snoop Dog, Nas, 50Cent?, etc. Please let me know if there's someone you would like to see me writing on or someone you disagree to be put onto the list. 
Read:
Hip-Hop Legend Series #1: Eminem (My Journey of Falling in Love with Hip-Hop music)
Hip-Hop Legend Series #2: 2Pac (a.k.a. Tupac Shakur)
Follow me @ Steemit