Hip Hop Legend Series 
#2: 2Pac
presented to you by Isaac Lim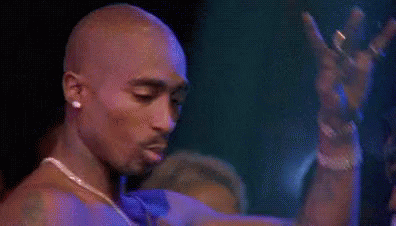 Who is 2Pac?
Many of you who doesn't know Hip-hop, you might still know Eminem. But if you are born almost the same time as me, then you probably don't know about him. 2Pac is one of the greatest rapper of all time. He is worshipped by many rappers today as the God of Hip-Hop. Hip-Hop wouldn't grow until today if there wasn't a person named Tupac Shakur. 
If you know basketball, it's like Kobe and MJ, Eminem is Kobe while 2Pac is MJ. People who are born later usually think that Eminem is the best, while the earlier generation would disagree and say that 2Pac is the best. 
The Death of 2Pac
On Saturday September 7, 1996, American hip-hop artist Tupac Shakur was fatally shot in a drive-by shooting in Las Vegas, Nevada. He was 25 years old. The shooting occurred at 11:15 p.m. Pacific time when the car with Shakur stopped at a red light at East Flamingo Road and Koval Lane.[2] Shakur was struck by four .40 caliber rounds fired from a Glock:[3] two in the chest, one in the arm, and one in the thigh.[4] He died from his wounds six days later from respiratory failure that led to cardiac arrest after the removal of his right lung in the University Medical Center of Southern Nevada.
Until today, his murder is yet to be solved. As usual, there are tons of conspiracy theories around the world about this. You can read more here. 
This is the murder scene recreated:
Deconstructing 2Pac's "Me Against The World" 
Check this great video out! His ability to rhyme and that deep voice are definitely going to be missed.
2Pac's Legacy
Here's my top 10 favourite tracks from 2Pac:
1. Dear Mama
4. Hit 'Em Up (Diss track to Biggie) *Best Diss Track Ever
2Pac vs Biggie (The Notorious B.I.G.)
Friends to Deadly Rivals. In 2003, Eminem created a beautiful track featuring them. 
A reworking of Runnin' (From tha Police) (1995).All other artists' parts were taken out, 2Pac's verse was replaced with a previously unreleased one, and a new beat with hook was constructed by Eminem with a sample from Edgar Winter's "Dying to Live". This version is now much more popular and well known than the original.The song's theme is running from the police, and is interspersed with old clips of the artists talking about their feud.The original track was produced by Easy Mo Bee.