Ahsan Manjil Palace: It is one of the most significant architectural monuments of Bangladesh. The majestic palace was the residential palace and the seat of Dhaka Nawab family. It was built in the banks of the Buriganga river during the period from 1859 to 1872. Some portions of the palace complex were built earlier in the 18th century by the landlord of Jamalpur.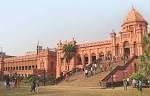 Curzon Hall of Dhaka University: It is a British colonial period building of majestic architectural design. The building was primarily intended for town hall and is named after Lord Curzon, the Viceroy of India who laid the foundation stone in 1904. After establishment of Dhaka University in 1921, it became the base of university's science faculty.


Mahastangarh in Bogra: Earliest relics of the historic age are Mahasthangarh in northern district of Bogra district. Mahasthangarh was built as provincial capital in 3rd century BC by Pundra dynasty and the city continued flourishing during the successive ruling dynasties. The wide range of relics recovered from this site has been put on display at a museum in the site.