Edgar Allan Po (January 19, 1809, Boston, USA – October 7, 1849, Baltimore, USA) was an American writer, poet, essayist, literary critic and editor, representative of American Romanticism. He was the creator of modern detective form and the genre of psychological prose. Some Allan Po's works facilitated in shaping and developing Science Fiction, and such features of his creative work as irrationality, mysticism, doomness, anomalism of the represented states anticipated the literature of decadence. He was most known as the author of " frightening " and mystical stories as well as the author of the poem "Raven". (Wiki)
Image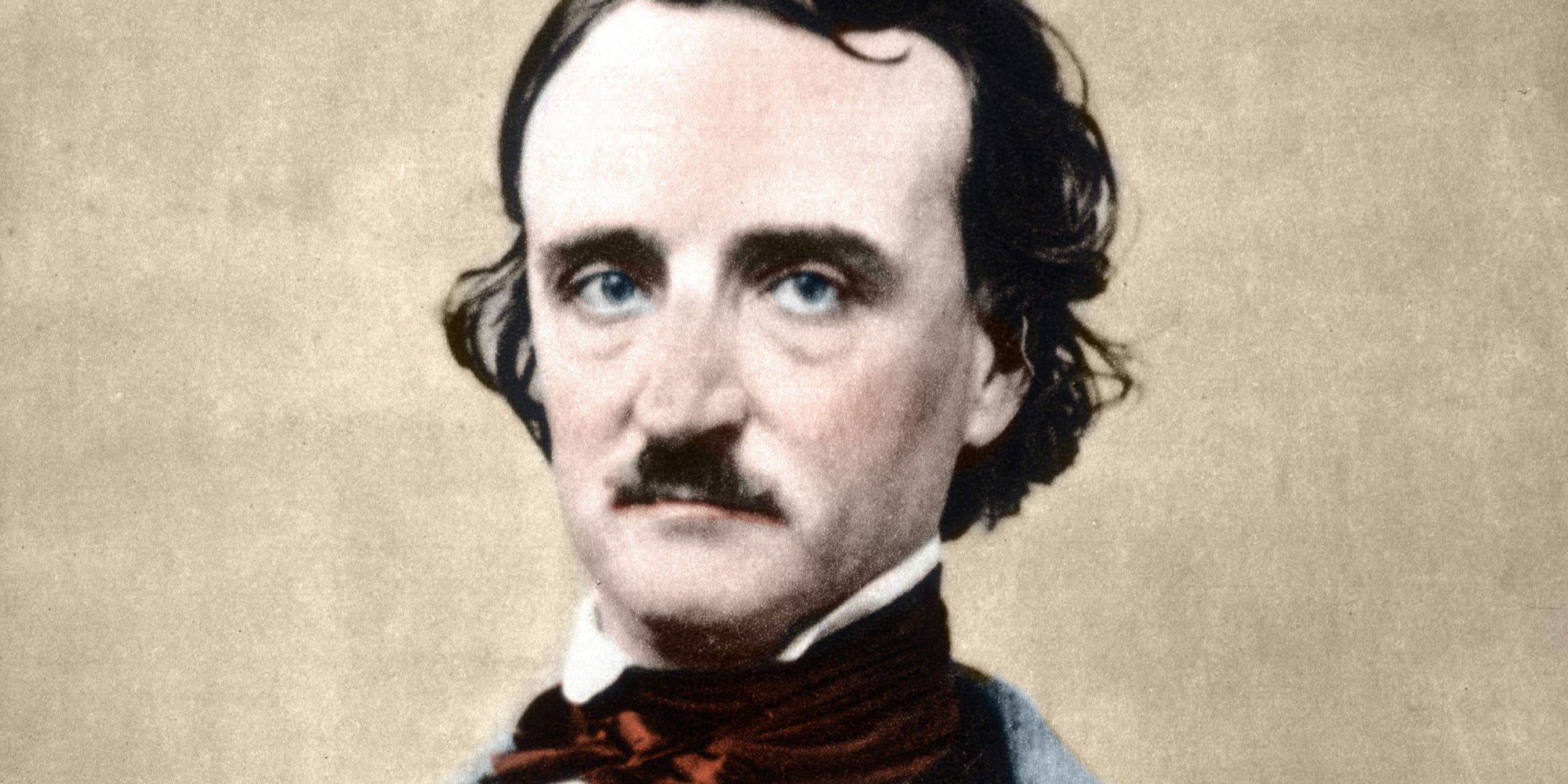 Wealth came down like a ton of bricks on Edgar Allan Po at a high price in trouble. Soon after birth of a son in Boston his father quitted family, and has never turned up since. After two years of wandering on the provincial scene, his mother died. It happened in Richmond. There, it has been the first but not the last time in Edgar's life when the fate took pity on him in a desperate situation.
Image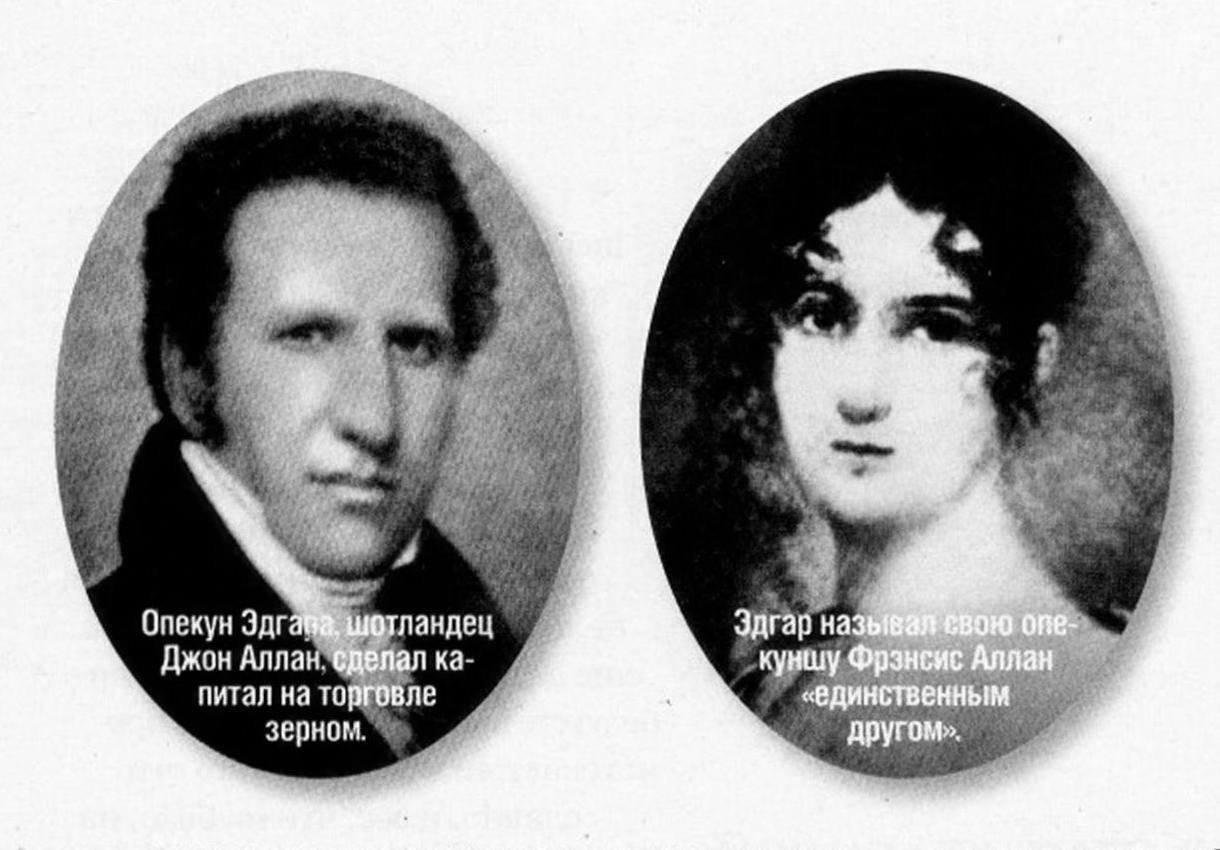 Stepfather appeared in his life. John Allan, a rich merchant, a virgin tobacco tradesman, took care about the boy. Truly speaking, he did not father: dubious child's birth and his dysfunctional parents embarrassed him too much. Nevertheless, as for the rest, tutelage of such a family gave the opportunity for Edgar.
It can be said, that little Edgar grew in a palace rolling in money. He was dressed like a doll, deliciously nourished, pampered, heaped gifts on. He had dogs and even his own pony. Mrs. Allan showed great zeal most of all nursing her new baby with all the tenderness of an aging woman who got the last chance.
When Edgar was six, the Allans left for England. There, he was sent to an expensive prestigious boarding house. And in five years the family came back to America where Edgar was to continue his studies at a local good college. He finished it quite successful pleasing stepparents with wonderful studies and constant praise of teachers. However, Edgar's character and abilities alone did not exhaust the merits.
Yes, he was versatile gifted. He beautifully drew, played music, wrote poems and stories as well as read many books from early years. At school he was brilliantly at mathematics, astronomy and physics. He was excellent in history and especially in literature as well.
But alas! In addition, Edgar quickly became known also as an almost uncontrollable teenager. He was very developed physically. He fought for every reason, brutally played his comrades tricks. When he grew up and entered university he used to hell around and play any gambling games whether it was cards or bets on cockfighting.
The foster parent sent his adopted child to the University of Virginia as it was customary in the best families of the city. He hoped Edgar to receive brilliant education there and come back to make a career in Allan's business and then, probably, inherit it. Unfortunately these ambitious plans were not destined to come true.
Room in Virginia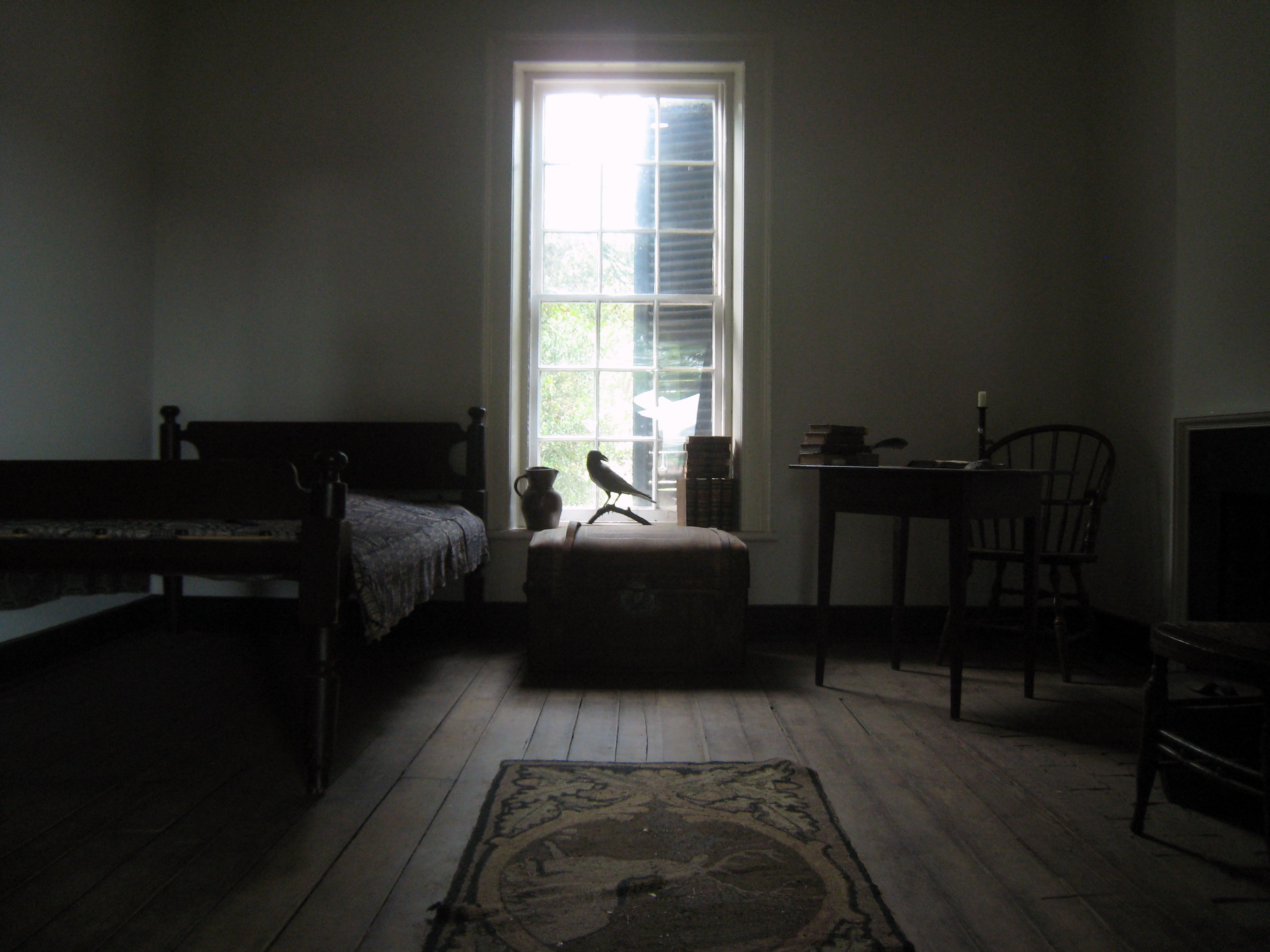 Edgar, coin a cliché, went off the rails. The teachers cautiously hinted that his character was marked by a number of oddities. The young man was definitely very self-confident and self-centered. In a literal sense he made psychological experiments on his comrades, made the feathers fly making to show a tendency to worse evils and wickednesses. His cloud-castles and poems were extremely gloomy and full of eerie allegories.
But what is more important, Edgar shook a loose leg of a gay Lothario in defiance of neither university rules, nor his own opportunities.
Image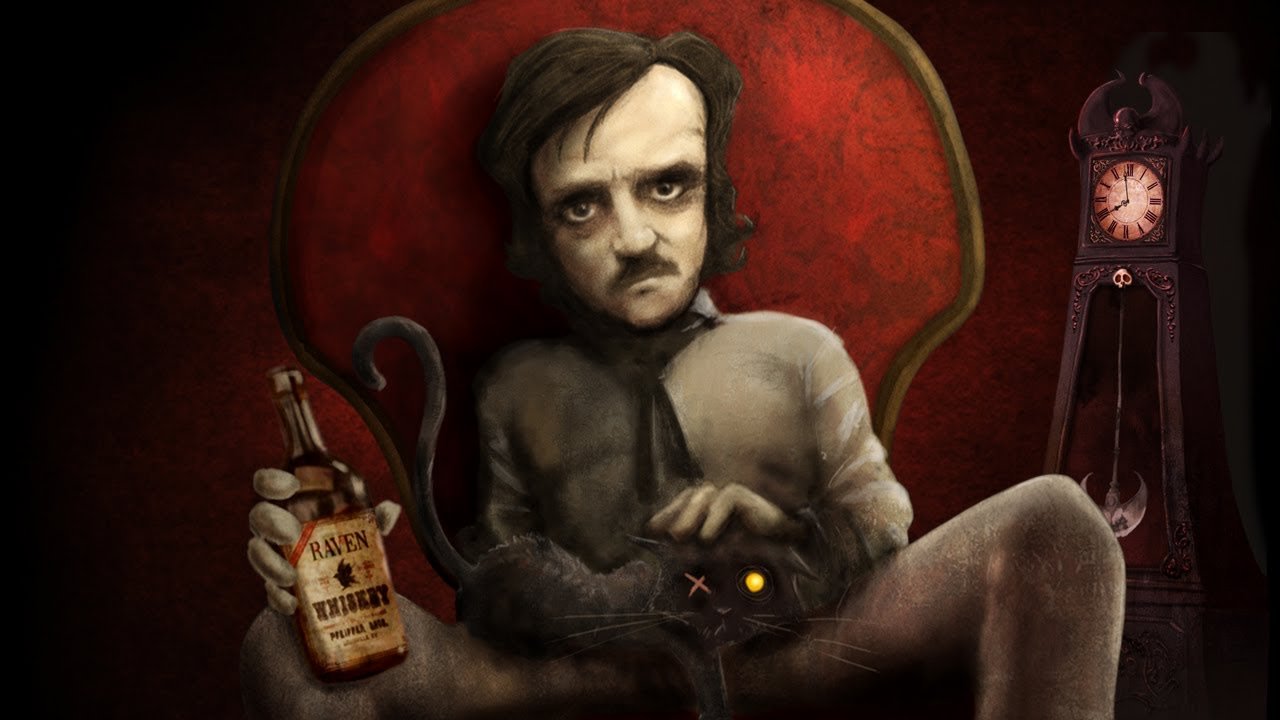 He studied at the university just a year. During this time, he made big debts and stopped studing at all. John Allan took an extremely tough decision. Nobody expected it. However, Allan was a very successful businessman not by chance. He knew how to admit the obvious: the very thing that he was afraid of from the beginning happened. Bad blood took over. Heredity made itself felt. So, Allan simply refused to pay off the stepson's debts and took him from the university. In such a way Po never got higher education. Besides, he lost his family.
No matter how much his good mother beseeched, no matter how she make peace between husband and stepchild, no good came out of it. Edgar quarreled with his benefactor to death. The age of carefree youth, wealth and a certain successful future ended. Edgar Po was just 17 years old at that time.
Edgar went home in Boston with self-confidence of youth multiplied by frightening narcissism. He had a bale of poems by him written in recent years. Strange, gloomy, frightening… Edgar decided to publish them at his own expense: at that time Boston was the center of publishing business. Po published a book with a pretentious title "Tamerlane and Other Poems" under the pseudonym "Bostonian". It was just a tiny issue only in 50 copies. However, the collection suffered a setback. It was not even criticized, but simply stayed unnoticed.
Ambitious Edgar did not like it. Edgar left for Baltimore and published the second book of poems. It caught a bit more interest.
However, John Allan was not going to leave his stepson so simply. He understood much more tough actions under tutelage. And, since he came to bow and was obliged to him, Allan demanded that Edgar continue education. This time he chose a prestigious higher educational institution from a completely different educational category Famous military academy of the USA West Point, the cradle of the most brilliant military commanders. Edgar obeyed, although the military drill did not cause any good feeling or make him well disposed.
Unfortunately, the fate made another sharp turn. Edgar's Guardian-Angel, his so called mother, Mrs. Allan died. He felt her death very hard unlike his stepfather. John Allan behaved with usual characteristic pragmatism. He simply got married; hardly wait till the term of mourning will expire. Three children one after another were born in this marriage. The stepson as the bearer of the family name and surname wasn't needed any more. Allan declared Edgar that he cannot reckon on heritage and the official adoption will never be made. Po was mortally offended, it was truly hurtful and offensive for him. And he behaved as a real offended teenager. He intentionally violated military discipline and was eliminated from West Point. He never again maintained any relations with John Allan.
He was just 22 years old. He was totally alone. Life began all over again, literally starting from scratch.
This time Po went to New York. He issued one more book of poems on his friends' money from West Point. The book was dedicated to army cadets. Being a poet and do it for a living did not work at all.
Life began to improve. Edgar became popular. His stories were read avidly, the audience was looking forward to them. He was offered the position of the Editor-in-chief of a respectable and popular magazine "Southern Herald" in Richmond. Po agreed and moved there with his wife and mother-in-law.
Virginia, Edgar's cousin, became his wife. She was 13 years old while Edgar was 27. The society was shocked. Such things were not simply discourage, but they were even highly criticized. This marriage was called "strange" in whisper, the couple that was never invited anywhere. However, Mr. and Mrs. Po were indifferent. They loved each other.
Image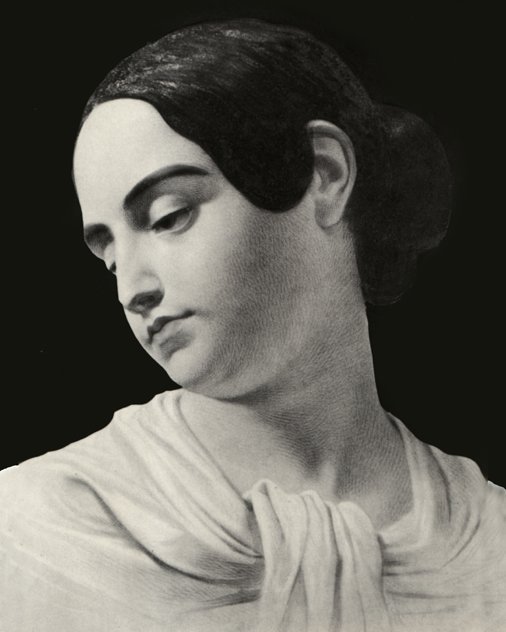 Virginia was pretty hot and tempting. She was completely in character with romantic ideal of her day. She was dark-haired, slim, white-faced girl with big eyes. She was smart and lettered. Edgar took on the responsibility for developing her personality. He helped her with education (there was little money in the family therefore Edgar became a home teacher for his wife in addition), and brought her up as a friend, gave books, took her to different galleries and concerts, discussed everything in the world with her and encouraged her attempts to intellectualize and reason things out by herself.
There was no closer and more soulful person in the whole world. Mrs. Klem was an amazing mother-in-law who treated Edgar with truly motherliness that he so much lacked from the death moment of his so-called mother Mrs. Allan.
Unfortunately, Mr. Po's character was abominable in all parameters. He was not able to get on with in the journal where he worked; besides, the society did not want to turn a blind eye to unusualness of his marriage. It was about time when Edgar was fired out. So, wanderings started again, from city to city. The family moved from one place to another. Edgar changed places of work and tried to earn money in any possible way, at least a little. Money was needed not just for a living, but for saving Virginia: the only a kindred spirit died.
She was slowly killed by tuberculosis. Po went mad from an awful stress. He lacked money, the treatment did not give any results, he lost jobs one after another. As a result Edgar started drinking alcohol in order to cope somehow with life and myself. And, believe it or not, exactly at this black time he created his most significant literature works.
As in a great work "Martin Eden" written by not less great author Jack London, who lived the same tragic fate, Edgar reached success precisely when it stopped being a necessity for him.
He was read, discussed, criticized and readers enthusiastically belauded Po's gloomy novels and poems. And he could think only about one thing: if his darling will die, there will be no need to live any more.
And this happened. In five years of fighting with the disease, in the year 1847 still young and completely exhausted by tuberculosis Virginia quietly died. And Edgar had no reason to live. Everything went catty wampus. Edgar literally lost his head. He drank a lot and was not fastidious about opium. He got foot in nightmarish intrigues and scandals. He brushed people off. Successful projects, reading public lectures and feverish storms of inspiration changed to long periods of black melancholy and real madness. Doctors made a diagnosis "Localized inflammation of the brain"
Life continued hitting Edgar and he no longer had the strength to resist. Flows of disgusting slander turned on him and he himself was less aware of the surrounding reality.
Po lived two years longer than Virginia. Nobody knows what happened at that time. Edgar Po's circumstances of death are covered with darkness of mystery till nowadays. It is known that in autumn 1849 he went to Philadelphia on business concerning publishing. For some unknown reason he got off in Baltimore. There he was found at night in the street in a state of insensibility. In four days he died in a hospital almost without regaining consciousness because of physical, nervous, mental and mental exhaustion. He was buried in the Baltimore Cemetery
Image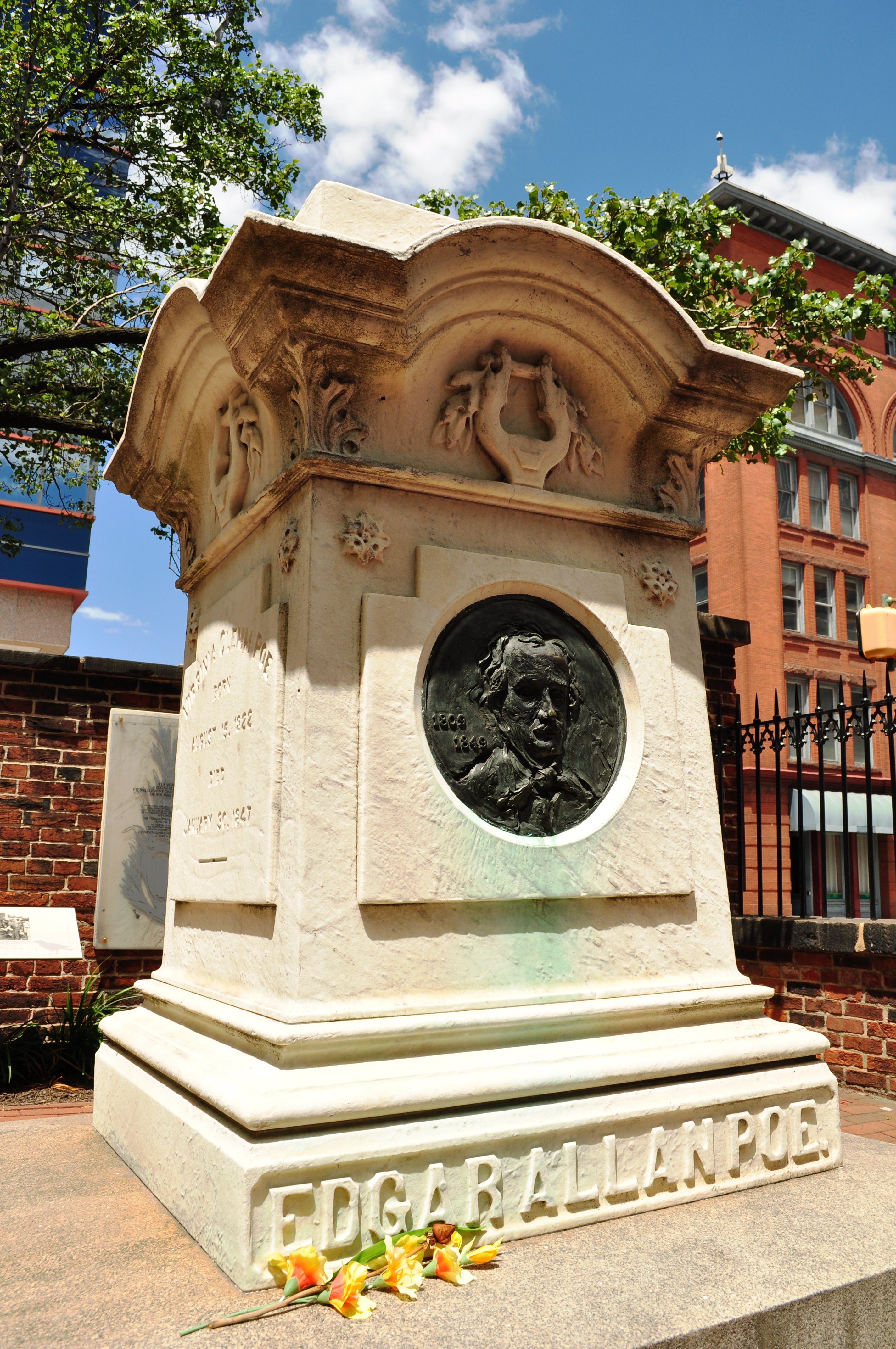 There are 48 poems and 70 stories, 2 novels and some philosophical treatises and literary articles. Great posthumous fame… Now, Edgar Po became, unappreciated while living, the most favorite author of the most famous intellectuals. He is quoted and referenced in books and songs. He is translated into different languages again and again trying to catch the subtle, unique intonation. He is filmed and translated into the theater language, his works are illustrated and written up. They wonder about his death and try to outachieve the glory of the ancestor of the detective genre.
My post in Russian on Golos - Взлеты и падения Эдгара Аллана По
Thank you! I came back =)))