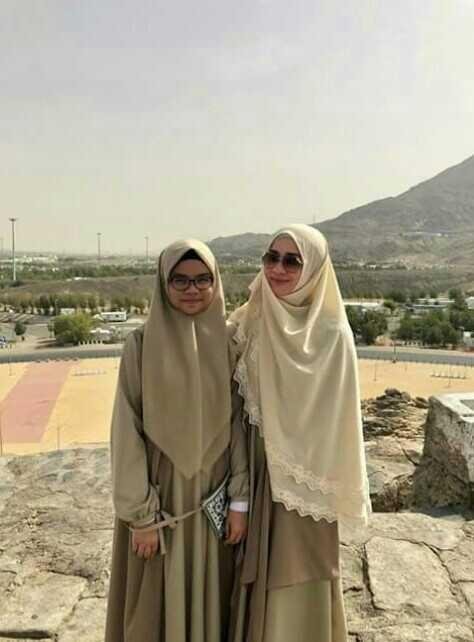 Ananda Mashita Mutiara Meutuah, your childhood begins with sadness, during that time of martial law in Aceh, when 8 months you have dikandungan mama, your father was arrested by the police in Jakarta because at that time papa help GAM struggle, it felt the world collapsed at the time, but mama should be able to survive even with the worst conditions so. Some time after that Papa was sent back to POLRESTA prisoner Banda Aceh, a little relief, although the condition is still very chaotic mama can still visit papa every day in custody.
Then it's time Mom felt you were going to be born, marked by a very mules as a sign of giving birth, it was midnight, Mom was afraid to think that no one could take mama to the birthing clinic, then a military emergency would think long to get out of the house at night, but alhamdulillah finally there are neighbors who can deliver, it was already willing to give birth in the army, once arrived at the maternity clinic, without any process anymore, you immediately born, then mama only accompanied by grandmother and Midwife Elvira Wahyuni ​​(currently he works in RS Meuraxa Banda Aceh.He who gave the spirit to mama with full of tenderness, and that day also dad can come home briefly to visit you even accompanied by police officers.
A week after you were born you have returned to your daily routine of going to prison, even though the habit of the Acehnese mothers who gave birth did not go home before the 44th day of childbirth, but mama broke the habit, in order to see your father, not too important to bring food, but when mama visit dad, papa can come out briefly from the room stinking prison and narrow, the room is not to sleep, want to straighten the legs because it is so crowded with people. At least when mama comes, there is a time 30 minutes for papa to be able to breathe and out prisoners for a while. That's how hard life is at that time, you are small nor have any relatives or neighbors who visit such as the habit of visiting baby or mother who gave birth, everyone goes away no one dare to come to the GAM prison, no underground or other event. From small you have been forged with such circumstances.
But now you are proud of you, you have grown into a proud mother of mama, a little girl who always guard her nakedness, you will never leave the room without closing your private parts, you also always remind mama what if there are clothes that auratnya little visible, you who always knock on the room room to remind her already shalatkah? You who send guest guests home when the time comes for the evening prayer and the time for Friday prayers to arrive.
Masyaallah child, mama are very proud of you, continue to be the pride, shalehah women who can always help people people ...
Mecca, 1 June 2018
Indonesia
Ananda Mashita Mutiara Meutuah, masa kecil kamu diawali dengan kesedihan, saat itu masa darurat militer di Aceh, saat 8 bulan kamu ada dikandungan mama, papamu ditangkap oleh pihak kepolisian di Jakarta karena saat itu papa membantu perjuangan GAM, rasanya dunia runtuh saat itu, tapi mama harus bisa bertahan walau dengan kondisi terburuk yang demikian. Beberapa waktu setelah itu papa dipulangkan ke tahanan POLRESTA Banda Aceh, sedikit lega, walau kondisi masih sangat kacau mama masih bisa menjenguk papa setiap hari di tahanan.
Lalu tiba saatnya mama merasakan kamu akan lahir, ditandai dengan mules yang sangat sebagai tanda2 mau melahirkan, saat itu tengah malam, mama ketakutan memikirkan tidak ada yang bisa mengantarkan mama ke klinik persalinan, saat itu kondisi darurat militer orang akan berpikir panjang bisa ke luar rumah saat malam hari, tapi alhamdulillah akhirnya ada tetangga yang bisa mengantarkan, rasanya sudah mau melahirkan dikendaraan, begitu tiba di klinik bersalin, tanpa proses apapun lagi, kamu langsung lahir, saat itu mama hanya ditemani nenek dan Bidan Elvira Wahyuni (saat ini beliau bekerja di RS Meuraxa Banda Aceh. Beliaulah yang memberikan semangat kepada mama dengan penuh kelembutan, dan hari itu juga papa bisa pulang sebentar untuk menjengukmu walau didampingi oleh petugas kepolisian.
Seminggu setelah kamu lahir mama sudah kembali ke rutinitas menjenguk papa setiap hari ke tahanan, walau sudah kebiasaan orang Aceh ibu2 yang melahirkan tidak keluar rumah sebelum 44 hari melahirkan, tapi mama melanggar kebiasaan itu, agar bisa menjenguk papamu, tidak terlalu penting untuk membawa makanan, tapi saat mama menjenguk papa, papa bisa keluar sebentar dari ruang tahanan yang berbau busuk dan sempit, yang diruangan jangankan untuk tidur, mau meluruskan kaki saja susah karena saking sesaknya dengan orang orang. Setidaknya saat mama datang, ada waktu 30 menit bagi papa untuk bisa bernafas dan keluar tahanan sebentar. Begitulah kerasnya kehidupan saat itu, kamu kecil juga tidak ada kerabat atau tetangga yang menjenguk seperti kebiasaan menjenguk bayi atau ibu ibu yang melahirkan, semua orang menjauh tidak ada yang berani datang ke rumah tahanan GAM, tidak ada acara turun tanah atau acara adat lainnya. Dari kecil kamu sudah ditempa dengan keadaan yang demikian.
Tapi sekarang mama bangga sama kamu, kamu sudah tumbuh menjadi gadis kecil mama yang membanggakan, gadis kecil yang selalu menjaga auratnya, kamu tidak akan pernah keluar kamar tanpa menutup auratmu, kamu juga yang selalu mengingatkan mama apa bila ada pakaian yang auratnya sedikit kelihatan, kamu yang selalu mengetuk kamar kamar untuk mengingatkan sudah shalatkah? Kamu yang menyuruh tamu tamu pulang apabila tiba waktunya shalat magrib dan waktunya shalat Jum'at datang.
Masyaallah anak, mama bangga sekali sama kamu, teruslah menjadi kebanggaan, perempuan shalehah yang selalu bisa membantu orang orang...
Mekkah, 1 juni 2018