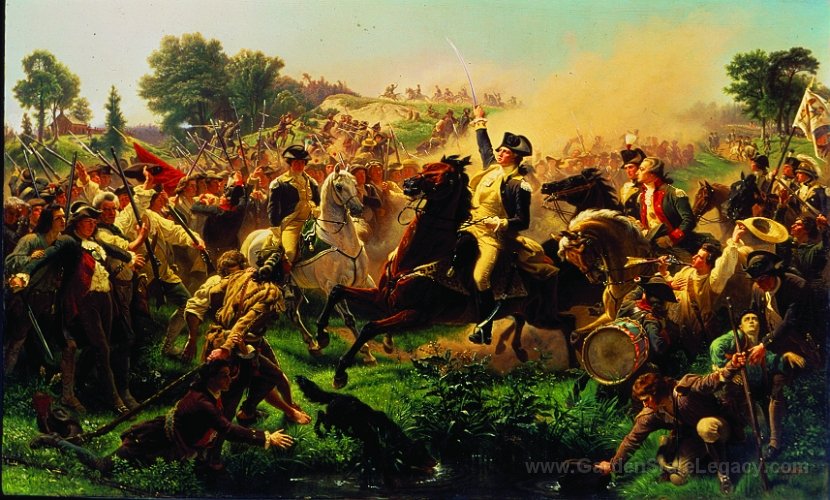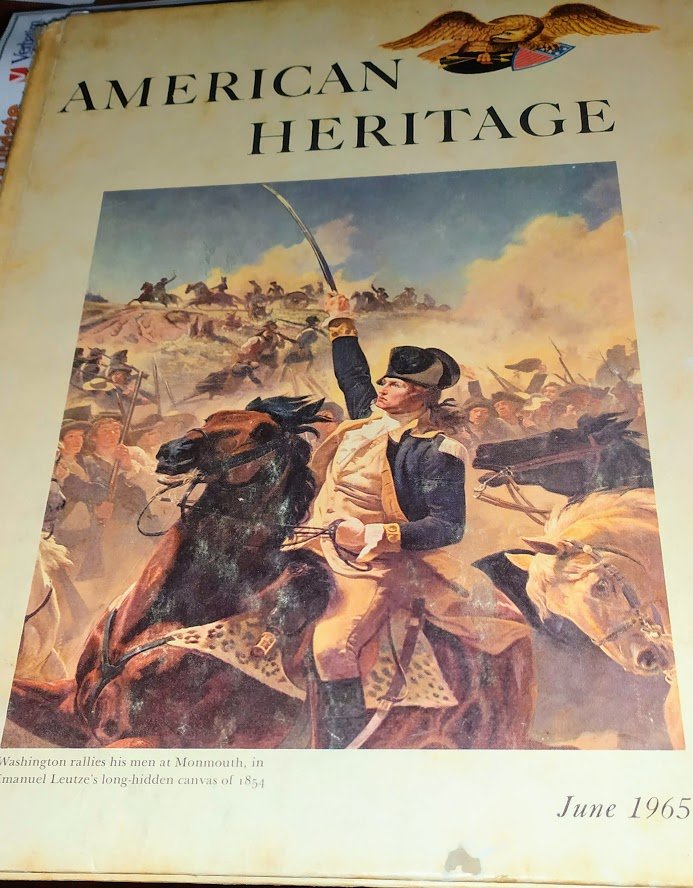 Our lives are like a tape recorder that just records. A long continuous recording of our everyday, from the moment we are conceived until the time we die.
How overwhelmingly special is that each of us contains our own recording and that we can affect the outcome of each others recordings.
Of course, as the tape records, we can only playback a limited part of it. Sometimes, we do our own editing. Other times, a concealed memory will be triggered that will conjur up a variety of feelings.
This book, "American Heritage", I bought at a fete some 30 years ago.
Being a youngster, I was all about finding some bargains with the limited money I had.
I think on that day I bought a whole heap of books and won several Goldfish, by throwing a dart at a board full of balloons.
Attending the fete is a very fond memory, which this book brings forth, a virtual bookmark to that day.
I liked this book (and I have anotheer with a Cowboy on the front) because of the pictures.
The text was a bit too much for me back then.
However, now that I am older, I felt drawn to read the book.
In fact, it's quite a good read.
On the topic relating to the cover;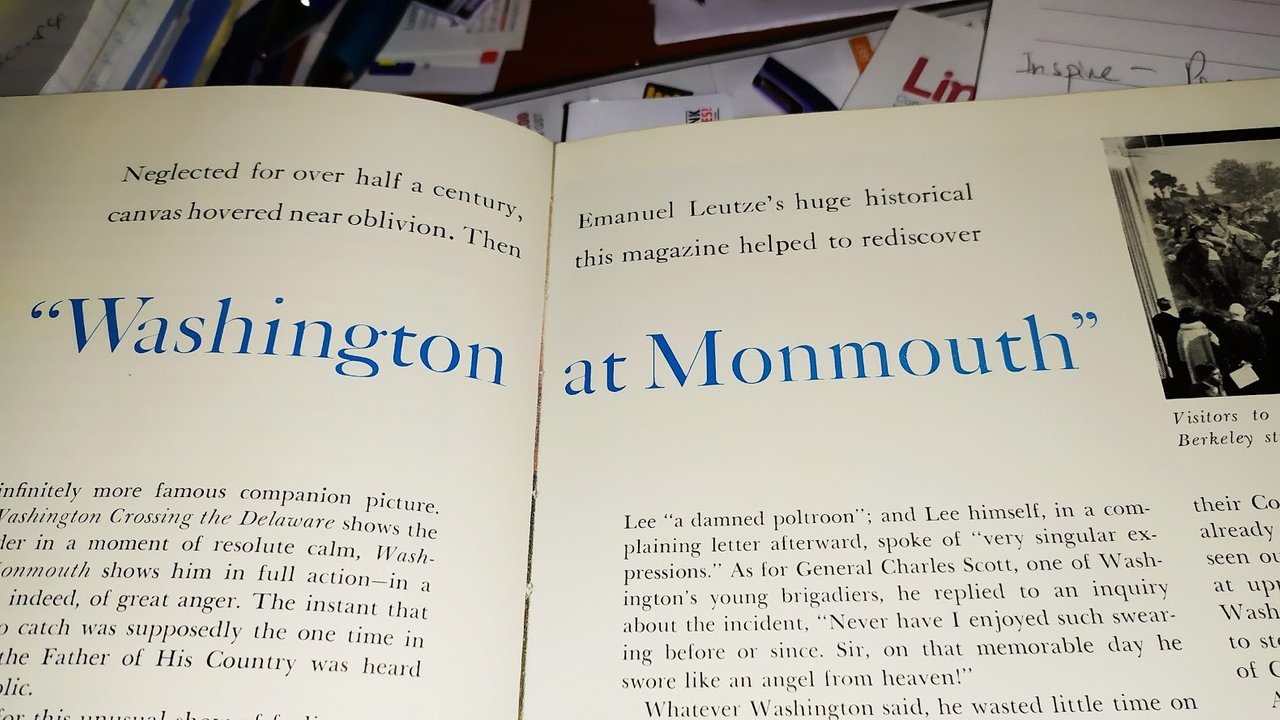 I think most people would know the famous picture by Emanuel Leutze, "Washington Crossing the Delaware", but there was also a companion piece undertaken but had become mostly forgotten.
During the American War of Independence, Major General Charles Lee, was meant to harass the British on June 27 1778, happened to retreat his troops, which caused the British to counter-attack and it almost caused a rout.
Upon hearing this, Washington is alleged to have called Lee "a damned poltroon".
According to General Charles Scott, to an inquiry about the incident said,
"Never have I enjoyed such swearing before or since. Sir, on that memorable day he swore like an angel from heaven!"
It was 96 degrees in the shade (35 in celcius) and many men were collapsing from exhaustion.
The canon were trying to hold back the British cavalry.
The battle ended in a draw & Lee was court-martialled and relieved of command.
Now, for me, having now read the article, I can appreciate the story that Leutze was portraying in his canvas.
Washington, central, with light bathing on him, is rallying the troops. Of course, this is obvious to the viewer.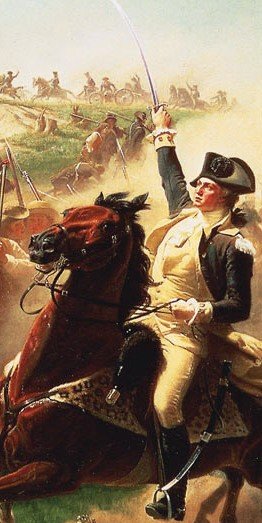 Lee, is crestfallen, sinking back in his saddle and in shadow.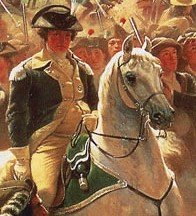 Hamilton & Lafayette have ridden up with Washington.

Hamilton, being one of the founding fathers of America.
Marquis de Lafayette
Lafayette (Though Congress had told Washington that Lafayette's commission was purely honorific, no one seemed to have told the marquis, and two weeks after their first meeting, Washington shot off a letter to Benjamin Harrison, a fellow Virginian in Congress, complaining that this latest French import expected command of a division! "What line of conduct I am to pursue, to comply with [Congress'] design and his expectations, I know no more than the child unborn and beg to be instructed," the commander fumed.
Read more
A letter from Lafayette to Hamilton when Lafayette returned to France;
"What is the matter with my dear hamilton And By what chance do I live in fruitless expectation of Some lines from him? does it begin to be the way in your, or rather in our Country to take European Airs, and forget friends as soon as they have turn'd theyr heels—indeed, My Good friend, I Cant help being Some what angry Against you, which shakes into My heart a Ridicu⟨lous⟩ fighting between love and anger and as the first will never go off, you must behave better with me that Anger might be more decently dismissed." Link
Exhausted riflemen and a dog scoop up water


Soldiers cheer for the Commander in Chief and others have started firing on the redcoats


Monmouth Courthouse
Near where the battle was fought.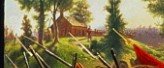 Cavalry bringing up Artillery


Battle Map from Wikipedia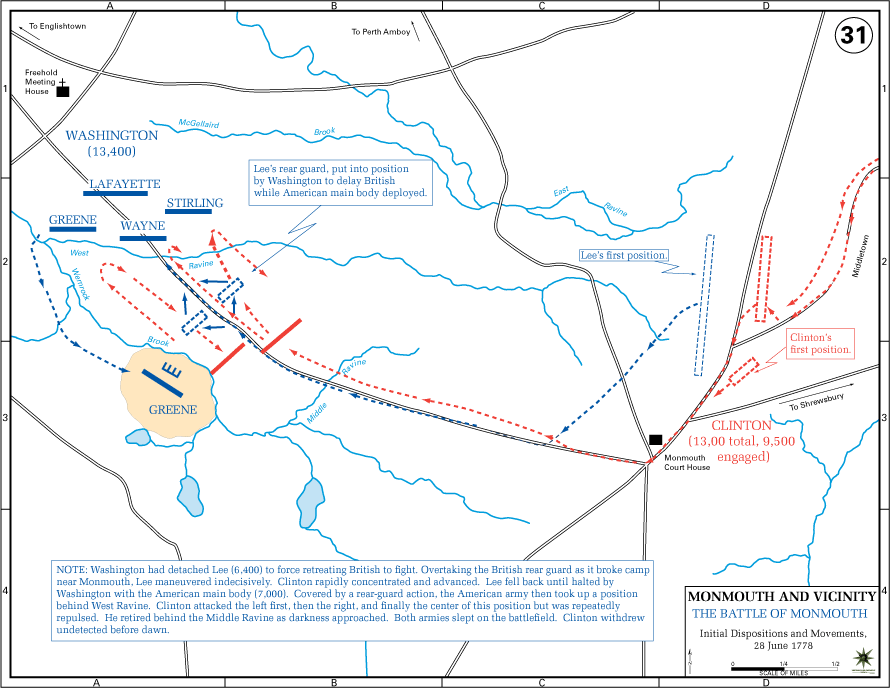 "More soldiers on both sides died from heat exhaustion than from battle wounds." link