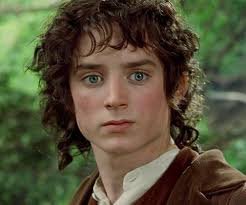 Frodo Baggins was born in 2968 of the third age in Tolkien's middle earth. When Frodo was 12, Frodo's mother and father passed away. That is why Frodo was raised by Bilbo.
When Frodo reached the age of 33, Bilbo unearthed his power ring. Gandalf then handed the power ring to Frodo and told him that Frodo had to go to Rivendell. Frodo and his three hobbit friends thus began their journey to Rivendell. Later Aragorn joined the group too. During this period, Frodo was wounded by the master of Nazgül. And Frodo reached Rivendell when he was dying. Then, the king of Rivendell, helped the Frodo. And Frodo got healthy.
At the meeting held in Rivendell, Frodo stated that he would take the power ring to Mordor to destroy the ring. Frodo tried to pass through Moria with the brotherhood of ring, but was attacked by Balrog. And Gandal fell in this attack. After Moria, Frodo left the group. But Sam, Frodo's best friend, recognized this and went to with Frodo. Frodo and Sam went through various adventures and chose Gollum for their guide to Mordor. Frodo, who managed to survive the traps of Gollum, reached Mount Doom and somehow managed to throw the ring over the lava.
After the ring was destroyed, Frodo and Sam were taken by the eagles to Gondor. Frodo, who stayed here for a while, went to the Shire. And finally, Frodo is on his way to immortal land.